This Week's Government Shutdown Risk, Explained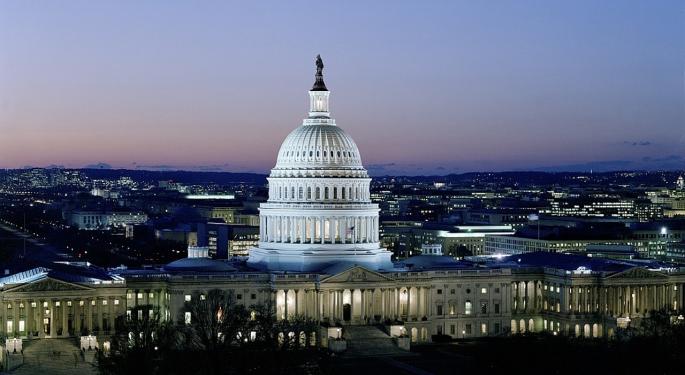 Congress is making progress toward a two-year spending bill, and Height Securities sees diminishing odds — now just 35 percent for a Thursday night target — of a government shutdown.
The House passed a short-term continuing resolution to fund the government to March 23, and the Senate is expected to vote Wednesday or Thursday on a bipartisan deal before forwarding it to the House.
Senate leaders have advanced a fiscal year 2018 bill that would raise the spending caps for defense and non-defense budget lines a respective $80 billion and $63 billion, bringing their annual caps to $549 billion and $516 billion, according to Height.
The firm expects the House to accept the compromise to avert a shutdown, but there are some potential hitches.
"Noticeably absent from this deal is a resolution for DACA recipients," the analysts said Wednesday. "Last month, Senate Democrats concerned about the fate of DACA recipients withheld their votes for a spending bill, in part to gain long-term protections for DACA recipients. The lack of a deal on this issue in this bill could cause some Democrats to withhold their votes for a bipartisan Senate-led agreement."
Related concerns around immigration may also complicate negotiations, particularly considering President Donald Trump's preference for a shutdown over continued delay on immigration. Trump said Tuesday he would "love to see a shutdown" to ensure the enaction of his immigration policies.
"We think this comment might muddy the waters, but ultimately Trump will sign any spending bill that Congress puts in front of him," Height said.
Additionally, the analysts said the inclusion of a debt-ceiling provision could risk the support of fiscal conservatives.
A federal shutdown could shake the Dow Jones Industrial Average and S&P 500, which were trading up 0.16 and 0.08 percent at the time of publication, respectively.
Related Links:
10 States Most Affected By The Government Shutdown
Government Shutdown Introduces Uncertainty For NetApp's Quarter, DA Davidson Says
View Comments and Join the Discussion!
Posted-In: DACA Height Securities President Donald TrumpAnalyst Color Politics Top Stories Analyst Ratings General Best of Benzinga