Key Takeaways From President Trump's First State Of The Union Address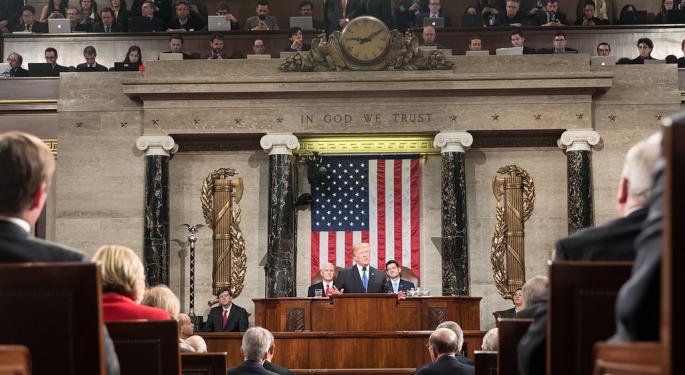 There were few surprises in President Donald Trump's first State of the Union Address on Tuesday night, but investors did get some glimpses of what they can expect from the administration in 2018. Following the speech, several analysts, economists and financial experts weighed in on the implications of the address.
Grounds For Compromise
Ritholtz Wealth Management CEO Josh Brown said he was disappointed Trump didn't provide more specifics about his infrastructure plan and said Democrats would be wise to accept Trump's proposal of a four-pillared immigration plan.
"Give him the funding for his stupid wall, which will never be built anyway, in exchange for a DREAMer path to citizenship," he said in a blog post.
Brown also noted that the stock market bounced Wednesday morning following the speech.
"I don't know that there's any reason to connect that with the speech last night, but people will, I guess."
Investor Surprises
Height Securities analyst Stefanie Miller said there were three surprises in the speech:
Trump barely discussed trade.
The immigration debate seems nowhere close to a resolution with another government shutdown deadline looming.
Trump's political capital is seemingly higher than anticipated.
"This means chances for a physical border wall have gone up and could be an early sign that infrastructure policy will gain momentum throughout the year, and though we are still at 15-percent odds after tonight — even despite the fact Trump didn't outline any funding sources — we are now trending up [that] infrastructure policy could become law in 2018," Miller said.
Words Vs. Actions
A major disconnect remains between Trump's words and actions while in office, particuarly when it comes to the promise of lowering drug prices, said Mark Hamrick, senior economic analyst at Bankrate.
"Remaining true to his populist themes, the president loves to hammer the drug industry for high prices while pledging that lower prices are coming thanks to his administration," Hamrick said in a note. "Will his choice of a former drug industry executive, Alex Azar, now the head of Health and Human Services, deliver results on that front?"
Not surprisingly, Consumer Bankers Association CEO Richard Hunt threw his full support behind the president. The CBA represents U.S. retail banks with at least $10 billion in assets, and Republicans are working on a bill that would raise the systemically important financial institutions' asset threshold from $50 billion to $250 billion, reducing the number of institutions that would be subject to the highest level of regulatory scrutiny and capital reserve requirements.
"President Trump's commitment to enacting balanced regulations and nominating agency heads with business experience provides banking industry leaders and consumers the confidence they need to expand, hire and invest," Hunt said.
Market Reaction
Whether it is a relief rally stemming from the fact that Trump didn't go off-script or investors simply liked what Trump had to say, the stock market initially bounced back after a major sell-off to start the week. The rally ran out of steam a bit in late-morning trading however, and the SPDR S&P 500 ETF Trust (NYSE: SPY) was higher by just 0.17 percent in the afternoon in afternoon trading.
Related Links:
8 Stocks To Play The Bank Deregulation Bill
Senate To Release Housing Finance Reform Outline: Here's What It Means For Fannie And Freddie
President Donald Trump addresses both chambers of Congress during the 2018 State of the Union address Jan. 30, 2018. White House photo by Shealah Craighead.
View Comments and Join the Discussion!
Posted-In: Analyst Color News Futures Politics Events Top Stories Markets Analyst Ratings Best of Benzinga