Analysis: Bitcoin Has No Role In Asset Allocation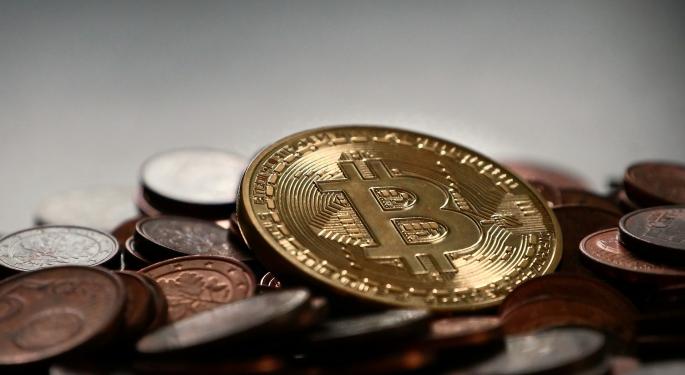 Some experts suggest some exposure to bitcoin in their portfolio -- even if it's just a 2 percent position. According to at least one Wall Street analyst, bitcoin has "no role" in asset allocation.
The Thesis
The price of bitcoin soared higher by more than 1,000 percent in 2017, but is lower by nearly 50 percent from its peak of close of $20,000. The volatility has many investors wondering what role bitcoin should play in their asset allocation, even if the total market size of bitcoin is $200 billion versus $70 trillion for global equities and $17 trillion for U.S. government debt.
One of the biggest drawbacks of evaluating bitcoin is that it doesn't generate any cash flow, so it's impossible to value the digital currency, Bernstein's Inigo Fraser-Jenkins said in a note. Moreover, the theoretical limit to bitcoin's supply is over-shadowed by the theoretical unlimited supply of rival digital currencies which makes it nearly impossible to evaluate bitcoin's future prospect.
What Return Would Investors Need?
It might be a useful exercise to "turn the question round" and ask what return would investors need from bitcoin to give it a "meaningful place" in any asset allocation strategy, Fraser-Jenkins said. The math (realised return, variance, covariance) of bitcoin over the past two years into an optimiser finds that the "optimal" portfolio assumes four things: 37 percent high yield debt, 28 percent exposure to the S&P 500, 21 percent emerging market equity, and 14 percent exposure to bitcoin.
From this, the analyst believes bitcoin needs to generate a 5 percent monthly return for it to even "begin to come onto the radar screen of demanding a meaningful allocation in institutional portfolios.
'No Role'
"Some may argue that we are being unfair, the volatility could subside as it becomes more established," Fraser-Jenkins said in the note. " True, that could happen but also as the ability to trade it via multiple instruments becomes easier that could increase volatility too. Also, the apparently benign correlation with other asset classes could very well change. If large moves in the price of bitcoin forced investors to liquidate other assets then the correlation could very well increase, thereby hindering its role in diversification."
Bottom line, cryptocurrencies may very well play a "significant" role in public ledgers and payment systems, but at this point bitcoin and rival coins "do not have a role to play as an asset class." The required 5 percent monthly return is too high for investors to assume, especially when factoring in other issues including liquidity and hacking issues.
Related Links:
Commodity, Currency, Security, Or Scam: What Type Of Asset Do You Think Bitcoin Is?
12 Cryptocurrencies To Watch In 2018 (Besides Bitcoin)
View Comments and Join the Discussion!
Posted-In: Asset Allocation BernsteinAnalyst Color Cryptocurrency Top Stories Markets Analyst Ratings Trading Ideas Best of Benzinga