Wall Street Remains Sidelined On Chipotle After Disappointing Q3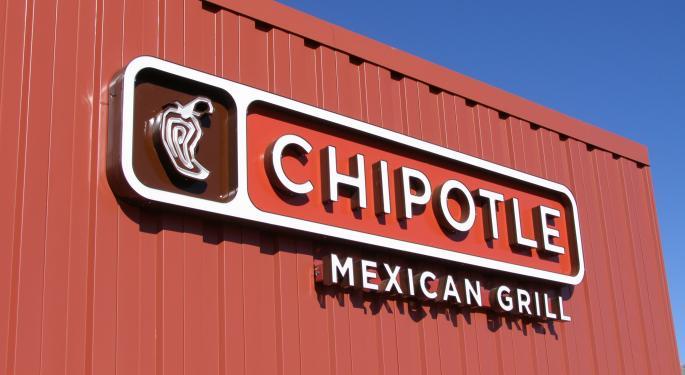 Chipotle Mexican Grill, Inc. (NYSE: CMG) third-quarter earnings and revenues were a miss, and the stock is down a steep 15.05 percent at $275.50. That's a near five-year low for the fast casual chain.
Chipotle stock was down a steep 15.05 percent to $275.50, sinking to a near 5-year low.
Here's what the sell side had to say about Chipotle's earnings.
Turnaround Plan Faces Challenging Industry Dynamics
The third quarter earnings brought significantly revised expectations, JP Morgan analyst John Ivankoe said in a Wednesday note.
Chipotle was confident in achieving 20 percent margins on $2 million AUVs, which they said is a "new normal," Ivankoe said. (See Ivankoe's track record here.)
"With much of the growth in the industry apparently coming in fast casual, and with independents taking share vs. chains, we believe Chipotle will be effectively competed against in the segment they helped create."
Even as JPMorgan pointed out that Chipotle is focused on five key areas to turn around the business, the firm views it as "table stakes" in today's environment, as opposed to a driver of sustained outperformance.
JP Morgan maintained its Neutral on Chipotle and lowered its price target from $380 to $315.
Chipotle Is Trying to Find Bottom
Chipotle's queso launch changed the trend by generating mid-teens mix, even as third -quarter results suffered from the norovirus incident in Virginia, Jefferies analyst Andy Barish said in a Wednesday note. Queso's impact added to comps and drove positive results to end the third quarter and in the quarter-to-date period, Barish said.
Jefferies lowered its 2017 and 2018 estimates for Chipotle, maintained its Hold on the stock and lowered the price target from $350 to $300. >
Multiple Increasingly At Risk
Chipotle's multiple is increasingly at risk from "what appears to be [a] mid-teens normalized growth algorithm," analyst Andrew Strelzik said in a Wednesday note. The stock will re-rate lower, the analyst said.
BMO favors a downside scenario, given limited confidence and visibility in the success of sales drivers, Strelzik said.
The research firm reiterated its Market Perform on Chipotle and lowered its price target from $330 to $275.
Yet Another Leg Of Support Removed
With slower unit growth forecast, BTIG analyst Peter Saleh said another leg of Chipotle's support has been removed. The chain's quarterly results had more complexity than has been the case in recent quarters, ranging from financial items to management changes and discussed initiatives, the analyst said.
Chipotle's reduction in unit growth is concerning and more than the short-term pause management described, Saleh said.
"We struggle to find any positive takeaways, but depressed sentiment and less obvious downside keep us from becoming more negative," Saleh said.
BTIG maintained its Neutral rating on Chipotle stock.
Low Near-term Sales Visibility Keeps Baird On The Sidelines
The risk/reward on Chipotle remains balanced at prospective levels, said analyst David Tarantino. Following soft third-quarter performance and muted fourth-quarter comps guidance, the analyst lowered his earnings per share estimates.
Despite the stabilizing of comps after the queso launch, structural improvements to core unit-level execution are needed at Chipotle to drive sustainable traffic improvement, Tarantino said. Eforts to strengthen Chipotle's operations will take time, he said.
Baird maintained its Neutral on Chipotle and lowered its price target from $340 to $300.
Awaiting Sustained Momentum After Quarter-to-date Improvement
Stephens' Will Slabaugh said the quarter-to-date trends are in the positive low single-digit range. Stephens is remaining on the sidelines until Chipotle demonstrates sustained comps momentum and a reset of investor expectations, he said.
The firm raised its comps estimate for 2017 but lowered its adjusted earnings per share estimate. Stephens' 2018 estimates were updated to reflect slower unit growth and associated pre-opening expenses/inefficiencies.
Stephens maintained its Equal Weight rating on Chipotle and lowered its price target from $325 to $300.
Sales Recovery Will Take Longer
The quarter was "noisy" for Chipotle and sales remained well below the levels seen before Chipotle's food safety scandal, despite "unprecedented" levels of marketing, said Canaccord Genuity analyst Lynne Collier.
Competitive intrusion is Chipotle's most significant long-term issue, Collier said. With an expectation that sales recovery will take longer than many investors expect, Collier said Canaccord remains on the sidelines.
The firm maintained its Hold on Chipotle and lowered its price target from $400 to $325.
Related Links:
A Preview Of Next Week's Blue-Chip Earnings
McDonald's Serves Up An Appetizing Quarter, Piggybacking On Promotions
Image credit: Chis Potter, Flickr
Posted-In: Analyst Color Earnings News Price Target Reiteration Restaurants Top Stories Analyst Ratings Best of Benzinga
View Comments and Join the Discussion!