Revisiting The Alexa-Cortana Linkup In The Works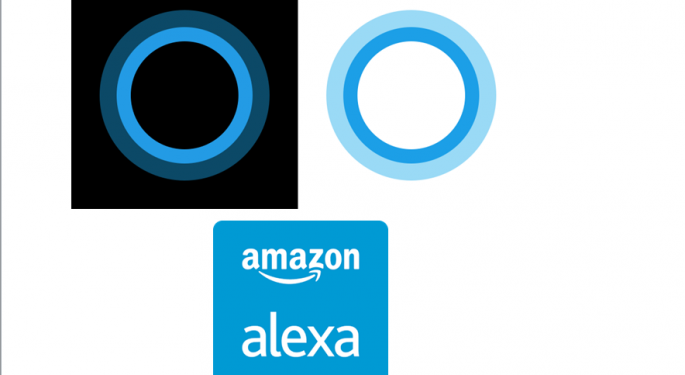 Amazon.com, Inc. (NASDAQ: AMZN) and Microsoft Corporation (NASDAQ: MSFT) have come to realize that collaboration, rather than confrontation, is the best way to survive in this competitive world.
In late August, it was revealed that Amazon's digital voice assistant Alexa would link up with Microsoft's Cortana.
Even as the chatter around the association died down, Benzinga elicited views on the agreement from tech analyst and managing partner at Loup Ventures, Gene Munster.
How does this work? By turning on any Amazon Echo device, one can issue a voice command to open Cortana. Meanwhile, from any Windows 10 device, a user can say, "Cortana, Open Alexa."
The two platforms would get into the talking mode later this year, as per the news release announcing the association.
Why is This A Big Deal?
It will allow Alexa customers to access Cortana's unique features like booking a meeting or accessing work station calendars or reading work e-mails, all using voice commands. At the same time, Cortana customers can get Alexa control their smart home devices, shop on Amazon.com, interact with many of the over 20,000 skills built by third-party developers etc.
Comments on the partnership by Amazon's Jeff Bezos sums up the rationale behind it. "The world is big and so multifaceted. There are going to be multiple successful intelligent agents, each with access to different sets of data and with different specialized skill areas. Together, their strengths will complement each other and provide customers with a richer and even more helpful experience," Bezos said.
See also: Siri Vs. Google Assistant Vs. Cortana
Sharing his thoughts with Benzinga, Munster said early on, the cross-platform linkage may not be widely used, as not many will understand the core competencies and differences between the two.
Move Highlights Importance Of Voice
Probed as to how the association will change the intelligent personal digital market dynamics, Munster said thus far so many competitors have entered the market to compete, while this is the first time two of the largest players have joined forces for their mutual benefit.
Munster sees this as an affirmation of the importance of voice computing long-term, with big companies acknowledging the need to work together for a better offering.
Is A 'Win-Win' Scenario A Given?
Both platforms are sure to gain more users and more queries to improve their Artificial Intelligence, according to Munster.
Apart from this, Munster sees some synergies arising out of combining the core competencies of both companies.
"For instance, Amazon, who dominates online sales, may gain more voice commerce traffic, and Microsoft, who has much better integration with office programs and a massive network of Windows devices, could see more usage there," Munster said.
"Another winner, however, is the user of the tech, as you gain access to a new assistant, more domains, and perhaps later, a more robust voice-first computing experience."
Not Measuring Up To Rivals In Mobile Space
Though the deal presents a win-win scenario for both players, when it comes to mobile devices, neither of these platforms have great penetration.
Munster suggested that both Apple Inc. (NASDAQ: AAPL)'s Siri and Alphabet Inc (NASDAQ: GOOGL) (NASDAQ: GOOG)'s Google Assistant far outweigh even the combination of Alexa and Cortana in the mobile space.
Other Tie-Ups In The Offing?
Munster does not foresee the forging of similar other partnership. The analyst ruled out the possibility of a mass consolidation of the smart speaker market, as he believes there is room for several players.
Additionally, partnerships between players like Apple and Google do not make sense because they all want to push their own device ecosystems.
Related Link: Alexa Anytime: Amazon Next Venture Could Be A Messaging App
______
View Comments and Join the Discussion!
Posted-In: Alexa CortanaAnalyst Color News Top Stories Tech Media Trading Ideas Best of Benzinga