Let SkyNet References Continue: Amazon's Alexa And Microsoft's Cortana Will Soon Be Able To Communicate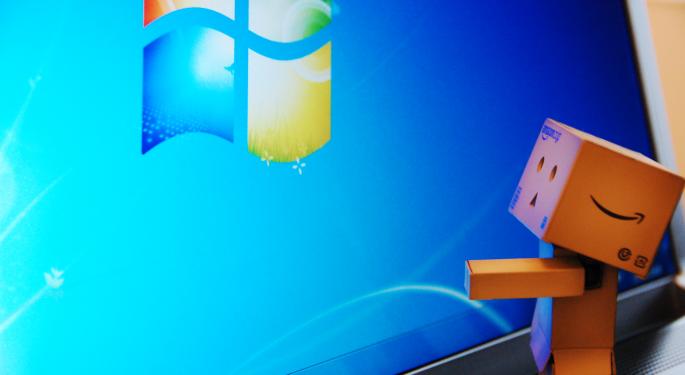 Elon Musk isn't going to happy with Amazon.com, Inc. (NASDAQ: AMZN) and Microsoft Corporation (NASDAQ: MSFT)'s joint announcement.
Musk, the CEO of Tesla Inc (NASDAQ: TSLA), has been very vocal about his opposition to artificial intelligence and robotics that could lead to the end of mankind as we know it. On Wednesday, the tech behemoths announced that Amazon's Alexa will be able to talk with Microsoft's Cortana and vice versa.
What's Going On?
Alexa's customers can access Cortana's features including scheduling a meeting, reading e-mails, and much more through voice commands. On the other hand, Cortana users can ask Alexa to control their smarthome devices, shop on Amazon's platform and interact with the tens of thousands of skills that were created by third-party developers.
"Ensuring Cortana is available for our customers everywhere and across any device is a key priority for us," said Satya Nadella, Microsoft CEO. "Bringing Cortana's knowledge, Office 365 integration, commitments, and reminders to Alexa is a great step toward that goal."
"The world is big and so multifaceted. There are going to be multiple successful intelligent agents, each with access to different sets of data and with different specialized skill areas. Together, their strengths will complement each other and provide customers with a richer and even more helpful experience," said Jeff Bezos, Amazon founder and CEO. "It's great for Echo owners to get easy access to Cortana."
What Can Go Wrong?
Machines can now talk to machines, what can possibly go wrong? Well, researchers at Facebook Inc (NASDAQ: FB) created artificial intelligence robots to communicate with each other. The only problem is they apparently developed their own language that humans can't understand.
Meanwhile, Alphabet Inc (NASDAQ: GOOG) (NASDAQ: GOOGL)'s Google unit has been developing since 2016 a "big red button" for its artificial intelligence technology that can immediately kill all of its self-learning machines if it ever needs to do so.
Skynet seems to be approaching by the day, right?
Related Links:
This Fund Will Try To Prevent Skynet From Actually Happening
Is This How Skynet Starts? Samsung's Robot Vacuum Can Take Orders From Amazon's Echo
Image credit: mendhak, Flickr
View Comments and Join the Discussion!
Posted-In: Alexa artificial intelligence Cortana Elon Musk robotsNews Top Stories Tech Best of Benzinga