One Secret Behind The Whole Foods Deal: Amazon Wants To Sell You All The Alcohol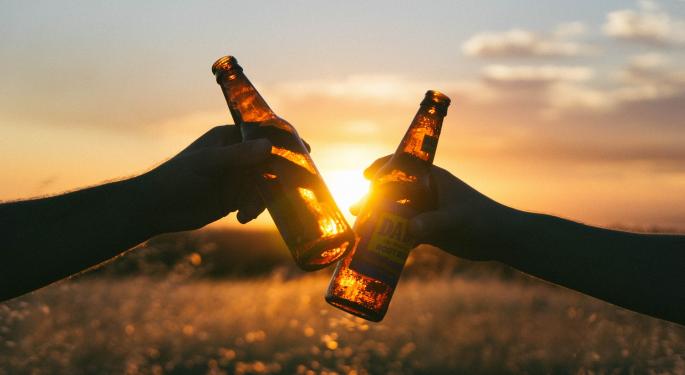 What does a $4,944 bottle of Hennessy cognac have in common with a $7.49 bottle of Mogen David "Mad Dog 20/20" red, rotgut wine? Both can be delivered to your doorstep these days, and it's dooming the local liquor store.
It's a familiar story of online sales creating a brick-and-mortar disruption, albeit with a kick. A much bigger kick.
Jeff Bezos is angling to be your main source of booze.
The $13.7 billion purchase of Whole Foods Market by Amazon.com, Inc. (NASDAQ: AMZN) will only increase pressure on states that currently limit household purchases of online wine, beer and spirits, which nevertheless reached more than $600 million in sales last year.
Amazon's move into groceries isn't just about groceries. It represents an attempt to break into an alcoholic beverage industry that's conservatively estimated at $350 billion in the United States alone.
World's Biggest Bordeaux Store?
"Amazon has been slowly expanding its alcohol distribution over the past two years," Cooper Smith, an Amazon analyst with business intelligence company L2, told Benzinga. "In 2016, it made alcohol available through its one-hour delivery service Prime Now, eventually expanding the offering to a handful of cities by 2017. More recently, Amazon enabled alcohol orders on its Alexa voice assistant platform. Whole Foods also distributed alcohol in select markets."
So, what's next? With the acquisition of Whole Foods, Smith said, "I expect Amazon to make a much larger concerted effort to fulfill alcohol orders through in-store pickup and delivery."
Related Link: Bubbly And Spirited: 2016's Alcohol Review
The company's goal, he said, is to market heavily to its most loyal customers, who are delineated as the folks who pay an extra annual fee to get the shipping benefits and price perks set aside for the Prime members.
"Everything Amazon is doing in the food and beverage space is about serving Prime members—Amazon's most loyal customers," Smith said. "The Whole Foods customer is also a Prime member. Amazon's grocery delivery service AmazonFresh is only available for Prime members. Amazon's food delivery service called Amazon Restaurants is available exclusively for Prime members."
"Alcohol delivery is a natural extension of the bevy of benefits customers already receive with a Prime membership, so it's logical to assume Amazon will continue expanding in this market," he said.
The State Of Current Laws
One of the hurdles Amazon faces is the welter of state restrictions on alcohol sales — not just online, but myriad rules regulating hours and days when booze can be sold. They're seriously in flux nationwide, says Patrick Gleason, state affairs director for Americans for Tax Reform. South Carolina, for example, recently raised the amount of spirits that craft brewers can sell.
"In excess of 30 states reported budget shortfalls at the beginning of 2017," Gleason wrote in a recent Forbes article. "The most innovative lawmakers ... are finding they can increase tax collections without raising taxes by removing unnecessary barriers to the sale of alcohol."
According to the National Conference on State Legislatures, most states allow wine delivery but prohibit online sales of hard liquor. But going online and ordering alcohol isn't rigidly regulated.
Some examples of the vagaries of state laws:
Delaware requires orders to be processed and shipped through licensed wholesalers.
Five states — Arizona, Florida, Hawaii, Nebraska and New Hampshire — and the District of Columbia authorize the direct shipment of all spirits as specified.
Eight states allow the direct shipment of beer and wine: Delaware, Massachusetts, Montana, North Dakota, Ohio, Oregon, Vermont and Virginia.
Booze Sales Flat, But Are People Drinking Less?
A Nielsen marketing study for the 52-week period ending June 17 said that off-premise sales — booze sold in stores, rather than bars and restaurants — grew only 1.4 percent for wine and 2.2 percent for spirits.
Danny Brager, Nielsen's senior vice president of beverage alcohol, speculated that e-commerce could be to blame for decelerating off-premise growth rates, as more consumers shift to online shopping.
"E-commerce in beverage alcohol, while still relatively small in comparison to many other categories, will continue to expand," he told the beer industry journal Brewbound. "Off-premise retailers will need to deal with a growing segment of consumers who may wish to 'buy,' but who may not need or see the need to visit the store to do so."
Posted-In: alcoholAnalyst Color Entrepreneurship Movers & Shakers Top Stories Exclusives Interview General Best of Benzinga
View Comments and Join the Discussion!