White House Chief Strategist Steve Bannon Is Out In Latest Shakeup Of Trouble-Plagued Presidency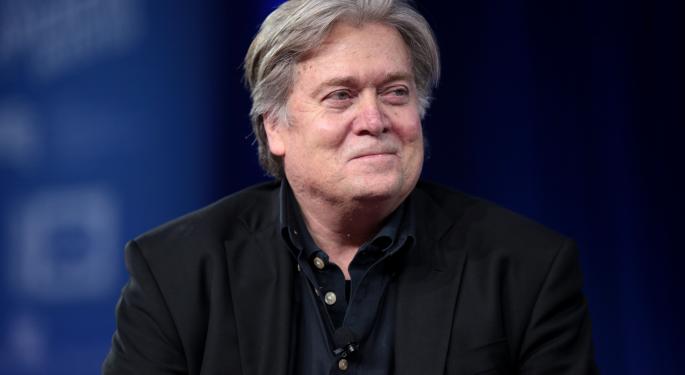 Mired in another public relations nightmare, President Donald Trump on Friday parted ways with Chief Strategist Steve Bannon, the right-wing former newsman who many believe was instrumental in Trump's surprise election win.
The New York Times originally broke the news, which the White House later confirmed.
"White House Chief of Staff John Kelly and Steve Bannon have mutually agreed today would be Steve's last day," White House Press Secretary Sarah Sanders said in a statement. "We are grateful for his service and wish him the best."
Bannon was the former editor of Breitbart News and his views often lined up with Trump's even before they forged their alliance.
See Also: Every Person In The White House Who's Been Fired Or Quit Since Trump Took Office
Interview Undercutting Trump, Feuds With Other West Wingers
Speculation out of Washington considered the move damage control for the remarks made by Trump about the violent clash last weekend between neo-Nazi demonstrators and counter-protesters in Charlottesville, Virginia.
The Times said White House sources said Trump decided to fire Bannon on Friday, but also quoted a source close to Bannon as saying he had offered to resign on Aug. 7, but stayed on to strategize the widely criticized message that came out the debacle in Virginia.
Bannon Ouster Not Behind Market Rally, Analyst Says
Trump equated the counter-demonstrators to the neo-Nazis, which triggered outrage even among the GOP and spurred the resignations of members of three panels of corporate advisors. Trump subsequently scrapped all three before they could collapse.
The market seemed to rally on news that Bannon was out, but one market strategist said that wasn't the primary driver.
"I think that there's a perception that yesterday was a political thing. It was about earnings," said JJ Kinahan, chief strategist at TD Ameritrade.
"Wal-Mart Stores Inc (NYSE: WMT) and a few others came out with weak numbers, and because of that, people started to sell. Did the (terror attack) in Barcelona add to it? Absolutely. But there's this noise that the market overall doesn't pay attention to. Everything is about earnings."
Bannon also gave an unusual interview to a liberal publication in which he seemed to undercut Trump's tough stand on North Korea, dismissing any sort of military action as unrealistic and referring to some of his fascistic followers of his as "fringe" elements.
The Bannon departure was only the latest in a series of tumultuous shakeups that have plagued Trump's seemingly dysfunctional presidency, with Bannon reportedly in the middle of internecine feuds in the West Wing.
Image: Gage Skidmore, Flickr
Posted-In: Donald TrumpAnalyst Color News Futures Politics Exclusives Markets General Best of Benzinga
View Comments and Join the Discussion!