Fannie & Freddie Both Changed The Way They Talk About Their Dividends, And It's Not By Accident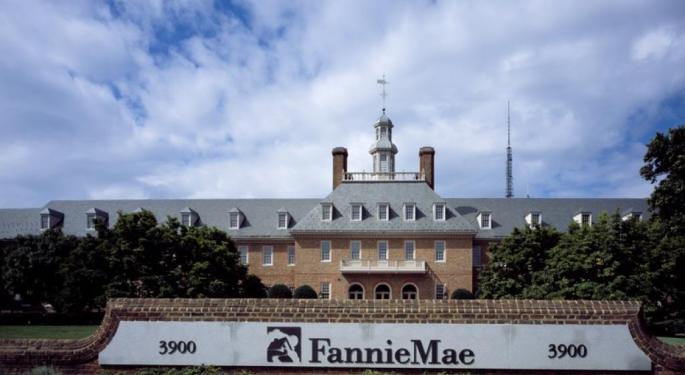 What a difference two little letters can make.
Shares of Federal National Mortgage Association (OTC: FNMA) and Federal Home Loan Mortgage Corp (OTC: FMCC) are both up 4.8 percent this week after both government-sponsored enterprises included the word "if" in their quarterly financial statements when referencing their upcoming dividend payment to the Treasury.
"Fannie Mae will pay Treasury a dividend of $3.1 billion for the third quarter of 2017 by September 30, 2017 if FHFA declares a dividend in this amount before September 30, 2017," Fannie Mae wrote in its second-quarter earnings report, following Freddie Mac's lead.
According to Height Securities analyst Edwin Groshans, the carefully-placed "if" was no coincidence.
Related Link: Despite Courtroom Losing Streak, Legal Action Still Best Route For Fannie Mae, Freddie Mac Shareholders
Groshans says the changes to the GSE's dividend language highlight several key issues surrounding housing finance reform at the moment. While Federal Housing Finance Agency director Mel Watt hasn't officially directed Fannie or Freddie to withhold dividend payments, it's well within his power to do so at any time. If Watt chooses to withhold some or all of the dividend payments, it could be a sign that the government has begun the long, arduous task of recapitalizing Fannie and Freddie.
"Any adjustment to the dividend is unlikely to occur prior to Congress raising the debt ceiling and making progress on the FY2018 budget," Groshans said.
Even if the government opts to begin recapitalizing the two GSEs, investors should keep their expectations in check. Earlier this year, Groshans estimates it would take roughly a decade for Fannie and Freddie to be adequately capitalized if they were allowed to retain 100 percent of their earnings.
The good news, however, is that Fannie Mae reported it expects to maintain its profitability in the foreseeable future.
Image Credit: Carol M. Highsmith [Public domain], via Wikimedia Commons
Posted-In: Edwin Groshans fannie mae freddie macAnalyst Color Politics Top Stories Analyst Ratings General Best of Benzinga
View Comments and Join the Discussion!