No Surprises Here...Fed Keeps Rates Intact
Drum roll please….And the Federal Reserve's Open Market Committee's decision about interest rates? No go.
That likely doesn't surprise market watchers who have been following the CME's FedWatch Tool, which has predicted with a 95% probability for some time now that today's Fed decision would be a nondecision. Bingo.
But what about a step up by June? Hard to say, based on the Central Bank's statement. Sticking with the "gradual pace" of tightening that Chair Janet Yellen has advocated for some time, the Fed statement noted softness in the economy and the slowdown in household spending, but signaled a stay-the-course position on monetary policy.
"The committee views the slowing in growth during the first quarter as likely to be transitory and continues to expect that, with gradual adjustments in the stance of monetary policy, economic activity will expand at a moderate pace, labor market conditions will strengthen somewhat further, and inflation will stabilize around 2% over the medium term," according to the statement.
The statement failed to give any clear hints about when the Fed might up interest rates next, noting that it believes that "economic conditions will evolve in a manner that will warrant gradual increases in the federal funds rate," adding that "the federal funds rate is likely to remain, for some time, below levels that are expected to prevail in the longer run."
The Fed said earlier this year that it expects to raise rates at least two more times this year, maybe even three, but didn't mention number of times today. It is not uncommon for the Fed to stay away from issuing any kind of commitment statement during a Fed meeting.
The FedWatch tool, a measure of Fed Funds Futures, had a near 70% probability of a rate increase by June ahead of today's meeting. After the announcement, those odds were unmoved.
But remember this: In its February statement, there was nary a clue to a raise in rates in March. But in the following weeks before that March meeting, Fed policy makers were all singing the same chorus that a hike was on the table for March, when rates were bumped up 25 basis points to 0.75%-1%.
Today's statement did make mention of inflation, a measure the Fed watches closely and has targeted at 2%, which it had actually hit in February. But since then, the economic numbers the Fed so closely watches have softened. March saw core inflation slip, blamed mostly on tough competition that led to reduced prices on cellular services, and the drop in sales of new and used cars. Seasonality, of course, appears at play here, analysts have pointed out­­--remember the snow storms in the northeast--and one month does not make a trend.
The Fed made mention of the fall back in consumer prices in March and that inflation dipped below that 2% target, but also noted that though consumer prices rose only modestly, the "fundamentals underpinning the continued growth of consumption remained solid."
Next up on the Fed agenda is a June meeting, which the Fed reminds us is "live." Between now and then, the Fed will see two more official jobs reports. Today ADP reported that its tally of private-sector hiring has slowed down to 177,000 in April after a March downward revision. The Commerce Department numbers, out on Friday, of course, are more inclusive than ADP because they add government positions to the count. But the ADP report gives us a good first-see of what might be expected, though many market participants tend not to put too much weight on those numbers.
And the Market Response?
A whole lot of nothing. The S&P 500 (SPX), which has been trading in a tight range in the last week, was narrowly lower ahead of the announcement and barely budged after. Ditto for the Dow Jones Industrials (DJX) and the Nasdaq (NDAQ).
The Volatility Index (VIX), the market's fear gauge, has been at historically low levels, even dipping below 10 in recent sessions, suggesting that the markets aren't terribly jumpy about direction. Ahead of the announcement, the VIX was up 3%, flirting with 11, and stayed there afterward.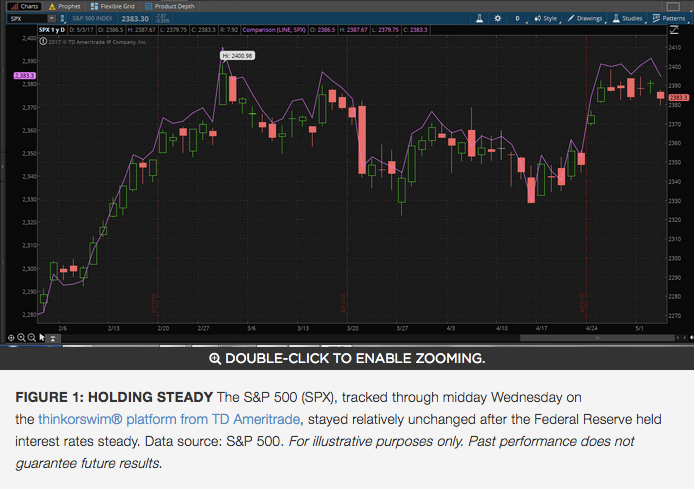 About Shrinking that Balance Sheet
Not surprisingly, the Fed did not make mention of contracting that $4.5 trillion portfolio of bonds and other assets that it accumulated in its Recession-related efforts to revive the economy. It was clear in the March meeting minutes that this was supposed to be the year the size of the balance sheet would be shaved and members have been publicly chatting about it regularly since.
Still they have not laid out a plan toward "normalization." Today's statement said only that it's maintaining its existing policy of reinvesting principal payments and rolling over maturing Treasuries.
Chair Yellen said in March that a decision on when the pare-down might begin is dependent on the Fed's confidence that the economy is continuing to improve. Keep in mind that shrinking the balance sheet is another form of economic tightening, something that the Fed has said repeatedly it doesn't want to do too quickly. Market speculation ahead of the announcement focused primarily on a January 2018 start date.
Moreover, the Fed has made it evident it will not begin to clip the portfolio without announcing a strategy well in advance, noting in December that it won't happen until the "normalization of the federal funds level is well underway." As we've said many times, the Fed is not in the business of shocking the markets.
Ben Bernanke, former Fed chair and a distinguished fellow at the Brookings Institute, underscored that in a piece he wrote on the Brookings site recently: The Fed, which has never been in this position before, doesn't want to make any hasty moves that might upend the markets with little wiggle room to fix them.
"Policy communication will be made easier and the risk of market disruption minimized if the shrinkage of the balance sheet, once it begins, is passive and predictable," Bernanke wrote. "In particular, once the runoff of the Fed's assets begins, the FOMC should proceed on the assumption that it will not be halted.
"But since the effect of balance sheet reduction on broader financial conditions is uncertain, it is prudent not to begin that process until short-term interest rates are comfortably away from their effective lower bound, leaving the committee room to offset any unanticipated effects." In other words, fix interest rates first then address the balance sheet. Or, as Bernanke also says in the piece, "There's no need to rush that process."
That might explain why there was no word on it in today's missive. Or maybe the Fed did talk about it and is just waiting to release the details when the minutes of this week's meeting are released later this month.
So What's in the Portfolio Anyway
Does the term Quantitative Easing mean anything to you? Beginning in late 2008, the Federal Reserve started a lengthy period of purchasing big chunks of financial assets as a means of stabilizing the then-shaky financial system and stimulating economic activity, what was referred to then as QE1. When all was said and done, the Fed had swelled its balance sheet to that $4.5 trillion tab from less than $900 billion pre-Recession.
Those buys were mostly Treasury securities and U.S. government-backed mortgage-related securities, which racked up about $2.5 trillion in Treasuries and $1.8 trillion in securities tied to mortgages. It has stopped buying financial assets in large chunks, but has kept the balance sheet steady by replacing maturing securities.
When it decides the time is ripe to trim the balance sheet, Fed officials have said they intend to do so, as Bernanke noted, in a "passive and predictable" manner that won't include huge assets sales. Instead, they are likely to stop "rolling over" maturing assets to phase out reinvestment. Again, when that might happen is still a question.
How They Voted
The vote has long been seen as good fodder for Fed watchers who keep close tabs on dissenters. But there were none this time around.
Minneapolis Fed president Neel Kashkari was the lone dissenter in March when rates were raised and he has continued to pound the pulpit about keeping rates low.
Posted-In: JJ Kinahan The Ticker TapeAnalyst Color Bonds Treasuries Federal Reserve Markets
View Comments and Join the Discussion!