Trump's China Summit Has Market Looking Cautious Amid Lack Of Other Catalysts
A cautious tone pervades on Wall Street early Tuesday ahead of a key meeting between President Trump and China's President Xi Jinping later this week. Trump and Xi are expected to discuss trade and North Korea, among other issues, and investors may be holding their collective breath to see what comes out of the summit.
In the meantime, things seem poised for a bit more weakness. While the major indices did bounce back well from their lows late Monday, they still finished with losses for the day, and defensive sectors like health care, utilities, and telecom were among the best performers. Meanwhile, some of the traditional high growth, higher risk sectors like consumer discretionary, financials, and industrials saw weakness. The market appears to be wobbling between a more defensive posture and a more risk-oriented one, perhaps a sign that direction could be lacking after a strong Q1.
Weak auto sales for March (see below) didn't help set a very positive tone Monday. Automakers continue to be aggressive with incentives to get customers into their showrooms. The only auto company to really shine in March was Tesla Inc (NASDAQ: TSLA), which now has a higher market capitalization than Ford Motor Company (NYSE: F)
This week looks relatively quiet from a data perspective, at least until Friday when the March jobs report looms. And earnings don't really get underway until next week. Volume has been pretty low the last few days, and it doesn't look like there's anything on the immediate horizon that could change that anytime soon. Factory orders are due later this morning (see below), and some Fed speakers will be talking later.
The lack of data could open the way for political news to dominate once again, including the president's meeting with President Xi later this week. Trump has said numerous times that he thinks trade policy with China is unfavorable to the U.S., and China is one of the U.S. economy's biggest trading partners. A bunch of sectors could gain or lose based on how trade policy with China might change under the new administration, and this meeting could help set the tone.
Before that, President Trump is scheduled to host a number of CEOs at the White House today. He's done this previously, and often opens up these sessions to reporters for at least part of the time. It might be worth monitoring to see if he or any of the CEOs talks tax or infrastructure policy.
From a technical standpoint, it was instructive late yesterday to see how the S&P 500 (SPX) bounced back after falling below key support at 2350.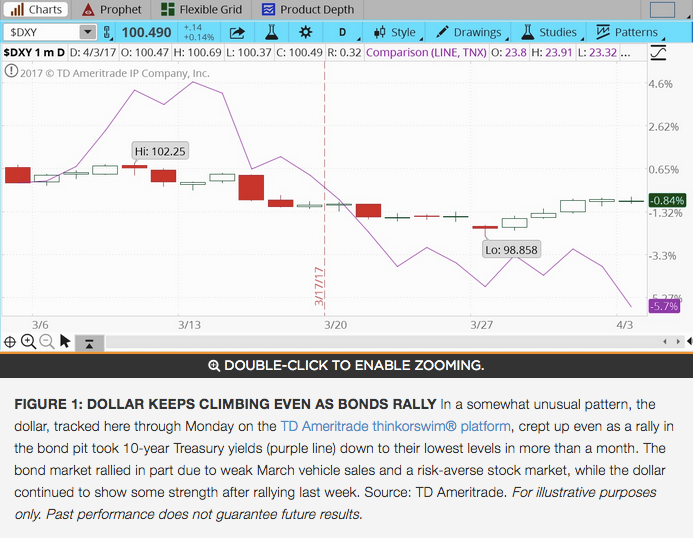 Too Much of a Good Thing For Auto Sales?
March auto sales came in lower for two of the three major U.S. car companies, putting some early pressure on the stock market Monday. Still, industry analysts say things remain relatively strong. Though growth has slowed from the breakneck pace of 2015, the market remains on track for more than 17 million sales in 2017, Bloomberg said. There's a sense among industry watchers that auto sales have plateaued, but at a high level, and that more profitable truck and SUV sales continue to propel many companies. Still, it's worth noting that cheap credit, one of the major factors driving sales higher, could be getting a bit harder to find as interest rates rise. And with so many cars sold in recent years, used cars are now more widely available. Also, manufacturers seem to be relying more on incentives.
Factory Orders Could Shed Light on Q1 Growth
Last week brought the government's final estimate for Q4 growth, so now the gross domestic product (GDP) focus is squarely on Q1. Today's February factory orders data, due at 10 a.m. ET, could shed a bit more light on the growth picture, with Wall Street analysts' consensus at 0.9% according to Briefing.com. That would be a small dip from 1.2% in January, but would continue the positive trend of recent months. January's report showed a big jump in orders for durable goods, so it could be interesting to see if that continued. But business-related investment remained somewhat soft in January. Check to see if today's report shows an uptick in nondefense capital goods orders, a proxy for business investment. The government's first estimate for Q1 GDP is due April 28.
Planting Season Potentially Muddy
U.S. farmers will soon climb into tractors to seed millions of Midwest acres with corn and soybeans. Some of the big agricultural-related stocks like Archer Daniels Midland Company (NYSE: ADM) and Caterpillar Inc. (NYSE: CAT) delivered relatively flat stock price performance in Q1. The question is whether these and some other companies like Deere & Company (NYSE: DE) might face tough sledding in the coming months. The U.S. Department of Agriculture (USDA) expects farmers to plant record soybean acreage this year, and both soybean and corn prices are under the weather amid a global glut of agricultural commodities. Further challenges could come from the new administration's contention that the North American Free Trade Agreement (NAFTA) needs changes. Mexico is a big market for U.S. corn farmers, and there are worries that Mexico might buy less U.S. corn if the two countries tangle over NAFTA. The National Corn Growers Association has an open letter to President Trump on its web site encouraging him not to disrupt trade with Mexico and other countries.
Posted-In: JJ Kinahan The Ticker TapeAnalyst Color Commodities Retail Sales Econ #s Markets
View Comments and Join the Discussion!