Buffalo Wild Wings Spokesperson: Insider Transactions Highlighted By Marcato Are 'Executed Under Preexisting Plans'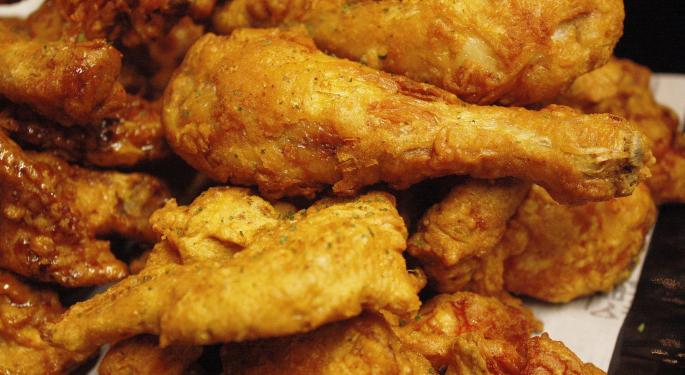 Buffalo Wild Wings (NASDAQ: BWLD), which is facing serious fundamental issues with wing price inflation the chief among them, is up against a graver threat.
Nothing More Than What Meets The Eyes
Activist investor Marcato is breathing down its neck, taking it to task for insiders selling shares in the company. The restaurant franchise was quick to rise to its defense. A Buffalo Wild Wings spokesperson clarified to Benzinga that insider transactions highlighted by Marcato were executed under pre-existing plans that are commonly adopted for personal financial planning purposes.
Marcato has been clamoring for four board seats at this year's annual shareholder meeting, where nine seats are up for grabs.
Marcato Cries Foul Over Insider Trading
In a presentation that was highly critical of insider selling at the company, Marcato noted that insiders have constantly sold stock in the company since 2003. Management and the board have sold a vast majority of the stock, the firm said. At the same time, not a single executive or director, barring one, have purchased shares of the company in the open market.
The presentation noted that in aggregate, top executives have unloaded 92 percent of all shares they have been granted since the IPO. The Employee Stock Purchase Plan, or ESPP, which allows employees to buy shares at a 15 percent discount, was used by executives to purchase discounted stock and then flipping those shares at market prices within an average of just 75 days after purchasing them, the presentation added.
Marcato went on to add, "Unlike the current leadership, Marcato has a significant interest in maximizing the long-term value of the business, owning 5.6 percent of Buffalo Wild Wings stock."
Stock Performance Speaks for Management Effectiveness
The company spokesperson said, "The interests of the Board of Directors and management team of Buffalo Wild Wings are closely aligned with those of the Company's shareholders. The Board and management team collectively own significant equity interests in the Company."
"Virtually all trading of the Company's common stock owned by management — who receive approximately half of their compensation in performance-based stock awards — is executed under preexisting plans that are commonly adopted for personal financial planning purposes," the spokesperson added.
The 80 percent appreciation in stock price in the past five years and the 470 percent gain over the last ten years, according to the company, in itself is a compelling evidence of the effectiveness of the Board and management, and their focus on the creation of long-term shareholder value."
However, only since late 2015, the company's shares have taken a beating, down about 20 percent. The downside could be traced to the wing price inflation that is hurting its margins and the overall financial performance.
Related Links:
Posted-In: Analyst Color News Commodities Restaurants Exclusives Markets Movers General Best of Benzinga
View Comments and Join the Discussion!