As Rate Hike Odds Keep Rising, A Little Trepidation Starts To Weigh On Market
Geopolitical concerns and worries about possible rising interest rates appear to have the markets under a little pressure early this week.
Futures pointed to a lower open this morning after yesterday's slight weakness, although the markets did pare some losses as they headed into Monday's close. That said, all sectors except energy were down on the day. Materials and financials led the market lower.
Last week, many investors seemed jubilant about the Fed telegraphing a possible rate hike, viewing the potential move as one that showed the Fed's confidence in the U.S. economy. But after a weekend to think it over, it appears some market participants now look at a rate hike with growing trepidation, and that could be behind a bit of the weakness yesterday and today. A rising rate environment can sometimes keep a lid on stock market gains, though that's by no means assured. Odds of a March hike reached 88% by early Tuesday, CME futures projected.
However, arguably the major story of the day on Monday was around political uncertainty that raised its head with the news of North Korea's missile testing. Concerns about possible danger from North Korea seemed to give the U.S. market a pause. European and Asian markets posted mixed results early Tuesday.
Back in the U.S. early Tuesday, Dicks Sporting Goods Inc (NYSE: DKS) posted fourth-quarter earnings and revenue that beat Wall Street analysts' consensus. Same-store sales for the quarter also beat estimates. However, shares fell in pre-market trading as the company's guidance looked somewhat disappointing. The stock is up about 20% over the last year.
On the data side, investors continue to await Friday's jobs report, the last major economic numbers prior to the Fed's March 14-15 meeting.
Early Tuesday brought international trade statistics, which showed the U.S. January trade gap widening to its highest level in nearly five years. The gap in goods and services trade increased by 9.6% to $48.5 billion, in line with analysts' estimates.
Though other economic data is a little light, some interesting investor data came out yesterday, pointing toward optimism among retail traders last month. Retail traders tracked by TD Ameritrade were net buyers of stocks in February for the second-straight month, according to the Investor Movement Index®, or the IMXSM, which came out Monday. The February reading climbed to an all-time high of 6.15, up from 5.71 in January, amid broad-based buying interest that embraced a number of different sectors. The previous all-time high of 5.87 was posted in March 2014.
It's quite a turnaround from a year ago, when retail clients were dialing back their equity exposure and the February 2016 IMX was at 4.44. It looks like investor confidence may have been fueled by February's market highs, earnings, and other macroeconomic influences.
Buying interest ranged across sectors, from info tech to financials; from energy to health care. Amazon.com, Inc. (NASDAQ: AMZN), which reported better-than-expected earnings, was a net buy. And banks remained popular, with JPMorgan Chase & Co. (NYSE: JPM) and Bank of America Corp (NYSE: BAC) being net buys.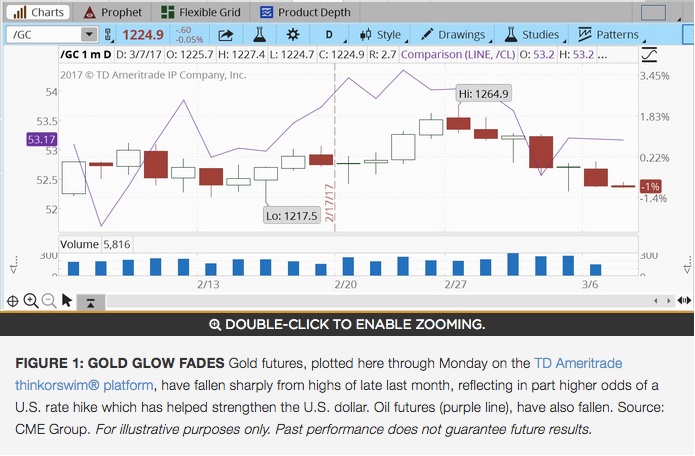 Factory Orders Data Seen Helping Q1 GDP
A stronger-than-expected reading on January factory orders released Monday could have some economists raising their estimates for Q1 gross domestic product (GDP) growth, according to Briefing.com. Factory orders rose 1.2% in January, compared with Wall Street analyst's consensus estimate of 1%. The January gain was driven by a 2% increase in orders for durable goods, which was higher than the 1.8% increase seen in the advanced report for durable goods orders. "The key takeaway from the report is that it should contribute to some slight upward revisions to economists' first quarter GDP estimates, since shipments of nondefense capital goods excluding aircraft were not down as much as the advanced report for durable goods indicated," Briefing.com said. As of Monday, the Atlanta Fed's GDP Now indicator predicted 1.8% growth in Q1, but investors may want to check later today to see if that figure gets revised. Next up: Wednesday's wholesale inventories for January, which Briefing.com estimates will fall 0.1%.
China Chills?
A number of analysts pointed toward Asia — namely North Korea's missile tests —as a partial explanation of why stocks came under pressure early this week. But another Asian "flu" may have been blowing in from China, which lowered its estimate for 2017 growth over the weekend. China is now targeting growth of 6.5%, according to media reports, down from 6.7% last year, and a 25-year low. Over the weekend, The Wall Street Journal published a high-profile article about challenges Asia faces, saying, "the greatest risk is the dramatically slowing Chinese economy." A year ago, the stock market was feeling pressure from China, but recovered, and China's economy also seemed to improve. But it's never a good idea for investors to forget about Asia's economies and their potential effect on U.S. stocks.
Technical Support? Remember That?
Seems like it's been a while since technical support for the market was on the discussion board, seeing that stocks have been going nearly straight up all year. That's changed this week after the S&P 500 Index (SPX) began to hiccup a little. It looks like technical support for the SPX is in the 2352 area, so there still may be some room to run before that level is approached.
Posted-In: Analyst Color Earnings Commodities Forex Events Econ #s Federal Reserve Markets
View Comments and Join the Discussion!