'Trump Bump' Returns As Markets Climb After Upbeat Speech
The so-called "Trump bump" appears to be back. Stock futures signaled a much higher open Wednesday after the President's speech, even as odds for a March rate hike climbed significantly.
While President Trump didn't offer a great amount of detail on his economic plans, he once again promised "massive" tax cuts for the middle class, and spoke of a $1 trillion infrastructure program. The market seemed to like the speech a lot, and the President's tone sounded presidential and unifying, which is important. A good CEO paints a picture and a vision, and President Trump did that for the country last night.
The speech offered a lot less in the way of details than many market participants would have liked to see, but there's a widespread belief that those details will eventually come. At the end of the day, it's all about taxes.
Before the speech, the Dow Jones Industrial Average ($DJI) closed lower Tuesday, breaking a 12-day streak of consecutive closing highs that had been the longest since early 1987. End-of-the-month portfolio re-balancing may have played a role in breaking the string of records.
Expectations of a March rate hike zoomed early Wednesday, according to CME Fed funds futures. The latest comments from New York Fed President William Dudley sounded hawkish (see below). Fed Chair Janet Yellen is scheduled to speak Friday before the Fed enters its silent period ahead of the March 14-15 meeting.
Bond prices fell early Wednesday, with 10-year Treasury yields climbing to 2.43%. This may be a sign of the market pricing in better odds of a March rate hike. The dollar appeared stronger as well, and volatility, as measured by VIX, came down after the President's speech.
From a sector perspective, financials remain the one to watch. We'll see if they continue to lead the way amid talk of economic stimulus and rate hikes, both of which would typically support financial stocks.
On the earnings front, home improvement retailer Lowe's Companies, Inc. (NYSE: LOW) reported better than expected results, and shares jumped 7% in pre-market trading. The news seemed less favorable at Best Buy Co Inc (NYSE: BBY), which reported a decline in same-store domestic sales and delivered guidance that was below analysts' expectations. Shares fell in pre-market action.
Data to watch today include personal income, consumer spending and core price index data, which were released before the open, as well as construction spending and the ISM manufacturing data later this morning and the Fed's beige book this afternoon. Personal income rose 0.4% in January, in line with the consensus forecast by Briefing.com.
February auto and truck sales also roll in today, and we'll see what they bring after January sales slowed down from December's record pace.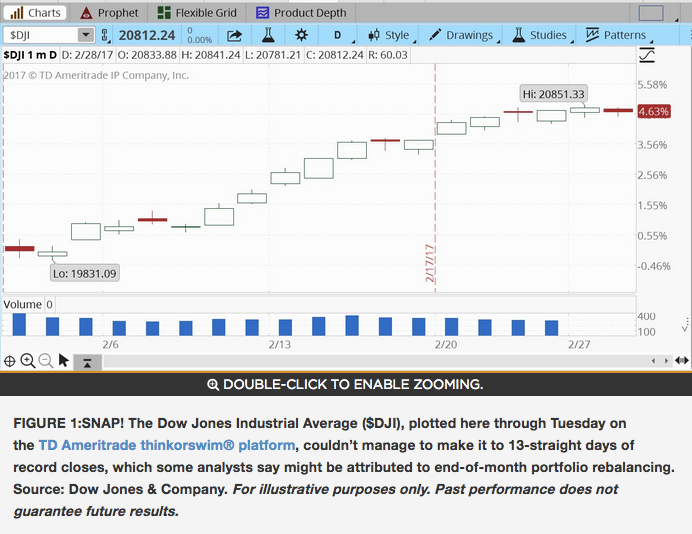 Fed Watch Continues
As the probability of an interest-rate hike by March climbs, investors are likely to be parsing every sentence, indeed every word, that members of the Federal Reserve utter before Saturday's self-imposed black period begins. Yesterday, New York Fed President William Dudley said the case to raise has become "a lot more compelling" as the economy improves at "an above-trend pace" and the markets hit record levels.
"There's no question that animal spirits unleashed a bit post the election," he told CNN International. He also pointed out that the minutes of the Federal Open Markets Committee meeting noted that the central bankers believe a step up in rates could come "fairly soon." But that doesn't mean "it's a week, a month, a couple months. Fairly soon means in the relatively near future," he said.
Consumers Feel Better
That's according to the Conference Board, which reported in its monthly missive yesterday that U.S. consumer confidence scaled to its highest level in 15 years. The index climbed to 114.8 in February, from 111.6 in January, when it dipped after reaching a 15-year high of 113.3 in December.
Consumers' assessment of current conditions and the short-term outlook, as well as the attitude for the labor market, were mixed, but mostly upbeat. "Overall, consumers expect the economy to continue expanding in the months ahead," said Lynn Franco, Director of Economic Indicators at The Conference Board.
Why does consumer confidence matter? Because consumer spending accounts for some 70% of all economic activity in the U.S. If consumers pull back spending, GDP often takes the brunt.
What Foreign Country Holds the Most U.S. Equities?
That would be the Cayman Islands, according to the June 2016 benchmark survey of foreign portfolio holdings of U.S. securities released yesterday on the Treasury Department's website. Of the $6.18 trillion of foreign holdings in U.S. equities, $796 billion is held by Caymans, according to the survey that's compiled by Treasury, the Federal Reserve Bank of New York, and the Board of Governors of the Federal Reserve System. The United Kingdom's U.S. portfolio held $741 billion in equities while Canada's stood at $695 billion. Of the total, some $819 billion are held by foreign official institutions, the survey said. Including long-term and short-term securities, foreign holds of U.S. securities stood at $17.14 trillion compared to $17.13 trillion at the end of June 2015.
Posted-In: The Ticker TapeAnalyst Color Earnings Retail Sales Econ #s Federal Reserve Markets
View Comments and Join the Discussion!