The Art Of The Deal: Cisco Nabs AppDynamics Just Before IPO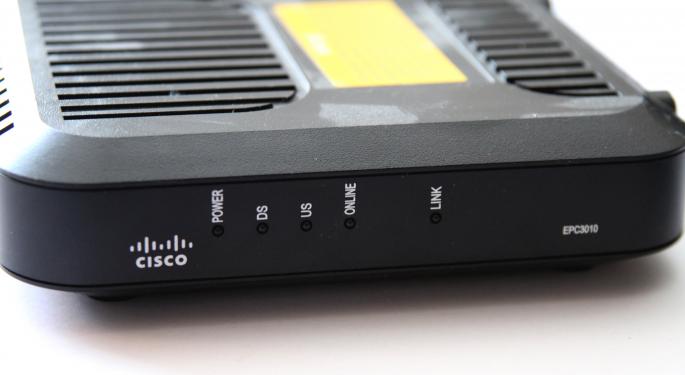 AppDynamics was prepping for an initial public offering, but the company now has different plans.
AppDynamics sells an enterprise-grade application intelligence software platform that enables enterprises to accelerate a digital transformation.
Cisco Systems, Inc. (NASDAQ: CSCO) announced it has agreed to acquire AppDynamics in a deal valuing the tech company at $3.7 billion just days before it was on track to begin trading at a valuation of less than $2 billion.
JMP
Erik Suppiger of JMP Securities commented in a research report that the price tag on the acquisition implies a valuation of more than 10x forward sales, which also makes the deal Cisco's largest and highest profile since its CEO Chuck Robbins took over in July 2015.
The analyst added that Cisco's salespeople are excited about the opportunity to sell AppDynamics' products and the acquisition is a "major event" for the company, but at the same time, it can also distract management from its data switching products where it has been shedding market share.
Nevertheless, the acquisition does extend Cisco into "an attractive high-growth market and builds on the company's application-centric product roadmap."
Shares of Cisco remain Market Perform rating.
Pacific Crest
Alex Kurtz of Pacific Crest commented in a research report that AppDynamics is a "natural fit," as it now allows Cisco's product portfolio to extend its insight across the network, security and application layers.
The analyst added that the acquisition also diversifies Cisco's revenue base with incremental subscription and recurring revenue sources.
Kurtz also suggested that the acquisition "speaks to the importance" of the application performance management space and investors should pay attention to New Relic Inc (NYSE: NEWR).
The analyst expanded that Cisco's acquisition was completed at a roughly 10x valuation to calendar 2018 sales (estimated at $450 million). By comparison, New Relic is expected to drive at least $386 million in 2018 calendar revenue yet shares were trading at just 3.9x 2018 revenue when the note was published on Tuesday.
Note: Shares of New Relic were trading higher by nearly 20 percent at $39.82 ahead of Wednesday's market open.
Kurtz maintains an Overweight rating on Cisco's stock with a $33 price target and maintains an Overweight rating on New Relic, which could see upside to $44.
Wunderlich
Matthew Robison of Wunderlich commented in a research report that the rationale behind the deal is synergistic in nature. Specifically, Cisco's security products and now benefit from the ability to scale performance management and security as the Internet of Things (IoT) proliferates.
The analyst added that the acquisition is part of Cisco's move to become the solution provider for the IoT and artificial intelligence sector although Cisco is using a "hefty portion" of its $10 billion (F1Q17) domestic cash. As such the deal likely implies a large domestic acquisition is off the table for the time being although a decision for future dividend increases is still very much on the table.
Shares of Cisco remain Hold rated with a $27 price target.
Deutsche Bank
Vijay Bhagavath of Deutsche Bank commented in a research report that he spoke with Cisco's chief strategy officer on how the company will leverage its newly acquired property within its growth strategy.
Cisco will integrate AppDynamics into the IoT and Applications business. While AppDynamics is operating at a loss the deal on a pro-forma basis could add up to one point of top-line growth for Cisco in fiscal 2018.
"We see AppDynamics as a solid fit for CSCO — given the meaningful Fortune 500 customer overlap and CSCO's ability to accelerate AppDynamics' run-rate by leveraging the CSCO's global IT franchise: +$200 billion networking footprint and +400,000 Channel Partners," the analyst wrote. "Heading into FY18+, we see CSCO likely to be active on the deal front, looking to grow through inorganic and new product launch strategies: Tetration, etc — to 'double down' on the Analytics, AI, Automation 'AAA' Theme. While CSCO in prior decades focused on building a meaningful +$200 billion global networking footprint and +400,000 Channel, CSCO over next few years is likely to emphasize 'actioning' the global footprint via Automation, AI, and Analytics Software and Digitization integrated into the company's Networking Platforms. Fortune 500, Cloud, and Carrier IT, coincidentally is prioritizing Business Intelligence, Security, and Automation – which fits well into the AAA theme we highlight as an FY18+ Growth Driver for CSCO."
Image Credit: By Kjetil Ree (Own work) [CC BY-SA 3.0 (http://creativecommons.org/licenses/by-sa/3.0)], via Wikimedia Commons
Posted-In: Alex Kurtz AppDynamics Cisco AppDynamics Acquisition Deutsche Bank Erick Suppiger IPOAnalyst Color Analyst Ratings Best of Benzinga
View Comments and Join the Discussion!