Jobs Jolt Ahead? After Fast Start To Year, Markets Await Payroll Data
The new year is off to a fast start.
After a strong showing Wednesday that saw nine of 11 sectors rise and left the markets knocking at the door of record highs, the market approaches the new day watching oil and a couple of data reports. But it's possible that much of today will be spent setting up for tomorrow's employment report. Stocks fell in pre-market trading.
Data today include the ADP's reading on private job creation, released prior to the open. It showed 153,000 jobs created in December, well below the expected 170,000 and the 216,000 reported in November. The ISM Non-Manufacturing Index also comes out Thursday.
Oil moved a bit higher early in the day, and we've seen some volatile trade there in the last two days. U.S. weekly crude inventory data are due a bit later on.
From a technical perspective, S&P 500 resistance remains at 2272, a level that's been somewhat elusive. The index hasn't been able to close above it, though it's moved above it intraday at times, including on Wednesday.
Strong auto sales numbers helped drive Wednesday's gains (see below). Fed minutes that were relatively benign also played a role, but Fed officials did express concern about potential harm to the economy from a rising dollar. One thing to watch for this earnings season is the possible effect of the strong dollar. In a strong dollar environment, multinational companies can sometimes struggle. The dollar retreated slightly after the Fed released its minutes and remained lower early Thursday.
Another concern the Fed expressed in its minutes was the potential for over-stimulation of the economy and the need to watch this carefully in case rates need to be moved up quickly in reaction.
With tomorrow's jobs report approaching, Wall Street consensus expectations now look to be at around 170,000 jobs created in December, down from the 2016 average of about 180,000. Typically, the jobs report is the most important data point of the month, but this time it might not have as much "oomph." That's in part because Fed funds futures are pricing in less than a 50% chance of a rate hike until May. So unless the jobs number is a complete disaster or the best we've ever seen, the market likely won't have a large reaction, because the data aren't likely to affect Fed policy too much one way or the other.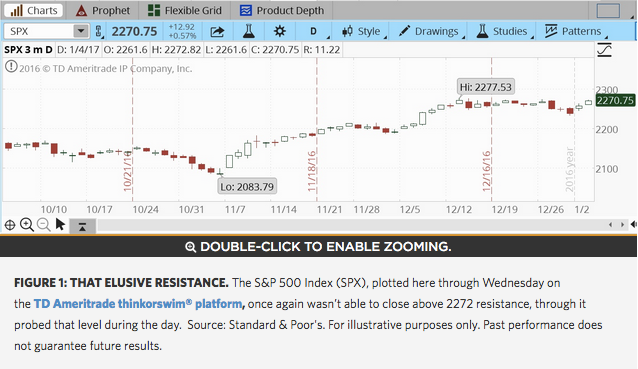 Winners and Losers For 2016
As we work our way into 2017, let's not forget to look back and see which sub-sectors performed best and worst in the year just ended. The best five performers were gold; oil and gas storage and transportation; steel; semiconductor equipment; and construction equipment, according to CFRA Research. The weakest five sub-sectors were specialized consumer services; office services and supplies; health care distributors; health care technology; and footwear. Past isn't prologue, but history shows weaker sectors sometimes rebound the following year, CFRA noted. Can this happen in 2017? Time will tell.
Auto Sales Speed Up
Fiat Chrysler Automobiles NV
(NYSE: FCAU),
Ford Motor Company
(NYSE: F),
and
General Motors Company
(NYSE: GM)
all reported better-than-expected auto sales for December, giving the automobile sector an early boost Wednesday and providing more evidence of consumer health. It looks like total sales for 2016 could come in at around 17.5 million, the eighth-consecutive year of increasing unit numbers. Even as cars kept rolling out of dealer showrooms, prices kept climbing. The average transaction price topped $35,000 for the first time ever in 2016. Still, that was just a 1.5% increase from a year earlier, so prices seem to be tracking with overall inflation.
Tuning Into the CEO Show
Not too long ago, sports fans regularly gathered around the radio or television to listen to or watch a group of famous sports writers sit around talking and debating various issues affecting all the professional leagues. Earnings season offers investors something similar, meaning a chance to hear from CEOs not only about their own companies, but about their industries and the economy in general. That's why it's probably a good idea, if you're interested in buying a particular stock or investing in a particular sector, to listen to five or 10 earnings calls this month and next to get a sense of where CEOs think things are going. It doesn't mean you need to be a "junkie" and listen to every call; that's what analysts get paid for. But it definitely could behoove investors to listen to a few. It could be particularly interesting this month to hear what CEOs think might be ahead for the economy under the new administration.
Posted-In: The Ticker TapeAnalyst Color Health Care Commodities Federal Reserve Markets Tech
View Comments and Join the Discussion!