Apple Dominates Q3 Buybacks Despite Fallen Returns Across S&P 500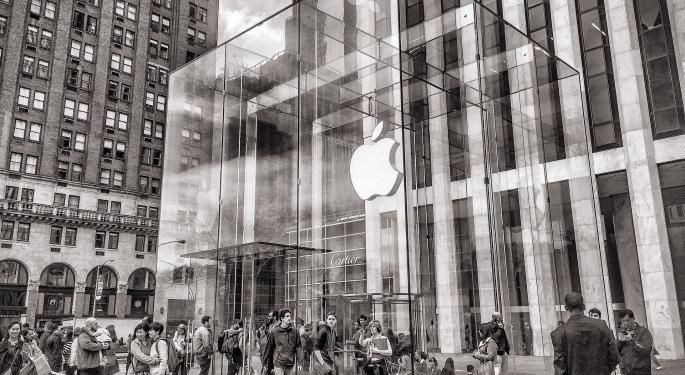 Shareholder returns for the S&P 500 companies continued to fall for the second quarter in a row following a record first quarter. However, iPhone maker Apple Inc. (NASDAQ: AAPL) continued its dominance in buybacks.
Share Repurchases
Data released by S&P Dow Jones Indices show S&P 500 share repurchases totaled $112.2 billion in the third quarter of 2016, a 12-percent drop from the $127.5 billion reported in the second quarter and 30.5-percent fall from the $161.4 billion reported in the first quarter.
On a year-over-year basis, the number was a 25.5-percent decrease from the $150.6 billion reported in the third quarter of 2015.
For the 12-month period ending in September 2016, S&P 500 firms spent $547.0 billion on buybacks, down 2.1 percent from the $558.9 billion spent in the same period of 2015 and down 7.2 percent from the 12-month record of $589.4 billion, which was set in first quarter.
"After increasing activity to support equity prices, Q3's 12 percent decline in buybacks, after Q2's 21 percent decrease, reinforces the belief that companies pulled back to conform to budgeted expenditures," Howard Silverblatt, senior index analyst at S&P Dow Jones Indices said in a press release.
Buyback Spend: Apple, Microsoft And GE
Company-wise, Apple spent the most on buybacks at $6.0 billion, versus $10.2 billion spent in the second quarter.
Microsoft Corporation (NASDAQ: MSFT) came in second, with $4.4 billion, up from $3.7 billion in the second quarter. General Electric Company (NYSE: GE) took the third spot with $3.7 billion, down from $8.0 billion in second quarter.
Meanwhile, total shareholder return (including dividends) came in at $210.6 billion in the third quarter. This is also down 6.7 percent from second quarter and down 18.4 percent from the first quarter. That said, the dividend payments ticked up 0.12 percent.
The 12-month shareholder return totaled $939.8 billion, down 3.6 percent from second quarter's $974.8 billion and down 3.6 percent from the record $975.0 billion set in the 12-month period ending March 2016.
A Look Forward
Looking ahead, there is scope for increased shareholder returns given higher cash reserves due to low-cost financing.
According to Silverblatt, cash reserves also set a new record for the third consecutive quarter, as S&P 500 Industrial (Old), which consists of the S&P 500 ex-financials, transportations and utilities, available cash and equivalent rose 8.2 percent to $1.49 trillion.
"The current cash level is nearly double of expected 2017 operating income, giving corporations leeway in their expenditures," Silverblatt said.
View Comments and Join the Discussion!
Posted-In: howard silverblatt S&P Dow Jones IndicesAnalyst Color News Dividends Buybacks Analyst Ratings Tech Best of Benzinga