Will Dow Hit 20,000 Before The Long Holiday Weekend?
Are stocks taking a quick Christmas snooze before the long weekend? Early indications are that the Santa rally is on pause amid thin early trading before investors head for the exits.
Banks stocks may get some action after two multi-billion-dollar settlements were reached with German lender
Deutsche Bank AG (USA) (NYSE: DB) and Swiss lender Credit Suisse Group AG (ADR) (NYSE: CS) and the Department of Justice. The fines are tied to charges related to mortgage-backed securities.
DBK's settlement of $7.2 billion was about half of what investors expected, according to published reports, helping to boost the stock by more than 2%. CS has agreed in principle to fork over $5.3 billion, which was about what the Department of Justice was seeking, reports said.
U.S. banks have paid out about $46 billion in related penalties.
Fade to black? Yesterday was just another day--and today may be more of the same—to see the Dow Jones Industrials' pass that psychological 20,000 mark. Psychological because, after all, it's just a number, right?
If the Dow ends in the red it is starting off in, it will mark the first time in three straight days that market has slipped since the election. Even still, barring any unforeseen circumstances throughout the day, the Dow is on track to score it sixth week in a row of upward gains.
But will Dow 20,000 even happen in 2016? There are those who say no because despite the market's apparent post-election exuberance, the economic indicators are sending mixed signals, which may be pushing the pause button on stocks.
Yes, the economy is growing, but at a temperate pace, according to the Conference Board's leading economic index. Released yesterday, the gauge fell flat in November, missing Wall Street's expectations of a 0.1% rise, and after a 0.1% increase in October and a 0.3% gain in September. That came on the heels of government reports that said U.S. business equipment climbed above expectations last month as did the Q3 domestic product. What gives?
The culprits of the LEI apparently were marked weakness in building permits and manufacturing hours, and a slight decline in new manufacturing orders, the Conference Board said. Those overpowered small gains in the seven other categories that make up the index. "The underlying trends in the LEI suggest that the economy will continue expanding into the first half of 2017, but it's unlikely to considerably accelerate," Ataman Ozyildirim, director of business cycles and growth research, said in the Conference Board's statement.
But beyond that, our friends at CFRA tell us that history has written a different story when it comes to major milestones in the stock market. "With the DJIA flirting with the 20,000 level, we are reminded that millennium and century marks on major stock indices have traditionally acted like rusty doors, requiring several attempts before finally swinging open," Sam Stovall, CFRA's chief investment strategist, wrote in a note this week. "Therefore, it should come as no surprise if stocks take a breather to digest recent gains."
And let's not forget that this before-Christmas week is following another historic pattern of light volume, and that so-called fear gauge the VIX is as dead as a door nail on those rusty doors. It dipped to a record low of 10.93 on Wednesday and is still hovering just barely above 11. So let's remind investors again that this is probably not the time to open big positions; recheck your portfolio balance for 2017.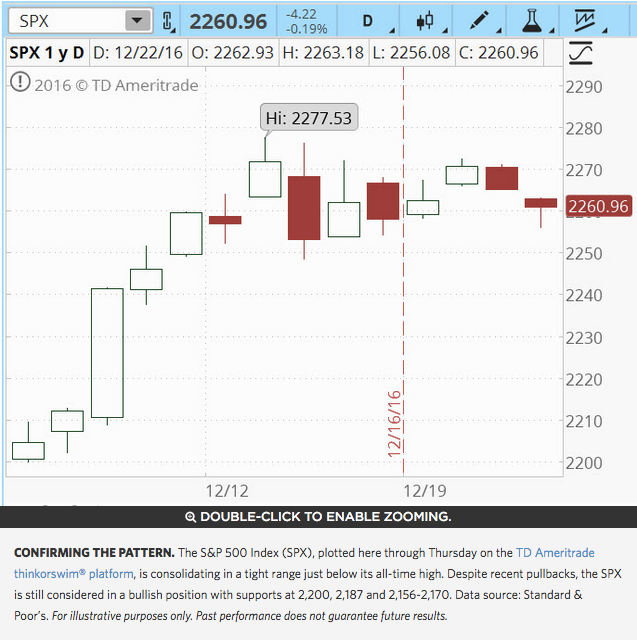 Holiday Sales Choke?
Retailers apparently are not faring as well this year as they did last year, according to some industry researchers. NPD Group notes that "the annual holiday sales lull was deeper than last year, increasing the challenge facing retail to beat or meet last year's results," in its weekly point-of-sale data results. "Dollar sales in the sixth week of the 2016 holiday-shopping season were 5% lower than the same week in 2015. Cumulatively, too, dollar sales are trending 4% lower than the same period a year ago, the report said.
Retailers have only themselves to blame, says NPD as well as Ken Perkins, president of Retail Metrics. "The nation's retailers started promoting early and often this year as they relentlessly fight for wallet share," he said in a report yesterday. "The industry has essentially been on sale since Halloween with chains frantically attempting to book sales whenever possible." That's come, he added, despite lower inventory positions, suggesting that there are more than enough products out there for everyone and then some.
Deep discounting leads to lower profit margins, which, in turn, hurt retailers' bottom lines. Investors took note of those two reports Thursday and slammed retail stocks.
December's Car-Buying Binge.
Those ubiquitous ads of shiny new cars with big bows around them are out in force in December for a reason: It's a hot month for auto sales, according to Kelley Blue Book.
"December is shaping up to be the biggest sales month of 2016, even though it will likely fall short of last year's record results," Tim Fleming, analyst for Kelley Blue Book, said in a report. "At year-end, 2016 light-vehicle sales should total 17.4 million, just 0.1% short of 2015's record year.
Looking for deep discounts on the auto lots? They'll be out there, Fleming said. "Sales for the month will be boosted by plentiful retail incentives featured in many holiday sales events across the country, and one last push to hit year-end sales objectives," he said.
Posted-In: The Ticker TapeAnalyst Color Retail Sales Legal Markets
View Comments and Join the Discussion!