Fed Reaction: Markets Slip, VIX Climbs, Yields Slip
Bingo. The Federal Reserve finally did it and raised the benchmark interest rate for the first time this year and only the second in the last decade, and suggested that 2017 may hold three more hikes.
Without much fanfare or surprise, the Central Bank bumped the federal funds rates to a range of 0.50%-0.75%, up 25 basis points from the 0.25%-0.50% range it has held since last December.
The holiday hike was widely expected: Fed officials have been vocal in recent speeches about their intent to nudge rates higher and the Chicago Mercantile Exchange's FedWatch tool has held a steady 95% probability for some time.
What's more, this does not appear to be a repeat of the one-and-done event of last year's hike. Though it did not commit itself to a February or March hike or any month in particular, the statement noted that market conditions are improving and that it might raise short-term rates by another 0.75 percentage points, likely to come in three quarter-point steps.
"The stance of monetary policy remains accommodative, thereby supporting some further strengthening in labor market conditions and a return to 2% inflation," the rate-setting Federal Open Market Committee statement said.
For its part, the CME futures tool held a 95%-plus probability on all seven of next year's Fed meetings ahead of the statement, with likelihood of hikes in September and November at 99%. That's prone to change as traders absorb the Fed statement and remarks Chairman Janet Yellen made in her press conference after the announcement.
The markets, which started the day on the downside but mostly moved to the flat line in the hour ahead of the announcement, jumped immediately after to session highs, including a fresh peak for the Dow Jones Industrials Average (DJIA), which has been flirting with a 20,000 mark. But 20 minutes later, the euphoria was dead as the markets moved back into negative territory.
The dollar held slightly higher before the announcement and spiked higher after, while benchmark Treasury yields, which were gaining ahead of the announcement, slipped lower. The VIX, the market's so-called fear gauge, was level ahead of statement but climbed 2.2% after.
The statement also noted that inflation lingers below the Fed's 2% long-term objective, but Yellen said in a press conference that she expects it to rise to 2% in the next two years. "Inflation is expected to rise to 2% over the medium term as the transitory effects of past declines in energy and import prices dissipate and the labor market strengthens further," the statement said, repeating its wording in November. "Near-term risks to the economic outlook appear roughly balanced."
Unanimous consent is business as usual for the Fed when it ups interest rates. Yellen has had dissenters in five out of the seven meetings this year held before this week's—when there was no uptick in rates—and some analysts were thinking there might be at least one dissenter today in Gov. Lael Brainerd. She has been an aggressive defender of low rates in speeches this year and her consent today was noteworthy, analysts said, in that it underscored Yellen's control of the Fed.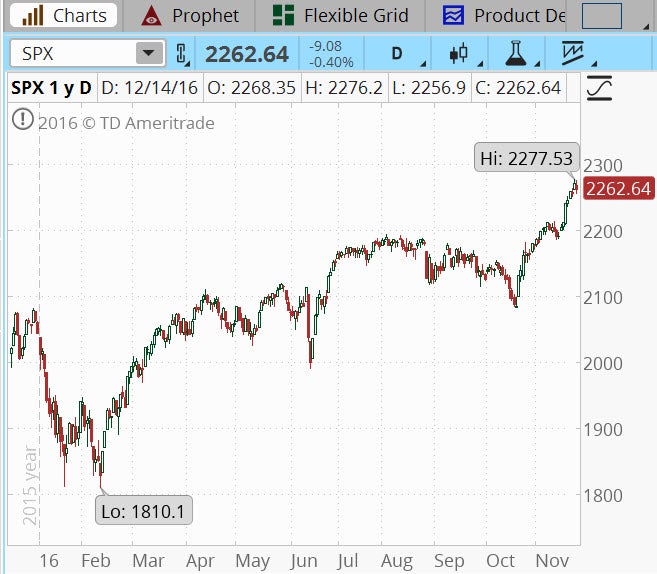 FIGURE 1: HOLDING STEADY. The S&P 500 (SPX), plotted here Wednesday on the TD Ameritrade thinkorswim® platform, hugged the flat line in early trading ahead of the decision, rose after the statement was released, but slipped into negative territory within 20 minutes. Data source: Standard & Poor's. For illustrative purposes only. Past performance does not guarantee future results.
What's Happening with the Workforce?
That appears to be a major challenge for the Fed as it struggles to redefine the workforce, according to Dallas Fed Bank Chief Executive Robert Kaplan. In an interview on CNBC in late November, Kaplan talked about how the Fed spends a lot of time studying the future of the workforce in terms of its size and the technologies that are disrupting it.
"What I think about is the big secular driver, about the workforce and the fact that it's increasing its dependency factor—a diminishing number of workers to support an increasing number of dependents," he said. "We need to take (that) into account in any economic policy.
"There's no question that disruption, technology-related disruption is affecting business (and) affecting workers who have to move to new industries and get retrained," he added, noting that vocational training needs to be beefed up to help people change jobs and move to new industries. "We're behind the curve on that and we need to rapidly catch up."
His concerns about the technology disruptions, however, were not nearly as worrisome to him as the makeup of the workforce. "Disruption is a factor, the aging demographics is more significant," he said. "We need to address the size of the workforce and its productivity. If the workforce is declining or demographics are declining, that creates a headwind."
What's Full Employment?
In Fedspeak, it tends to be the jobless rate's lowest level before inflation kicks in, which typically happens when the supply-and-demand balance of the workforce changes and employment is maxed out. In other words, when employers can't find enough workers or enough qualified workers to fill their labor needs.
Are we there yet? "My colleagues and I are recognizing the considerable progress the economy has made toward our dual objectives of maximum employment and price stability," Fed Chair Janet Yellen said at the press conference after the announcement.
"The unemployment rate was 5.8% in November, three-tenths lower than the latest reading available at the time of the September FOMC meeting," she said. "Broader measures of labor market utilization have shown similar improvement, and the labor force participation rate has leveled out. As noted in the FOMC statement, "underutilization of labor resources continues to diminish."
"Even so, there is room for further improvement, with too many people who want jobs being unable to find them, too many who are working part time but would prefer full-time work, and too many who have given up searching for a job but would likely do so if the labor market were stronger." So, no, we're apparently not there yet.
Posted-In: Analyst Color News Futures Treasuries Top Stories Economics Federal Reserve Markets
View Comments and Join the Discussion!