Focus Turns to Friday's Jobs Report Even as OPEC Buzz Continues
With OPEC's production agreement out of the way, the deck is cleared for Friday's jobs report, one of the last major economic highlights before the Fed meeting.
Tomorrow's employment numbers may not have the same market impact in this post-election world, but nevertheless, payrolls data remain one of the best measures of economic health. Economists surveyed by the media are looking for jobs growth of around 180,000 in November (see below).
Even as the jobs report looms, there's still a buzz after yesterday's session, which was marked by a rather unusual event. Energy and financial stocks spiked Wednesday even as the S&P 500 Index (SPX) pulled back. This isn't something we often see, and the question is whether the pattern could continue. SPX futures were a little lower early Thursday. If the oil market itself is any indication, energy names could be in line for more strength, with crude prices rising above $50 a barrel early in the day.
Energy stocks put on a real show Wednesday, skyrocketing after OPEC's decision. The sector as a whole climbed nearly 5% amid hopes that OPEC's production cut could give oil a long-term boost, potentially helping energy firms' bottom lines.
Financial shares had a rally of their own Wednesday, continuing to draw support from rising 10-year Treasury yields, which rose to above 2.4% early Thursday. A procession of Fed speakers has spoken in favor of a near-term rate hike. Additionally, continued weakness in bond prices, as well as strength in financial stocks, arguably provide further evidence that everything may be on track for a Fed move Dec. 14. (See below).
On the data front today, we have auto and truck sales for November, along with construction spending. The question is whether these reports show continued economic strength, as we've seen from so many other recent data points.
Attention remains firmly on future events like tomorrow's jobs report and the Fed meeting later this month. But it's worth noting that although November finished with a whimper, it was an amazing month, indeed, with the Small Cap Russell 2000 being a primary beneficiary, up more than 11% for the month.
As we move toward year-end, the area that has many nervous is whether year-end sector rotation from strong performers and sectors into weaker ones, along with the presumed Fed rate hike, could hurt the stock market. Keep an eye on sector moves as December advances.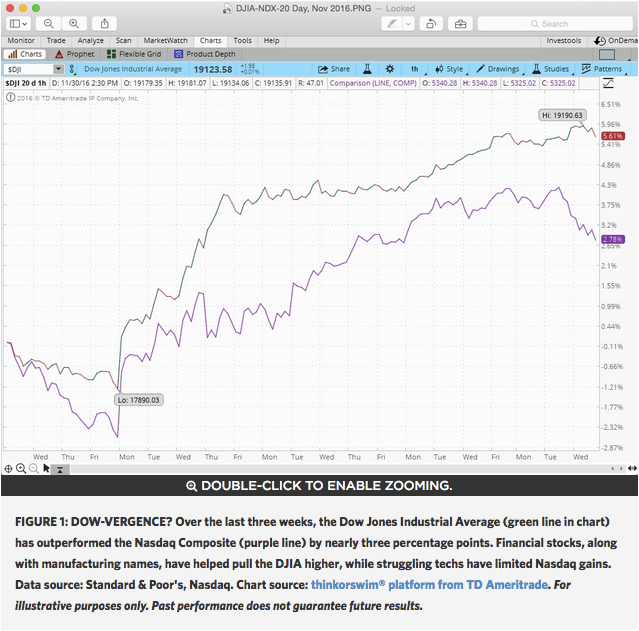 Rally Not Good For All
Ever since the election, the real estate, health care, and utilities sectors have been down on their luck. Earlier this week, they revived, a bit, with health care leading the way, before falling again on Wednesday. Of all sectors, these three have arguably seen the least benefit from Trump's ascendance, as concerns about his potential policies and their economic impacts on interest rates and health policy continue to weigh. Could these sectors start clawing back if investors see them as more of a bargain and take profit on some of their winners ahead of the new year? Time will tell.
Oil Volatility's Monstrous Move
It's somewhat rare for a volatility index to make a huge daily move, but the CBOE's OVX, which measures volatility in a range of short-term options prices on the U.S. Oil Fund (USO), had a dramatic day Wednesday, falling nearly 20%. Most of the drop came in the immediate minutes after OPEC announced its decision to cut oil production. Oil volatility, as measured by OVX, had been surging in the days leading up to the OPEC meeting, but the Vienna meeting's resolution deflated near-term volatility in the oil market. The lower volatility would seem to indicate that the crude market may be in a holding pattern until we see whether the agreed-upon output cuts come to fruition.
Rate Hike Odds Reach Body Temperature
The recent run of positive economic data, along with hawkish-sounding Fed speeches, have investors putting odds of a rate hike next month at 98.6%, according to CME Group futures. Wednesday's robust private sector jobs data certainly could represent more evidence of a strong economy, though the government payrolls data on Friday still lie ahead. Friday's payrolls report represents the last really major data point before the Fed's mid-December meeting, though retail sales and Producer Price Index (PPI) data are scheduled for the morning of Dec. 14, the same day the Fed announces its decision in the afternoon.
Posted-In: The Ticker TapeAnalyst Color Commodities Small Cap Econ #s Economics Federal Reserve Markets
View Comments and Join the Discussion!