Deere In The Spotlight
It is interesting to note how two completely different approaches to analysis can end up at the same place. Steer Clear of John Deere proclaims Alan Farley on Investopedia. Mr. Farley employs technical analysis to support his position that John Deere's recent surge will be short lived. At Morning Monte, we prefer to focus on the fundamentals (ie. Deere & Company (NYSE: DE) accounting statements, industry prospects, future earnings possibilities, etc.) to form our opinions rather than technical analysis, but apparently the two approach can lead to the same place once in a while.
Mr. Buffet is fond of saying, "In the short-term, the market is a voting machine. In the long-term, it is a weighing machine." We at Morning Monte are long-term holders, so short-term metrics like accumulation-distribution indicator are not for us. Also, we don't quite understand that metric because for every person who buys a stock, there is someone who sells it… But we digress.
John Deere recently surged over 11% a share. Now, that is a move. What do the fundamentals say to us? Well, they say that there even more speculative growth build into the share price than before the surge. This could be a real source of risk given that management expects revenues to decline next year. Notice how in the chart below that almost have of John Deere's growth is attributed to future (speculative) growth.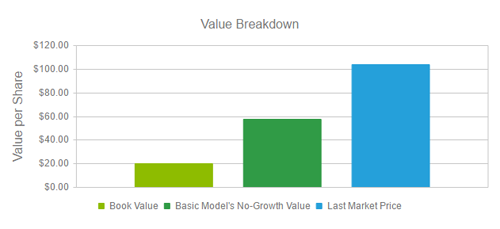 The 2016 earnings just released were $4.81 per share. Putting this into our implied growth rate calculator results in an implied long-term growth rate of residual earnings of almost 5%–a number more usually associated with a growing company in a growing industry. John Deere is not a growing company. In fact, we gave the company the benefit of the doubt to get that 5% number. If we used management's $3.80 number for the 2017 earnings estimate the growth rate jumps to 6% which is really quite high and warns of risk to us.
We are not here to tell you that someone won't make money with a momentum play etc. on DE in the short term. We are also not here to tell you the John Deere is a bad company. We are just saying that when we look at the fundamentals, if you want 8% a year on your money, John Deere's fundamentals certainly don't scream buy.
Using some optimistic assumptions in our Monte Carlo, the stock looks like it should be more in the $85 range before it becomes interesting.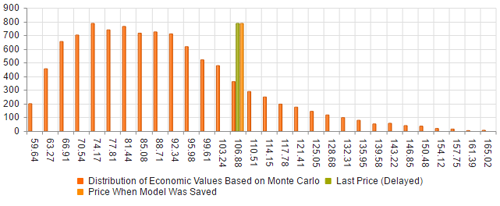 Of course one really needs to dig deeper. This analysis is just a first pass. However, this first pass suggests that if we chose to dig into this, we would be evaluating John Deere as a possible short not a long.
— Charlie Strout
Charlie does not currently own any shares in John Deere and doesn't plan on trading any in the next 24 hours.
Morning Monte is "high-level," and any investment requires a deeper analysis than is presented here. The comments in The Morning Monte are intended to help guide your research and ground you in the fundamentals. In no way should the comments in The Morning Monte be taken as advice to buy or sell a particular equity. Some of the statements are forward looking. As such, these statements are speculation–so beware! The comments represent the views of the author and are not necessarily the views of Morning Monte™ .
Posted-In: Analyst Color Earnings Long Ideas Guidance Short Ideas Markets Analyst Ratings Trading Ideas
View Comments and Join the Discussion!