Mastercard At More Risk Than Visa If Settlement Fees Increase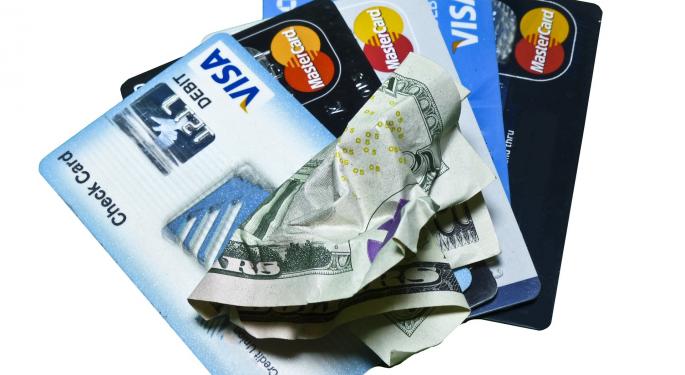 The recent settlement rejection could hit Visa Inc (NYSE: V) and Mastercard Inc (NYSE: MA) harder in the long term, according to a note from Cowen, which said Mastercard would bear more brunt than Visa if the settlement fees gets hiked.
"If a monetary settlement is increased, MA would bear more risk than V, given the latter's U.S. Retrospective Responsibility Plan which indemnifies V against potential liabilities arising from this explicit litigation," analyst George Mihalos wrote in a note.
Near-Term Implications
"Any increase to the settlement would require MA to allocate additional funds beyond the current $790 million it has set aside/paid based on the 2012 decision," Mihalos highlighted.
Related Link: Paychex Shares Still Overvalued Says Jefferies
Earlier, a federal appeals court overturned a $7.25 billion antitrust settlement reached by Visa and MasterCard in 2012, saying the deal was unfair to retailers.
"Near-term we see little impact to V/MA — particularly with respect to financials. Longer-term, the previously negotiated settlement fees could be increased while the interchange rates and the practice of how rates are set is likely to again come into focus," Mihalos noted.
The case is now being returned to the district court, and absent an appeal to the U.S. Supreme Court will need to be re-litigated again barring a quick settlement, which the analyst view as unlikely.
Longer-Term Implications
The analyst noted that pressure on interchange rates could be a longer-term negative.
"We could envision a scenario whereby larger issuers, seeking to offset some of the reduction to their interchange revenue streams, push for greater rebates from the networks," Mihalos elaborated.
With the settlement reversed, the analyst expects merchant agitation over interchange to increase, making a near-term settlement "all the more improbable."
In addition, the reversal opens the door for potentially more merchant litigation against the networks and their issuer partners, both from merchants that were part of the settlement and from merchants who chose to opt out (8,000+).
The original settlement consisted of a total of $7.25 billion (since reduced to $5.7 billion given merchant opt-outs) — funded by Visa (about $4 billion), Mastercard (about $790 million) and select card issuers.
At the time of writing, shares of Visa gained 1.24 percent to $75.09, while Mastercard rose 1.09 percent to $89.02.
Posted-In: CowenAnalyst Color News Legal Analyst Ratings Movers Media Trading Ideas Best of Benzinga
View Comments and Join the Discussion!