PacCrest Outlines Gaming Catalysts For Electronic Arts Amid E3 Conference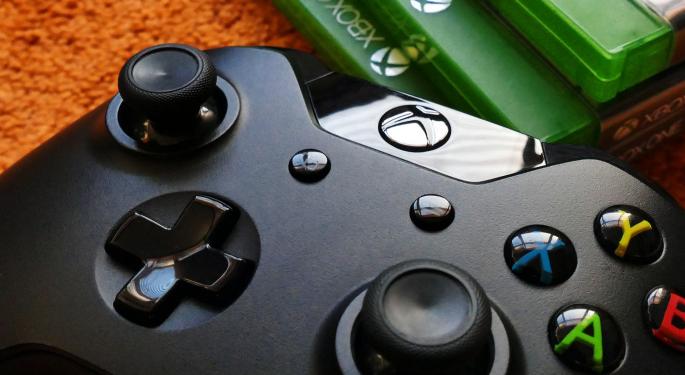 Pacific Crest's Evan Wilson mentioned that Electronic Arts Inc. (NASDAQ: EA) kicked off E3 with the EA Play press even that showcased most of its slate for 2016.
Wilson mentioned that the company "spent most of its time showing off five franchises: Titanfall 2, Mass Effect Andromeda, FIFA 17, Star Wars and Battlefield 1."
'Battlefield 1'
Electronic Arts reaffirmed the launch date for "Battlefield" as October 21 and that the game would focus on World War 1. Although Wilson expressed doubts regarding the single-player content being more of an afterthought, the analyst maintained the 10.5 million units estimate for FQ3.
Wilson noted that "with Star Wars selling 13 million in the launch quarter last year, we don't expect significant upside at this point."
Related Link: Trading Gaming Stocks On E3: Past Reactions
'Titanfall 2'
This game is set to be launched on October 28. "The single-player trailer, which it showed for the first time, also seemed like an afterthought, and we expect Titanfall's success to revolve around multiplayer," the analyst stated.
There have been two innovations in the second edition of the game as compared to the first, in the form of support for PS4 and grappling hooks.
Wilson expects robust performance for "Titanfall 2," although the game needs to stand out more from the other two similar games from Electronic Arts.
'FIFA17'
According to the Pacific Crest report, "EA is making a big bet with FIFA this year. It is moving the game to the Frostbite engine, which will allow for a more detailed story mode in FIFA."
Although this is not a new concept for sports games, it is new for FIFA. In addition, the analyst believes that the move to a new engine creates opportunity, while also leading to the risk of bugs and glitches.
"FIFA is such an institution that issues would have to be significant to impact results, but we think FIFA quality will be under more scrutiny this year versus typical expectations mid-cycle," Wilson noted.
'Star Wars'
Electronic Arts confirmed that "Star Wars" was unlikely to be released this year, although "Battlefront" was scheduled for launch in 2017 and "Visceral" for 2018.
"The hype around non-game Star Wars content, in general, is understandably in a little lull versus the time of last E3," the analyst said, while pointing out that new "Star Wars" movies would need to be successful to justify the investment that the company has been making in the development of the game.
Related Link: Sony Is Jefferies Favorite Buy Idea Heading Into E3
'Mass Effect Andromeda'
While this game will also be powered by Frostbite, the company is unlikely to show any gameplay in June, which means the risk of a potential delay.
"We think EA has a strong desire to get the game right after the debacle ending that it had to the previous Mass Effect. It is promising more this fall, but we'll keep low expectations on Mass Effect until we have reason to change," the report added.
Although Electronic Arts has a strong slate for 2016, Wilson expressed concern that the individual titles did not appear to be in a positive to drive material upside to the current estimates.
Posted-In: Battlefield 1 BattlefrontAnalyst Color News Events Analyst Ratings Tech Trading Ideas Best of Benzinga
View Comments and Join the Discussion!