Google I/O: 'The Exciting, The Important And The Depressing'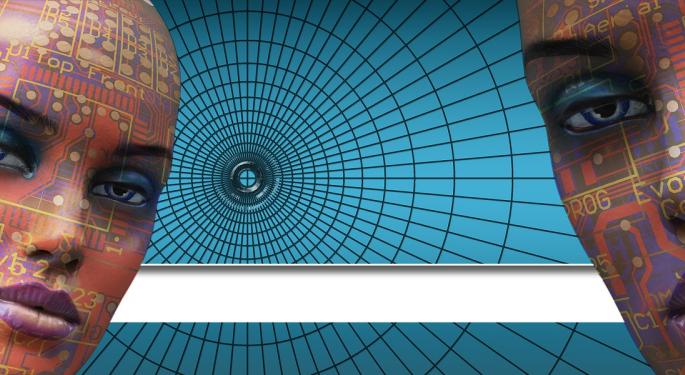 Google (Alphabet Inc (NASDAQ: GOOG) (NASDAQ: GOOGL))'s I/O conference is a closely watched event by both techies and investors. IN addition to unveiling new and upcoming products, features and services, the conference sometimes provides indications of Google's priorities and long-term strategy. This year's event assumes more significance as it is the first I/O conference since the company restructured itself into Alphabet.
Bernstein's Carlos Kirjner divides this year's event in to three categories: The Exciting, The Important and The Depressing.
The Exciting: Artificial Intelligence (AI) And Machine Learning
The analyst said there are two ways AI could matter for Google. First, it will allow Google to differentiate its products and services from its rivals. Second, over time, it could allow Google to "solve significant and yet-unsolved problems of great importance and significant commercial potential."
Kirjner noted, "Of course the success of machine-learning supported services or feature-functionality will lead to significant commercial success or enable Google to catch up in areas it waffled and missed (cloud, messaging, home devices) is a case-by-case issue, but we now saw the tip of the iceberg."
Related Link: Brean Adjusts NVIDIA's Fair Value Range To $35–$40
Although the analyst reminded that "we won't see a revolution in one or two quarters or one or two years," CEO Sundar Pichai's statement "reflects the belief (which we share) that we are in the midst of an inflection point in what computers can do."
Given the company's leadership in the area, "that is exciting for Google shareholders."
The Important: Android Instant Apps, Digital Assistant And Home Devices
The announcement of Android Instant Apps is significant, as it allows users to run apps just about immediately without downloading them.
"If widely adopted by developers, it will make the distinction between apps and the Web (functionally, from an end user perspective) meaningless, will make app installs much less important, and will make Web search and in app search (through deep linking) converge into one search," the analyst commented on the product.
The analyst also touched on Google's digital assistant and a home device that is an attempt to catch up with Amazon.com, Inc. (NASDAQ: AMZN)'s Echo, which allows users to talk to, query and get information "using voice and natural language."
"As we followed these announcements we asked ourselves: 'What if they succeed?' Specifically, where are the 'good old' Adwords ads if they succeed? They are nowhere. They are dead," Kirjner noted.
The analyst continued that one can assume that Google will find ways to capture part of the economics of transactions, "but it is not clear to us how this works on the user side."
He wondered whether Google's assistant would conduct a specific transaction even "if the counterpart has not agreed to pay Google a bounty or will it offer the user a suboptimal solution without the user's knowledge? We are not smart enough to figure this one out."
Related Link: Fred Wilson: This Is Why Apple May Be On The Wrong Path
The Depressing: Where's The Creative, The Original?
Kirjner is "disappointed" over the "lack of original product-service thinking," as many of the announcements were clear attempts to "catch up" with Amazon and Facebook Inc (NASDAQ: FB).
The analyst also expressed skepticism over Google's belief that its capabilities in machine learning and AI will be an important point of differentiation for Google Cloud Platform (GCP).
"That is not wrong, but we suspect enterprise customers looking to move datacenter loads related to Web services, HR, communications, test and dev, back office processing, scientific computing, and the many other 'mundane' enterprise applications and use cases may not care much about AI," Kirjner elaborated.
Google unveiled a messaging application named Allo, "which is a clear attempt to compete with WhatsApp, about six years after WhatsApp was launched." Kirjner said, "We would be more optimistic if Allo was the default messaging infrastructure of Android phones, but that does not seem to be the case."
Furthermore, "Google introduced a video messaging app named Duo, which is separate and distinct from Allo." Duo contains a feature named knock-knock, "which allows call recipients to see their callers before accepting the call."
On Google Home, Kirjner said it is an attempt to catch up with Amazon's Echo/Alexa, which was launched two years ago. Google would have made a great product with Home, as it is right in its "wheelhouse," utilizing its capabilities of voice recognition, semantic capabilities, Knowledge Graph, machine learning and AI.
Related Link: Here's Where Facebook Needs To Grow
But, Google's late entry deprived it of the first-mover advantage of user and developer adoption.
"We suspect Google has a good chance to overcome Amazon's lead since this is right in its wheelhouse, but what should be a non-brained is now a race," Kirjner said.
Kirjner has an Outperform rating and $900 price target on the stock, which was down 1.50 percent at $710.97 (for GOOGL) and down 1.23 percent at $697.93 (for GOOG) at time of writing.
Posted-In: Analyst Color Long Ideas News Price Target Reiteration Events Analyst Ratings Movers Best of Benzinga
View Comments and Join the Discussion!