The Semiconductor Food Chain: How Does Slowing iPhone Growth Impact The Chip Industry?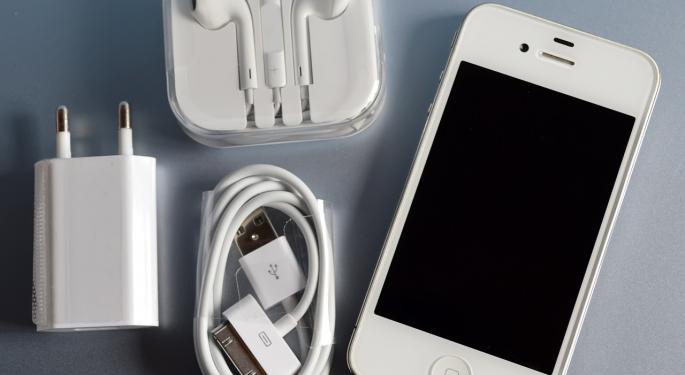 It is a no-brainer that Apple Inc. (NASDAQ: AAPL) played a major role in displacing the PC as the main driver of the semiconductor industry with the iPhone smartphone. However, the key question investors are asking following Apple's quarterly results is what the impact will be to the semiconductor industry after the company's first-ever reported declining iPhone sales.
"Sooner or later iPhone sales had to slow as everybody and their dog has an iPhone and replaces it as quickly as they, with every new release," Semiconductor Advisors wrote in a research report, which attempts to answer the question. "Apple has invaded China, which was the last uncharted territory of growth for phones but we are quickly running out of hands to put phones into."
Related Link: Apple's Win Streak Ends At 14 Years; First iPhone Sales Decline In History
Semiconductor Advisors continued that the entire semiconductor ecosystem inside an iPhone device "can spell life or death for who wins the honor and privilege of supplying each chip for each function." Meanwhile, there is "no similar honor or competition" within the PC market.
'There Is No Clear Replacement'
Semiconductor Advisors suggested that as Apple continues to target the Chinese and Indian markets, it is "clear" that the company will need to lower its selling prices to offer an affordable device in the emerging markets.
Apple can cut its BOM (bill of materials) cost by using less NAND, older processors or less capable modems. This may be an appropriate move, as most premium smartphone brands already offer lower end products for other markets.
Meanwhile, the semiconductor industry could suffer as a whole as there is "no clear replacement" for iPhones. Wearables and virtual reality systems "do not appear to have high semiconductor value," while the Internet of Things "is certainly not a boon for the chip industry."
"Our guess is that even Apple itself is getting more seasonal and will have sales peak at its yearly new iPhone release only to swoon in the off season while consumers save their pennies to wait for the new iPhone to come out," the report argued. "This seasonal cyclicality will also make the semi industry even more seasonally cyclical."
'Obviously Apple Is Going To Get Whacked'
Finally, the report acknowledged that "obviously" Apple's stock is "going to get whacked" in trading on Wednesday but it may be overblown and recover. In fact, it is likely that investors will "have this episode well in the rear view mirror when the iPhone 7 is released in the fall."
In terms of selling chip equipment makers, Semiconductor Advisors recommended investors not to sell names, but it would be prudent to "keep the concern of slowing chip sales" in mind.
View Comments and Join the Discussion!
Posted-In: iPhone iPhone 7Analyst Color Long Ideas Top Stories Analyst Ratings Tech Trading Ideas Best of Benzinga