Credit Suisse On Solar Net Metering Plan: 'Finally'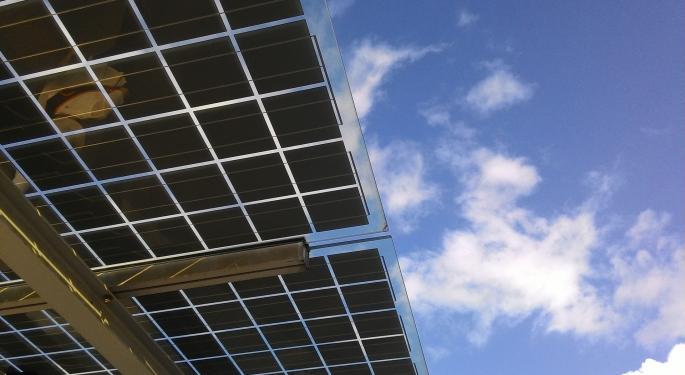 Credit Suisse said it's "positive" on the new net metering plan and "encouraged" with the specifics of the proposal.
A group of firms, including Sunedison Inc (NYSE: SUNE), SolarCity Corp (NASDAQ: SCTY) and SunPower Corporation (NASDAQ: SPWR), have proposed a new plan that would encourage more solar development across the state.
Under the proposal, which maintains net energy metering for customers and revenues for grid reliability, solar companies would pay grid fee and get assured they can connect the systems to the grid.
The companies have formed a partnership called "Solar Progress Partnership." Apart from the three solar firms, it consists of Central Hudson Gas & Electric Corp., Consolidated Edison Company of New York, Inc., New York State Electric & Gas Corp., Niagara Mohawk Power Corp. d/b/a National Grid, Orange and Rockland Utilities, Inc., and Rochester Gas and Electric.
"We see the collaboration as positive, setting a constructive tone for how NY policy will evolve toward DG resources. While NY's REV program is already envisioned to be supportive for distributed resources, we were incrementally encouraged by the joint proposal's specifics," Credit Suisse's Patrick Jobin wrote in a note.
Related Link: Short-Selling Activity Is Getting Hotter At SunEdison
The proposal with the New York Public Service Commission (NYPSC) calls for collecting a payment from solar developers for community and remote solar projects connected to the grid, while preserving utility bill savings for their customers.
According to the press release issued by the Con Edison, the proposal also recommends a transition plan for net-metered customers with rooftop solar panels. The proposal would generally continue the current formula until January 1, 2020, "with options for a transition to a new formula that more accurately compensates customers for the value of the electricity they send to the grid."
Jobin noted the proposal offers two alternatives: a reduction in NEM tariffs in 20 percent increments from retail rates to the LMP+D+E rate or a three-year ramp-down in 25 percent increments.
"Though the proposal does not include full grandfathering of existing customers, any customer that receives a NEM tariff higher than LMP+D+E at installation will be grandfathered for a Designated Compensation Period followed by a gradual step down during the Transition Period, the sum of which could last 15-25 years," Jobin added.
View Comments and Join the Discussion!
Posted-In: Credit Suisse Patrick JobinAnalyst Color News Analyst Ratings Best of Benzinga