The Landscape Is Changing For Credit Card Companies: How To Invest In It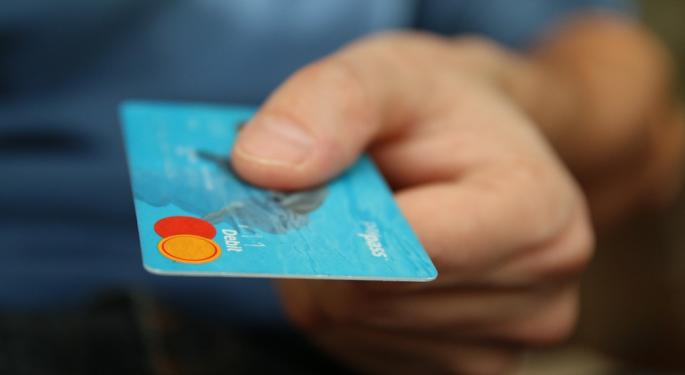 Although the concept of credit has been around for many generations, documented from as early as the late nineteenth century, credit in its current iteration and most frequently associated form (credit cards) is a fairly newer element of finance.
While American Express Company (NYSE: AXP) was formed in 1850, the standard "plastic" came into popularity in the 1960s, according to CreditCards.com. American Express at its birth "specialized in deliveries as a competitor to the U.S. Postal Service, money orders (1882) and traveler's checks, which the company invented in 1891."
"In 1958 the company emerged into the credit card industry with its own product, a purple charge card for travel and entertainment expenses. In 1959, American Express introduced the first card made of plastic," CreditCards explained.
Looking at credit's history, it's no surprise then that the landscape has changed over the last two centuries and is now on the cusp of another significant shift.
Related Link: JPMorgan Upgrades Capital One To Overweight
The New Landscape
Based on a "developing thesis," analysts at JPMorgan suggest that "low credit losses have created an environment that favors the 'lend-centric' card issuers."
Industry trends have begun to show how low credit losses alter lender behaviors. JPMorgan's Richard Shane elaborated, "We believe this environment favors the 'lend-centric' card issuers, specifically lenders that skew towards middle-income consumers, as they have been able to harvest the increased returns on lending to fund more competitive rewards programs, effectively 'giving away transactions' to drive portfolio growth."
Shane suggests that the environment will create a nurturing setting for a plethora of card issuers, including Capital One Financial Corp. (NYSE: COF), Discover Financial Services (NYSE: DFS) and Synchrony Financial (NYSE: SYF).
Of those names, JPMorgan favors Capital One as having already taken advantage of the budding environment. As the market has continued to shift, Shane noted Capital One "has successfully grown its market share as its purchase volume has increased."
"Since 2010, COF has posted a CAGR in payment volume of approx. 20 percent versus industry average of approx. 8 percent. COF has grown domestic purchase volume to $247 billion in 2015 from $98 billion in 2010. Over the same time horizon (2010-2015), COF has grown its share of overall domestic purchase volume to 10.8 percent from 6.2 percent. Total payment volume for the credit card issuers totaled approx. $2.3 trillion in 2015," Shane commented.
Looking Forward
According to the JPMorgan analysis, the lender behaviors that have spurred the changes in the environment are likely cyclical, which should result in investors treating the situation differently.
"In our view, the increased rewards competition, which is eroding AXP's MDR advantage is most likely a cyclical development as we believe increased rewards are essentially being funded by historically low credit costs," Shane justified. "Eventually, credit should revert towards historical norms, making it more difficult for issuers to sustain the current level of rewards."
At this point, JPMorgan has Neutral ratings on American Express and Discover, and Overweight ratings on Capital One and Synchrony.
View Comments and Join the Discussion!
Posted-In: creditAnalyst Color Long Ideas News Top Stories Economics Analyst Ratings Trading Ideas Best of Benzinga