Bank Of America Just Called Microsoft 'Cool'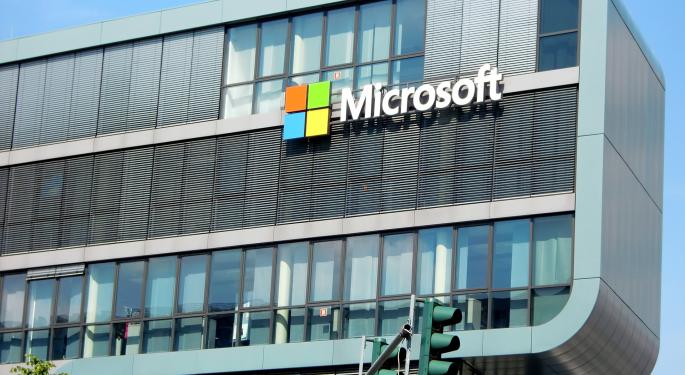 Microsoft Corporation (NASDAQ: MSFT) is closing out the first quarter of 2016 relatively flat, with a year-to-date read down 0.15 percent.
Perhaps in an attempt at a Hail Mary play, the firm recently took steps that have been interpreted as keen interest in potentially buying out Yahoo! Inc. (NASDAQ: YHOO).
While talks between Microsoft and private equity firms have been categorized as purely "exploratory," Reuters noted that Microsoft is devoted to preserving its long-term relationship with Yahoo. As Benzinga previously reported, the interest has so far "failed to assure investors," bringing an uneventful close to Q1.
Ol' Faithful Is 'Cool,' Says Bank Of America
Despite this backdrop, analysts Kash Rangan and Scott Shiao of Bank of America Merrill Lynch reaffirm the position that the tech giant is "cool."
"Having attended MSFT developer conferences over the past 10 years or so, we conclude that this year's Build Conference was perhaps the best validation that MSFT is firmly becoming visionary and Windows is transforming into a very cool and potentially disruptive operating system in the new world of computing today," the analysts explained.
Related Link: Does Microsoft's Bash Shell Hurt Apple?
In an environment of tech innovations that constantly attempt to wow consumers and investors, it's impressive when an analyst points to a consistent-but-not-wave-making company as a visionary with real potential, particularly in regards to Windows, which has received some rather ho-hum responses in previous iterations (i.e., Windows XP, Windows Vista).
Addressing Windows specifically, the analysts elaborated, "MSFT has the tough task of not only proving that Windows is relevant in the age of declining PC sales and decelerating tablet and smartphone growth, but that it can thrive and lead the way as an important and omnipresent operating system."
The Cool Factor
Rangan and Shiao continued to discuss the disruptive potential of the new Windows, calling Windows 10 "a nexus point for hot MSFT technologies."
"MSFT becomes officially device agnostic with Windows 10 although Win 8 held that potential. Developers can write apps that can run across PC, Surface, Xbox, Skype, Hololens, smartphones including non-Windows by taking advantage of 1,000+ new APIs," the analysts said.
"This may not magically reverse the declining fortunes of the PC industry overnight but we felt a bit of hope that there was a chance it could."
Perhaps most exciting, the Hololens and Surface products are likely to "add a growth leg to the story," stated the analysts.
"Granted that the field of virtual and augmented reality is nascent and potentially competitive with the likes of Google, Facebook and Apple in the fray, this is one of the areas of consumer technology that MSFT got an early start as opposed to a fast follower in past consumer tech cycles like smartphones and tablets," Rangan and Shiao commented.
"We believe that augmented reality, driven by some real-world applications (scientific exploration, customer service, education, gaming, entertainment, training, etc.) has the potential to vault Hololens into a mainstream market as large or even larger than the Xbox […] Surface, a $5 billion run-rate business already, could uniquely benefit from recent advancements in Win 10."
Bank of America has a Buy rating on Microsoft, with an attached $65 price objective.
View Comments and Join the Discussion!
Posted-In: Bank of AmericaAnalyst Color Long Ideas Price Target Reiteration Analyst Ratings Tech Trading Ideas Best of Benzinga