The Street Was Surprised By Apple iPhone SE's Price Tag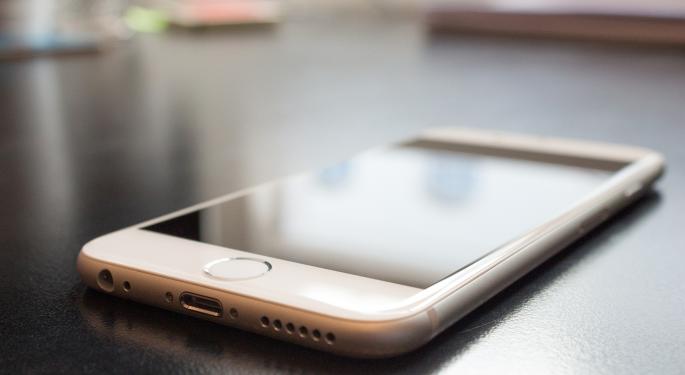 Following Apple Inc. (NASDAQ: AAPL)'s March event on Monday, the Street was abuzz with chatter related to the unveiled products.
According to Piper Jaffray's Gene Munster, the only true surprise from the event was the pricing of the new iPhone SE.
Projected starting prices for the iPhone SE were at $450, while the even revealed the starting price of the 4-inch iPhone to be $399.
In accord with Munster, the prevailing chorus heard throughout the Street was that the price tag indeed was a surprise.
Citi
Jim Suva and Asiya Merchant of Citi stated that the price "is slightly better vs our expectations of starting price points at US$400–US$500."
The actual price comparable to expectations was interpreted as a strategy to further engage emerging markets, according to Suva and Merchant, "[W]e do note Apple's pricing strategy to reduce the starting price point of iPhone SE to US$399 is clearly intended to gain more share in the emerging markets (India and rest of APAC) where phones for less than US$400 comprise 80 percent of unit sales."
Related Link: Here's Why "Applewood" Is So Important
The analysts codenamed this strategy as "Applewood," and elaborated, "We refer to this as the premiere of 'Applewood' (India focused push by Apple to showcase it can price and gain material share). We anticipate additional pricing adjustments when they launch iPhone 7."
Credit Suisse
Analysts at Credit Suisse commented upon the SE's price, calling it "attractive" and stating that it "could prove to be a solid move for the iPhone business" for multiple reasons.
Those reasons included: 1) favorably comparing to competitive products, 2) "additive to units" and 3) potential to grow installed base of 600 million.
Furthermore, the analysts stated that the price, in addition to its size and features, will allow the product to "compare competitively against competing mid-range smartphone devices."
"At a price point of $399 to $499, we believe that while it does grow our unit estimates, it will also result in a lower blended ASP of $640 and GM of 41.9 percent for the iPhone business in CY17 from $653 and 42.8 percent in CY16 […] However, given the mix, we assume this would add $2 billion to GP dollars to our current base case scenario and $0.25 to EPS."
Deutsche Bank
Led by Sherri Scribner, Deutsche Bank analysts honed into the lower pricing surprises from the event.
"Apple offered some surprises, in terms of pricing, with the new iPhone SE starting at $399, at the low end of expectations in the $400–$500 range and lower than the iPhone 5s at $450," the analysts explained.
In addition to the pricing of the SE, Scribner also highlighted the lowered pricing of the iPad Air 2 and the Apple Watch.
"In general, we felt the event was largely in line with expectations, with the lower iPhone SE price point vs expectations a modest positive," Scribner concluded.
Related Link: Apple Leads Rally Off Morning Lows
Goldman Sachs
Goldman Sachs analysts Simona Jankowski, Matthew Cabral and Connio Quian addressed the lower SE price as well, saying, "The iPhone SE product specs and timing were largely as expected, but the price point at $399 was below our (and we think consensus) expectations of $450."
Likewise calling the price "attractive," the analysts surmised, "This could drive better demand elasticity for the SE vs. our original expectation of 12 million units in the first year, offset by lower sales of the discontinued 5s."
The analysts also noted how the lower price could help Apple in emerging markets, commenting, "We expect the SE to help Apple expand its TAM into emerging markets, which we estimate could drive 150 million new iPhone users over the next three years."
Pacific Crest
Andy Hargreaves and Evan Wingren of Pacific Crest, while stating that the pricing of the SE was a surprise, noted, "Pricing changes are not significant enough to prompt us to change estimates."
"Our estimates contemplated declining prices for Apple's low-end iPhone SKUs. While the change is larger than we anticipated, the impact to total profitability is likely to be moderate in part because of the relatively low volume of Apple's low-end SKUs, and the potential for moderate elasticity and cost savings from moving to higher-volume components," the analysts elaborated.
Related Link: These 2 Firms Say iPhone SE And iPad Pro Won't Drive Significant Sales
Morgan Stanley
Morgan Stanley, led by analyst Katy Huberty, called the $50 discount to expectations for the SE a "positive surprise."
The analyst explained, "Apple lowered the entry price for iPhone and Watch by $50, which should attract new users."
"The 4" iPhone remains an important product, especially in emerging markets and for new users," Huberty went on. "We do not expect a large GM impact from this as iPhone SE likely shares manufacturing tools with 5 and 5s (similar design) and shares components with 6s, and suppliers and Apple both recently noted favorable iPhone component pricing."
Apple was recently seen up 1 percent at $106.97.
Posted-In: Andy Hargreaves Asiya Merchant CitiAnalyst Color Long Ideas Top Stories Tech Trading Ideas Best of Benzinga
View Comments and Join the Discussion!