Chinese Buyouts Of U.S. Listed Chinese Firms Are Increasing: Digging Into The Data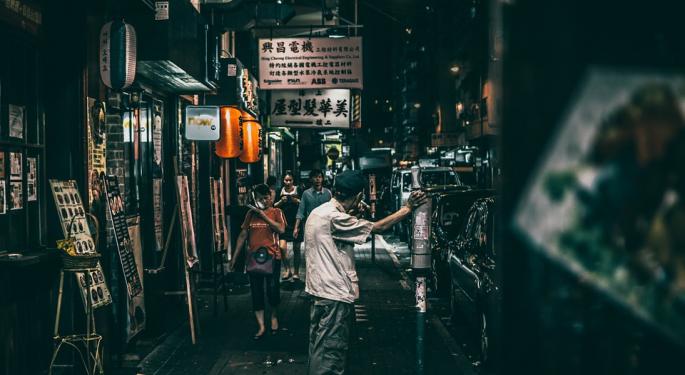 Over the last decade, Chinese buyouts of U.S.- and Canada-listed Chinese firms has been on a steady incline.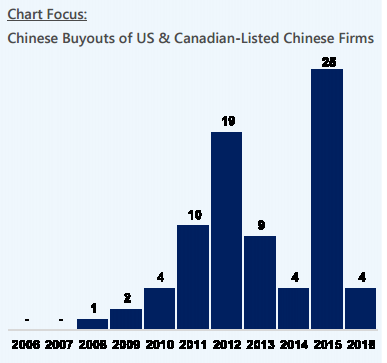 Source: ISS Special Situations Research
"This trend took off in 2011, after extensive fraud was uncovered at several prominent US- or Canadian-listed firms with Chinese operations: at TSX-listed Sino-Forest Corp., Ontario securities regulators took the unusual step of ordering five directors and officers to resign, before suspending trading in the company's stock. As the story of these several scandals became public, even listed Chinese companies which were not perpetrating fraud suffered reputational damage-by-association, their public market valuations soon mired in steep discounts to non-Chinese peers," according to ISS Special Situations Research.
Related Link: Jiayuan.com Buyout Offer Way Too Low, New Report Says
'Specter Of Fraud' Dissipated, But Concerns Remain
Calling the trend "a gathering disenchantment with Chinese buyers," ISS mentioned four other companies recently involved in this trend besides Sino-Forest Corp.
"This experience of Starwood shareholders, however, stands in sharp relief to that of shareholders at some other firms currently considering buyout offers from Chinese acquirers," the ISS report stated.
"In many cases, these are Chinese companies listed on U.S. or Canadian exchanges, the acquirers are insiders, and the offers themselves require that shareholders who choose the market premium – even if that premium is based on a market low at announcement – also give up on what may be a much stronger intrinsic value."
Related Link: Why Marriott Will Likely Make A New Offer For Starwood
That being said, the trade would also represent at 39 percent discount to book value and a 26–35 percent discount against "fair market value." "The fairness opinion, in one of those statistically-improbably events, flatly declare the offer not fair to shareholders," ISS explained.
A bidding war was initiated by Vast Profit Holdings, which only held 19.6 percent of shares. "The first offer came, moreover, when the stock was at a 52-week low," ISS elaborated, "though a nominal premium to market, the offer was also approximately 51 percent lower than the IPO price of four years earlier. When the sales process finally concluded months later, the proposition wasn't much better. The winning bid of $7.56 per ADS, itself not even the highest offer received during the process, represented a 63 percent premium to the unaffected price – but because that unaffected price was also a market low, the offer on the table was still, one investor pointed out in a letter to the board, a 50 percent discount to the company's 'full and fair value.'"
According to ISS, the trend has been to accept the bid, despite its lackluster appeal, "Ironically, though, as the tail-end of a process intended to give promising companies access to capital, this is not a trend which, if it continues, bodes well for investors who form the market for their securities."
View Comments and Join the Discussion!
Posted-In: AnbangAnalyst Color Long Ideas M&A News Emerging Markets Markets Trading Ideas