Why Sunedison's Spike Isn't Justified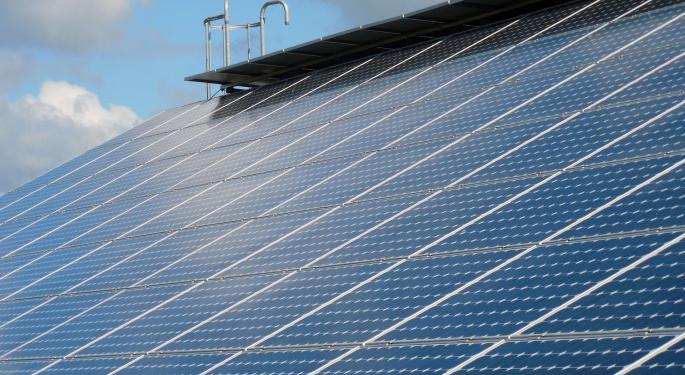 Sunedison Inc (NYSE: SUNE) investors cheered a big piece of news on Tuesday morning.
In a letter penned by Vivint Solar Inc (NYSE: VSLR) and delivered to Sunedison on Monday night, the former alleges that the latter failed "to meet its obligations under the merger agreement." Vivint's letter cites Sunedison's "failure to consummate the merger when required pursuant to the terms of the merger agreement," which then constituted "a willful breach of the merger agreement."
The letter concluded with Vivint stating it "intends to seek all legal remedies available to it in respect of such willful breach," the company explained in the press release.
The news sent Sunedison shares up more than 35 percent at one point. By mid-day Tuesday, shares were up 10 percent at $2.08, while Vivint shares were down 20 percent at $4.20.
Cheering Bad News?
Axiom Capital analyst Gordon Johnson told Benzinga the deal termination news "adds to and supports our [downside] thesis." Johnson and Axiom downgraded shares of Sunedison on March 1 to Sell. The analyst reduced his price target to $0.39.
Speaking over the phone, Johnson said he "firmly disagrees" with the market's reaction and believes today's buyers are wrongly assuming the deal termination with Vivint frees up liquidity for Sunedison.
Related Link: How One Interview Moved Sunedison Down 30%
Positive Development
Pavel Molchanov of Raymond James told Benzinga in an email that Sunedison's borrowing constraints made it impossible for the company to complete the acquisition of Vivint, which is why the deal ended up falling apart.
Molchanov thinks the news is positive for Sunedison in the sense of lifting the burden of having to raise large amounts of capital for a deal it can't afford in its current distressed states. As for Vivint, it can certainly survive as a standalone business, he said, but perhaps management will try to find another buyer.
Given the current credit market conditions, it would be a stretch for any solar pure-play. Molchanov said a large strategic player could, however, take a look at it, such as a major power company.
Rooftop Solar Market
Johnson concluded that some upside in shares might be related to false investor hope the Vivint deal termination allows Sunedison to get out of the rooftop solar market. On December 22, 2015, Sunedison fell more than 30 percent after Nevada Public Utilities Commission introduced payment changes on solar energy, effectively shutting down the rooftop solar industry in the state.
The New York Times wrote last month, "Effective Jan. 1, the new tariffs will gradually increase until they triple monthly fees that solar users pay to use the electric grid and cut by three-quarters users' reimbursements for feeding electricity into it."
SolarCity Corp (NASDAQ: SCTY) CEO Lyndon Rive said in a press release in December that "The PUC has protected NV Energy's monopoly, and everyone else will lose. We have no alternative but to cease Nevada sales and installations."
The rooftop solar industry helped Nevada become No. 1 in the nation in solar jobs per capita in 2014.
Posted-In: Analyst Color News Top Stories Market-Moving Exclusives Exclusives Intraday Update Analyst Ratings Movers Best of Benzinga
View Comments and Join the Discussion!