How Much Will Daniel Bryan's Retirement Hurt WWE?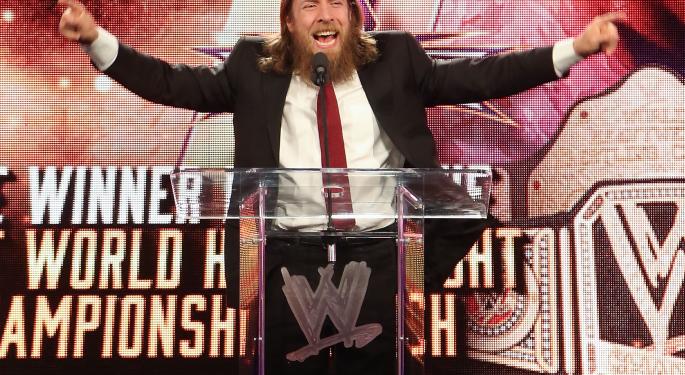 Daniel Bryan gave an emotional farewell to the WWE Universe last week. After being out of action for nearly a year, Bryan was forced to retire from professional wrestling, as he could not be cleared by the company's medical staff.
In his retirement speech on "Monday Night Raw," Bryan said he has suffered three concussions in the first five months of his 18-year career; The actual number of concussion is almost assuredly much higher than that.
Could Bryan's injury, along with injuries to other top stars such As John Cena be hurting the company's stock? "I don't think we've noticed injures impacting the stock over a short period," Macquarie analyst James Clement said. "WWE has been brutally bitten by the injury bug over the last several quarters."
Earnings Beat, But...
The announcement came just a couple of days before World Wrestling Entertainment, Inc. (NYSE: WWE) released its Q4 earnings report. It posted a beat of $0.04 per share and sales of $166.2 million (vs. estimates of $161.3 million), but does the market care about WWE's top and bottom line?
"At this point as far as the stock's trading goes, it's really about the WWE Network subscriber number," Clement said on Benzinga's PreMarket Prep. "This is the time of year where they typically build in popularity heading into Wrestlemania."
WWE added 1.22 million paid subscribers for its over-the-top WWE Network as of the end of 2015, up 72 percent year-over-year. However, that total was down from 1.3 million the company reported in Q3.
"I think what people were looking for and didn't get was more specific guidance about where the subscriber level might at Wrestlemania," Clement said. WWE's announced guidance of 1.25-1.35 million subscribers did not make investors happy. The stock ended Thursday's session down about 5 percent; it was initially in the green within the first 10-15 minutes of trading.
WWE stock closed Friday at $14.65. It was trading just above $18 after the company's January 24 Royal Rumble pay-per-view event.
Related Link: WWE Posts Record-Breaking Year, But What About Subscriber Growth?
"Over the last couple of years, investors tend to buy on the excitement of Royal Rumble," Clement said. "The stock often builds a lot of momentum heading into Wrestlemania and unfortunately the last two years, when the sub. number is reported after Wrestlemania, the stock has sold off pretty significantly."
New Markets
WWE Network entered Germany, India and Japan in the second half of 2015. Chairman and CEO Vince McMahon mentioned China -- a market that Netflix, Inc. (NASDAQ: NFLX) and Apple Inc. (NASDAQ: AAPL) investors (among others) value very highly -- on the company's Q4 conference call.
"The network and OTT networks in general are still pretty new," Clement explained. "I think in fairness to management, I think it's very difficult to predict subscriber builds over time."
He continued, "I think there's long-term potential, but in the case of India specifically, PPVs are not shown live on the network which I think is a huge draw for the network in the US and elsewhere... We don't think of China historically as a strong pro wrestling market, but you never know. Anything they can get form China is purely incremental and pure gravy on top of everything else."
The analyst listed the top three reasons people sign-up for WWE Network:
To get PPV events for $9.99, when events usually cost about $50
Perusing the video-on-demand library and look at matches that can date back 30 years
New originally programming, such as Jerry Springer
But in the case of Daniel Bryan, and other return or departing wrestlers, does the network build more interest and thus new subscribers? Clement thinks "what it would help to do is to bring back lapse fans, [fans that] maybe aged themselves out of WWE's target demographic." The company has pushed for a more family-friendly product since 2008.
Listen In
To listen to Clement's full interview and the rest of Friday's edition of PreMarket Prep, click the link below:
Posted-In: Analyst Color Earnings News Guidance Previews Top Stories Exclusives Analyst Ratings Best of Benzinga
View Comments and Join the Discussion!