Netflix's Ratings On The Street May Be Mixed, But Consensus Sentiment Remains Positive Long Term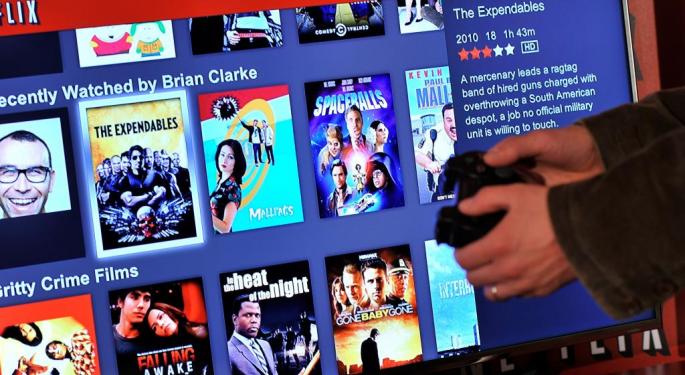 Netflix, Inc. (NASDAQ: NFLX) updated its first-quarter earnings guidance on Tuesday. The company announced an EPS guidance of $0.03 for the period.
The company's Q4 earnings declined compared to its fourth-quarter earnings results last year. Netflix has indicated its earnings fell to $29.74 million, or $0.07 per share.
Nomura Securities: Maintains Buy, Raised PT To $130
Nomura Securities maintained Netflix's Buy rating, with a raised price target to $130. The firm raised the stocks FY15E EPS from $0.20 to $0.28 and FY16E EPS from $0.23 to $0.21.
Anthony DiClemente, president of Nomura Securities sees Netflix as "making the case for global growth." DiClemente sees more than 100 percent of Netflix's fourth quarter beat and upside to guidance to be driven by international results.
Netflix added over 4 million international subscribers in the fourth quarter, exceeding Nomura's ~3.5 million estimate.
Related Link: Here's When Netflix Will Start Raising Prices
Nomura sees these numbers as "relatively high US penetration rates," which appear to make net additions more challenging than compared to the past. "The investor narrative for the US business will shift from one of new subscriber additions to one of pricing power and ARPU growth. Net net, most of the stock's direction is likely a function of International subscriber growth, as int'l subscribers are now 40 percent of the total," Nomura noted.
Jefferies: Maintains Hold, Raised PT To $120
Analysts at Jefferies raised their price target to $120 and maintained a Hold rating on Netflix.
In a research note out Wednesday, the firm evaluated Netflix earnings results as mixed. On a positive end, Jefferies noted that Netflix "international net subscriber adds beat ests [estimates], underscoring the longer-term opportunity as Netflix expands into 130 new countries in 1Q, now serving 450 multi-million broadband households."
However, the firm also indicated that the U.S. streaming business had missed estimates due to management indicating that it was "harder than ever to attract new subscribers given the high penetration levels (~45 multi-million US streaming subs)."
FBR & Co.: Maintained Outperform, PT Lower At $125.00
Netflix received an Outperform rating from FBR & Co. with a PT of $125.
FBR & Co. research note released on Wednesday compared Netflix's fourth quarter earnings report to have had a "Sybil-like split personality," post-close. "While the international opportunity is larger than the U.S., we believe that the U.S. is the model of what is to come abroad, so clearer evidence of maturity in the U.S. is a slight net negative in that it weighs against blue-sky growth hopes abroad," the firm commented.
Raymond James: Maintains Outperform, Cut PT To $130
Raymond James analysts reiterated their Outperform rating on Tuesday and cut their PT to $130.
"While we expect U.S. sub growth to moderate going forward (project 5.0 million net adds in 2016E vs. 5.6 million in 2015), we believe the combination of 1) U.S. pricing power and 2) Int'l ramp will drive long-term earnings growth," the firm noted.
Cowen & Co: Maintains Outperform, Raised PT To $155
Cowen and Company maintained an Outperform rating and raised its PT to $155 on Tuesday.
Netflix "crushed consensus" by ~500,000 beat the firm's 200,000 estimate. Cowen and Company also indicated that the U.S. paid sub net adds were "slightly better" than the company's guidance, while EPS and revenue also exceeded forecast.
Bernstein: Maintains Underperform, Price Target Of $62
Bernstein maintained their Underperform rating and 12-month price target of $62.
Bernstein indicated in their research note released on Wednesday that they "continue to be skeptical" that Netflix's international contribution margins will be "the same as domestic margins."
The firm believes that the company's "competitive intensity" in many countries is much higher. Bernstein also noted that Netflix's scale compared to its competitors will be "smaller" than in the United States.
Related Link: Netflix Is Shifting Its Original Programming Model With This Key 2016 Series
Stifel: Maintains Buy, PT Of $143
Netflix maintained its Buy rating and PT of $143.00 by Stifel on Tuesday.
The company's broad-based international growth exceeded the firm's consensus expectations. "Although the company is seeing more linear growth domestically due to its high penetration rate, Netflix seems to be executing its international playbook in both new and established markets, boosted by an ever-growing library of original content," Stifel noted.
Oppenheimer: Maintains Outperform, PT Raised To $140
Oppenheimer reiterated its Outperform rating and increased the price target to $140. "We're largely maintaining '16E revenue, but increasing '17E revenue by 1 percent on higher international subs," the firm commented.
Pacific Crest: Maintains Overweight, PT At $140
Pacific Crest reiterated an Overweight rating with a price target of $140.00.
The firm sees Netflix's global expansion as a driver for its subscriber growth in "excess of previous expectations."
"This is establishing Netflix as a dominant global distributor of premium video and is likely to drive long-term profitability in excess of current expectations," the firm noted.
Credit Suisse: Maintains Neutral, Raised PT To $126
Credit Suisse increased its price target on Netflix to $126 while maintaining a Neutral rating on the issue.
The firm believes that the company should "more than offset" concerns about how it is "approaching maturity in the US."
"Our numbers adjust higher as we flow through the beat on Int'l sub adds and mix shift to original content; we remain on the sidelines for now on valuation and maintain our Neutral rating," Credit Suisse commented.
Related Link: Netflix's Cash Burn Is Getting Worse
Barclays: Maintains Equal Weight And PT Of $115
Barclays maintained its Equal Weight rating with a price target of $115 for Netflix.
For the company's domestic guidance, the 1.75 million net add guidance is "above" Barclays prior 1.57 million estimate. The guidance in the United States would also be the "strongest quarterly growth" since Q1 of 2015.
Baird: Downgrades To Neutral, PT Cut To $115
Baird downgraded its rating on Netflix to Neutral and adjusted the price target from a previous $128 down to $115.
Citing "risk/reward balance," Baird still remains positive on the stock long term, but due to "recent performance, and equally high sentiment and expectations," the research firm guided down to Neutral.
The downgrade drivers included the previously mentioned risk/reward balance, strong sentiment, a weaker U.S. subscriber survey and the possibility of growing risks.
View Comments and Join the Discussion!
Posted-In: Analyst Color Long Ideas News Short Ideas Upgrades Downgrades Price Target Reiteration Best of Benzinga