Here's Why There's Been A Rush Of Biotech Offerings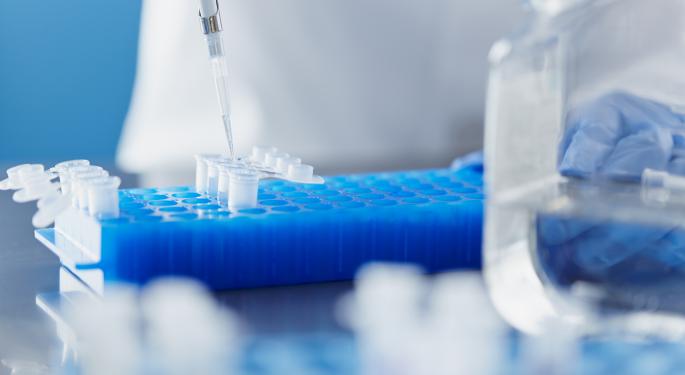 The beginning of the year has started with four consecutive sell-offs in the S&P 500. Sectors have been hit by a bevy topics ranging from interest rates, Chinese markets, and terrorism. There has been a different type of trend among biotech stocks.
Over the past week of trading, many biotech companies have initiated offerings, often at discounts to stock price. Notable small-cap biotech analyst CFA Jason Napodano told Benzinga he believes the spur of these offerings is attributable to a number of catalysts.
Conference
The first being simple, the 2016 JPM Healthcare Conference taking place in San Francisco from January 11-14. Napodano said it's common to see a conference to be a catalyst for stock offerings for biotech companies. He notes the No. 1 thing on everyone's mind is "does this company have enough cash?"
"A 15 percent hit to your stock is acceptable, to be able to sit in 1-on-1 or stand up at a lecture and say 'We have cash,'" he said.
Raising money now will allow management to have "ammo" and tell investors they have the cash they need to fund operations, M&A or any other company initiative.
Bearing Down
The second catalyst is the bear market sentiment entering the year. With various global macro issues driving down the overall market, Napodano believes a bearish market sentiment may initiate a risk-off mentality among investors. If this were to happen, the biotech sector would take a substantial hit over the year. If companies roll the dice to wait until February or March to initiate these offerings, "it could get ugly."
How To Play
Regarding ways to play the offerings bonanza, Napodano had fairly straightforward strategies:
Bullish on the biotech story amid macro concerns? Buy the artificially induced weakness in the stock from these offerings, create a portfolio and hold for 18 to 24 months.
Bearish concerns in the market? "[Short-sellers] look for any biotech companies with six months cash and shorting the hell out of it."
Napodano said that based off of the beginning of the year, it looks like short-sellers "may have a strong hand." In the end. however, it's a battle of near-term vs. long-term views/
No one has a "crystal ball" regarding the overall market. However, he clarifies that companies such as ACADIA Pharmaceuticals Inc. (NASDAQ: ACAD) doesn't either -- they just know that they may need the extra cash to attract investors at the upcoming JPMorgan Conference or to buffer the effects of a bear market down the road.
Biotechs That Have Listed Offerings In The Past Week
Prothena Corporation PLC (NASDAQ: PRTA) - 2.3 million shares priced at $53 per share
Epizyme Inc (NASDAQ: EPZM) - 13.3 million shares offering priced at $9
Adamas Pharmaceuticals Inc (NASDAQ: ADMS) - 2.5 million shares offering priced at $23
ACADIA Pharmaceuticals - 10.3 million shares offering priced at $29
Otonomy Inc (NASDAQ: OTIC) - 5 million shares priced at $20
Ardelyx Inc (NASDAQ: ARDX) - $75 million stock offering
Galena Biopharma (NASDAQ: GALE) - 19.8 million shares priced at $1.10
SAGE Therapeutics Inc (NASDAQ: SAGE) - 3.2 million shares offering priced at $47.50
Cempra Inc (NASDAQ: CEMP) - 4.2 millions shares offering priced at $24
View Comments and Join the Discussion!
Posted-In: Analyst Color Biotech Long Ideas Short Ideas Offerings Global Top Stories Exclusives Best of Benzinga