What Would A Worst-Case Scenario In China Do To The World?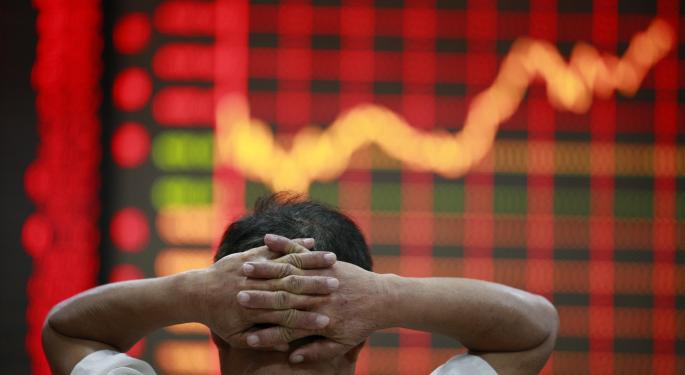 UBS issued a report on China after estimates showed that Chinese growth may fall below the consensus of 6.2 percent for 2016. Chinese growth has decreased primarily due to a slowdown in construction and industrial and mining excess capacity overhang. Analysts Tao Wang, Bhanu Baweja and others at UBS speculated about the effect of a drop in the growth of China to 4 percent and the impact that would have on the major economies around the world.
United States
Because the US is less trade dependent than other economies, UBS believes the US would not be majorly impacted by the decline in Chinese growth.
"Direct US exposure to China via earnings or banking assets is quite low and there would be offsets from likely declines in energy and commodity prices, sectors which have long-term potential in the US but which do not figure heavily into the medium-term outlook."
In all likelihood, the slowdown in China could cause funds to flow into the US, which UBS believes could provide a stimulative effect. One of the primary results would be slowing down the pace of the Fed's plan of raising interest rates.
Related Link: Cyclical Stocks That Rely On The Economy Could Be In For A Sweet '16
Europe
Compared to the US, UBS sees a slowdown in Chinese growth to have a much larger impact on the European economy.
"We estimate that a China worst case scenario would push Europe's 2016 GDP growth to just 1% or less (vs. our base case scenario of 1.8 percent), with Germany feeling the brunt of it. European exports and fixed investment would be most at risk: the former via weaker demand from China/EM, and the latter via corporates' considerable hesitance to boost investment again following multiple "false dawns" in the past."
While a decline in the Chinese economy has the potential to increase household purchasing power by lowering the price of commodity prices, UBS believes the European economic recovery would suffer primarily because China's domestic demand accounts for 8 percent of the European Union's exports.
Asia
Because China is the most important trade partner for many Asian countries, UBS believes that a slowdown in Chinese growth could have major implications for the regional economy.
"Weaker Chinese domestic demand would adversely affect income growth in third markets as intra-Asian trade, even if not global trade slows. We think a China worst case scenario could feel a little worse than the global financial crisis due to the proximity of the slowdown's epicentre, and likely take Asia-ex-Japan's 2016 real GDP down from our base case forecast."
Analysts at UBS also speculate that a drop in Chinese growth would mean a loss in pricing power and margins for many Asian economies. According to UBS, the central banks may have to lower interest rates to stimulate their economies which could prove challenging if the countries have current account deficits.
Posted-In: Bhanu Baweja Tao Wang UBSAnalyst Color Top Stories Economics Markets Analyst Ratings Best of Benzinga
View Comments and Join the Discussion!