Top Tech Stocks Now Eclipsing 2000-Era Bubble Peaks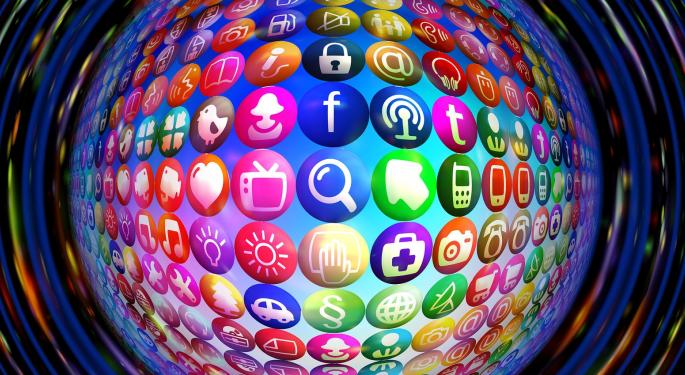 The peak of the Dot Com Bubble included domination by a handful of tech names.
These market cap giants of the era singlehandedly supported inflated markets.
A similar class of concentrated tech domination has materialized in today's markets as well.
The nearly seven-year-old bull market has shown its first major signs of weakness in 2015, as investors have begun to grow uneasy about high share prices, emerging market stability and weak commodity demand. With the S&P 500 now sitting more than 30 percent above its pre-Financial Crisis top, traders can't help drawing comparisons to previous market peaks.
In a new report, MKM Partners analyst Jonathan Krinsky compared the size and dominance of a handful of tech companies to a similar situation that developed in U.S. markets during the height of the Dot Com Bubble in the late 1990s.
Related Link: Rate-Proofing A Portfolio With ETFs
The Four Horsemen Of The Dot Com Bubble
While the Dot Com Bubble notoriously involved hundreds of nearly worthless companies with elevated market valuations, not all of the high-flying stocks were simply smoke and mirrors. At the market's peak in March of 2000, Dell, Cisco Systems, Inc. (NASDAQ: CSCO), Intel Corporation (NASDAQ: INTC) and Microsoft Corporation (NASDAQ: MSFT), collectively referred to as the "Four Horsemen" of the tech world, had a combined market cap of about $1.7 trillion.
Krinsky pointed out that these four companies were single-handedly supporting the U.S. markets at times.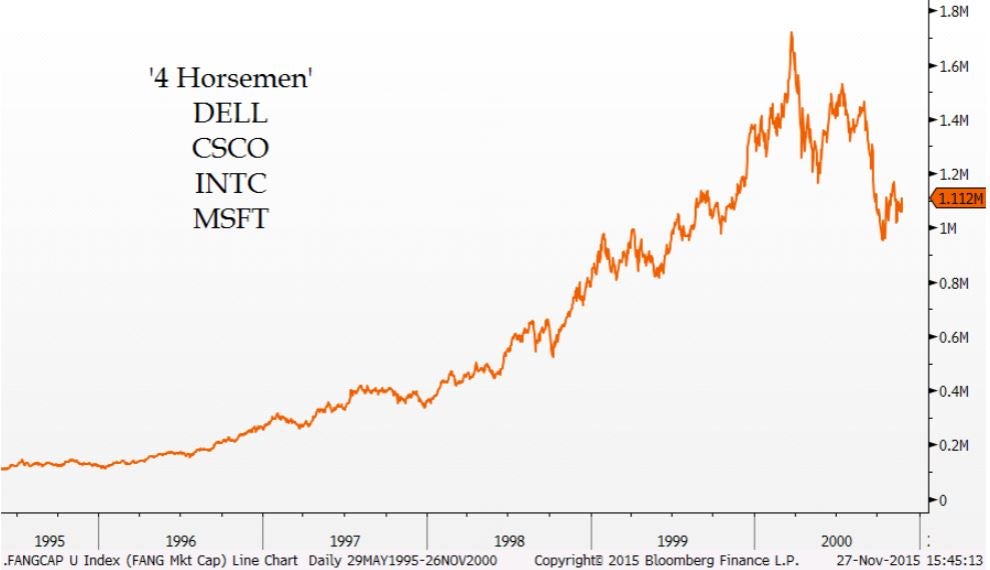 The Rise Of F.A.N.G.
In today's market, the tech world is again being dominated by four high-flying stocks with a combined market cap of nearly $1.2 trillion and questionably high valuations.
F.A.N.G. is comprised of Facebook Inc (NASDAQ: FB), Amazon.com, Inc. (NASDAQ: AMZN), Netflix, Inc. (NASDAQ: NFLX) and Alphabet Inc (NASDAQ: GOOGL) (NASDAQ: GOOG). "Perhaps there is more room to run based on the late 90's precedence, but they have certainly come a long way," Krinsky added.
G.A.M.A. Domination
If Google and Amazon are grouped instead with Microsoft and Apple Inc. (NASDAQ: AAPL), the four G.A.M.A. stocks now have a combined market cap that makes up 35 percent of the Nasdaq 100. In addition, their combined market cap of $1.9 trillion now exceeds the peak combined market cap of the Four Horsemen of the Dot Com Bubble.
Disclosure: The author holds no position in the stocks mentioned.
Image Credit: Public Domain
Posted-In: DELL Jonathan KrinskyAnalyst Color Long Ideas Top Stories Analyst Ratings Tech Trading Ideas Best of Benzinga
View Comments and Join the Discussion!