Pfizer Buys Allergan In Largest Healthcare Deal Ever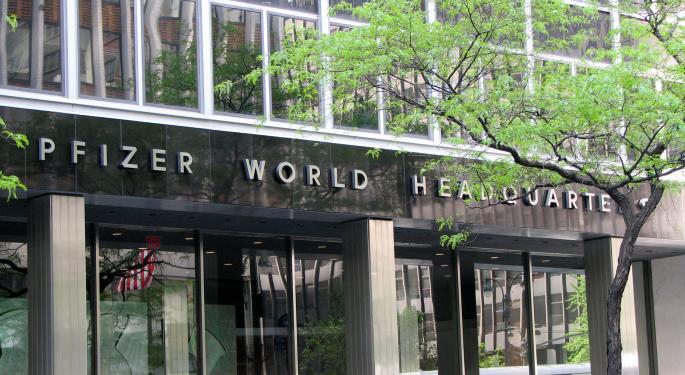 After months of takeover talks, more consolidation in the healthcare space has come to fruition. On Monday morning, Pfizer Inc. (NYSE: PFE) announced it has purchased Allergan PLC (NYSE: AGN) in a deal valued at about $155 billion, the largest ever in the healthcare sector.
The transaction is valued at $363.63 per Allergan share, based on the closing price of Pfizer stock of $32.18 on November 20. According to the press release, "The transaction represents more than a 30 percent premium based on Pfizer's and Allergan's unaffected share prices as of October 28. Allergan shareholders will receive 11.3 shares of the combined company for each of their Allergan shares, and Pfizer stockholders will receive one share of the combined company for each of their Pfizer shares."
Related Link: Pfizer, Allergan Issue Release "To Combine"
The deal is expected to be neutral to Pfizer's 2017 adjusted diluted EPS, accretive beginning in calendar year 2018 and more than 1 percent accretive in 2019 with high-teens percentage accretion in 2020.
Shares of both Pfizer and Allergan were trading down about 2 percent in Monday's pre-market session.
As the Wall Street Journal pointed out, "The takeover would be the largest inversion ever, moving one of the top names in corporate America to a foreign country."
The Geographical Move
Moving abroad helps companies take advantage of lower tax rates; Allergan is headquartered in Dublin, Ireland. The businesses of Pfizer and Allergan will be combined under Allergan PLC, which will be renamed "Pfizer plc," the press release stated. Pfizer plc will have its global operational headquarters in New York and its principal executive offices in Ireland.
"The proposed combination of Pfizer and Allergan will create a leading global pharmaceutical company with the strength to research, discover and deliver more medicines and therapies to more people around the world," stated Ian Read, chairman and Chief Executive Officer of Pfizer.
The combination of Allergan and Pfizer is a highly strategic, value-enhancing transaction that brings together two biopharma powerhouses to change lives for the better," said Brent Saunders, Chief Executive Officer at Allergan.
Analyst Weighs In
Leerink released a flash note on Sunday night when rumors of the acquisition first hit newswires. The firm assumes a large buyback will follow, saying, "The primary risk to the deal completing is unprecedented action by the US government to block the deal, but given the merger-of equal structure, we expect the deal will ultimately get done."
Leerink thinks the pro forma company will generate about $30 billion in EBIT and carry a modest net cash value.
The firm forecasts mid-single to about 10 percent dilution in the 2017-2020 forecast period.
Other keys to Leerink's updated model: "(1) $2.1 billion in SG&A synergies and ~$500 million in R&D synergies; (2) $1 billion in financial, or tax synergies, resulting in a 19 percent pro forma tax rate; (3) 4.7 billion new shares issued to AGN holders, making AGN shareholders owners of 44 percent of the pro forma company."
The research firm's buyback sensitivity analysis looks at the EPS impact of $10 billion, $20 billion and $30 billion in share buybacks. "Assuming the buybacks are financed with cash and a 1 percent rate on lost interest income, we calculate EPS accretion (relative to our pro forma ests) as +3 percent, +5 percent and +8 percent at the $10 billion, $20 billion, and $30 billion buyback thresholds, respectively," the note said.
Image Credit: "New York City Pfizer World Headquarters 02" by Norbert Nagel, Mörfelden-Walldorf, Germany - Own work. Licensed under CC BY-SA 3.0 via Wikimedia Commons.
View Comments and Join the Discussion!
Posted-In: Brent Saunders Ian ReadAnalyst Color Biotech M&A News Health Care General Best of Benzinga