Macy's Has 130% Upside, Says Analyst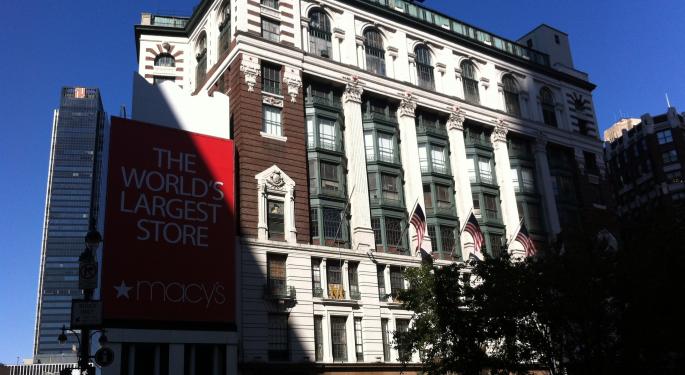 Market analyst Jeremy Skrezyna believes Macy's, Inc. (NYSE: M) could unlock tremendous value via corporate restructuring.
Skrezyna predicts Macy's will soon follow the blueprint of Hudson's Bay Company.
He values Macy's real estate alone at $26 billion.
In a new article from SumZero, analyst Jeremy Skrezyna discussed why he sees 130 percent upside to Macy's share price. According to Skrezyna, the key to Macy's value is its real estate.
Realistic Precedent
It has become quite trendy in recent years for analysts to make hypothetical suggestions for how companies could unlock real estate value via corporate restructuring. However, Skrezyna believes that a solution for Macy's is not simply a hypothetical. He is suggesting that Macy's follow in the footsteps of Hudson's Bay Company (HBC), which recently used mortgages and JVs to unlock real estate value.
Related Link: Social Media Beat: What Experts And The Crowd Think Of Macy's, J C Penney And Target Heading Into The Holiday Season
The Plan
In his article, Skrezyna spelled out how each step of the HBC model would work for Macy's.
"I believe Macy's will take the approach that has already worked for HBC: (i) get an appraisal on the Herald Square flagship coupled with a 35 percent LTV mortgage, using the cash proceeds to repay higher coupon debt and (ii) create a JV with an operator like SPG, contribute and leaseback a portion of fee-owned real estate in exchange for ownership of the JV, publicly float the JV, incur mortgage debt at the contributed properties just prior to contribution to generate cash proceeds, with the JV assuming the debt upon property contribution, and use the debt proceeds to repay existing debt and repurchase shares."
Valuation
Skrezyna believes Macy's real estate is worth $26 billion alone. Since the company's enterprise value is $24 billion, Macy's retail operations are currently valued at -$2 billion.
Skrezyna predicts Macy's management will eventually determine that this type of restructuring is too good of an opportunity to pass up. He forecasts that Macy's will be fully valued at $90/share sometime within the next one to two years.
Disclosure: The author holds no position in the stocks mentioned.
Image Credit: Public Domain
View Comments and Join the Discussion!
Posted-In: Hudson's Bay Company Jeremy Skrezyna SumZeroAnalyst Color Price Target Top Stories Analyst Ratings Best of Benzinga