Shocker? 'Star Wars: The Force Awakens' Advance Ticket Sales On Pace For Biggest Release Of All Time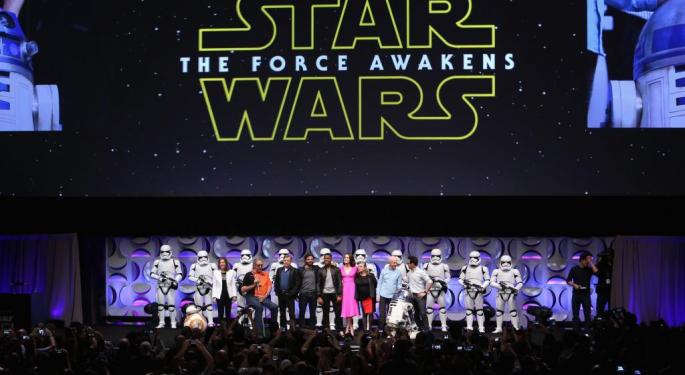 The 2009 sci-fi 3D film "Avatar" grossed $2.788 billion worldwide ticket sales, making it the highest grossing film ever.
Walt Disney Co (NYSE: DIS)'s upcoming release of "Star Wars: The Force Awakens" could overtake it.
Wall Street analysts and industry insiders have been extremely bullish on the Star Wars film throughout 2015.
Meanwhile, The Wall Street Journal suggested that advance ticket sales of the Star Wars film signal the upcoming film could prove to be the highest-grossing release of all time. The publication cited "several people with knowledge of the numbers" in its bold prediction.
The Star Wars film opens in the US on December 17 and many theaters have already announced their intention to stay open at all hours with screenings even scheduled for 2 a.m. and 5 a.m. WSJ noted that due to round the clock screenings, the film will "handily" exceed "Jurassic World's" $209 million opening weekend record set in June.
Related Link: Here's How Disney's 'Star Wars: The Force Awakens' Will Also Benefit Hasbro
"Jurassic World" grossed $1.6689 billion in worldwide ticket sales and was one of only four films to break above the $1 billion global mark, according to Box Office Mojo. "Furious 7" grossed $1.5148 billion in global sales, "Avengers: Age of Ultron" grossed $1.405 billion, and "Minions" grossed $1.1567 billion.
Disney's December Star Wars release is strategic as many people have time off from work and schools break for the holiday. As such, Disney has its sight on breaking "Avatar's" $761 million total gross in the US and Canada.
Industry Insiders And Analysts Were Bullish Months Ago
Rich Tullo of Albert Fried & Company told Benzinga back in April that while Disney's Avengers franchise will prove to be a success, the Star Wars film will prove to be even bigger.
"Star Wars is gonna be huge," Tullo said at the time. "Star Wars will probably surpass The Hunger Games and films like that. It could be the first $500 million opening."
Tullo also said that anything less than $300 million during Star War's opening weekend (Friday through Sunday) would be a disappointment.
"The big one, the blockbuster of all time that will blow away records – both in this galaxy and the far away galaxies – is Star Wars," Tigress Financial Partners analyst Ivan Feinseth also told Benzinga. "That's gonna be the big one."
Rentrak Senior Media Analyst Paul Dergarabedian told Benzinga in June that there has never been a $100 million opening film in December, although "The Hobbit: An Unexpected Journey" came close with a three-day ticket sale of $84.6 million.
"Star Wars, I believe I can say, unequivocally, will be the first to do that," Dergarabedian told Benzinga.
View Comments and Join the Discussion!
Posted-In: Albert Fried & Co Avatar Box Office Mojo films Ivan FeinsethAnalyst Color News Events Best of Benzinga