Ackman To Investors: Hard Times Will Pay Off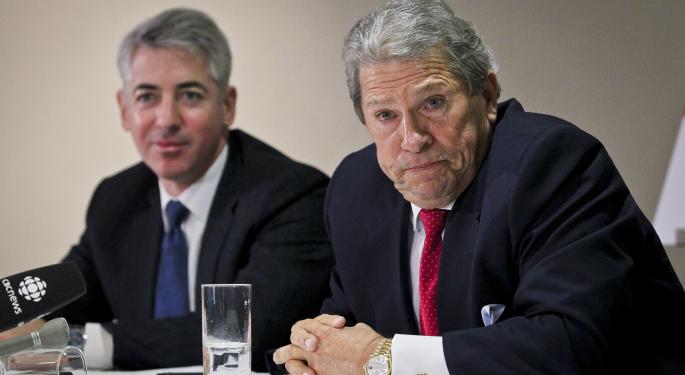 Bill Ackman is not bailing on his Valeant Pharmaceuticals Intl Inc (NYSE: VRX) investment anytime soon.
In his quarterly call to investors, Ackman expressed his confidence in the long-term future of the company.
Pershing Square is down about 19 percent in 2015.
Bill Ackman stood firm on his commitment to Valeant during his quarterly call to Pershing Square investors on Monday. According to Ackman, the "bumpier" ride comes with the territory for the industry-leading fund.
The Numbers
Pershing Square has now lost more than $2 billion on paper on Valeant alone, the largest paper loss that the $15 billion fund has ever registered. However, Pershing investors have reason to maintain confidence in Ackman in a down year. Pershing has delivered an average annual return of about 15 percent since it was created in 2004, among the best track records in the industry.
Related Link: How To Avoid The Pharmaceuticals Fallout With These Three ETFs
Ackman's reputation has taken quite a hit this year as several of his investments have been going in the wrong direction, and Pershing Square is down 19 percent year-to-date. However, it was only a year ago that the fund gained 40 percent.
Valeant's Woes
Ackman's Valeant stake has been a major weight on Pershing's returns this year, falling more than 60 percent in the past several months after controversy arose surrounding its pricing tactics. Valeant recently cut ties with specialty pharmacy Philidor after allegations surfaced of fraudulent accounting. According to Ackman, Valeant has been under attack by short sellers, prosecutors and politicians.
Ackman Holding Fast
Despite the recent struggles, Ackman's team recently conducted a poll of 50 dermatologists and confirmed that they still favor Valeant's products and its business model. Last week, Ackman even wrote a letter to Valeant CEO Michael Pearson reaffirming his support for the executive.
Ackman addressed speculation that year-end investor selling will force Ackman to begin dumping Valeant by reminding investors that about half of Pershing's capital is not subject to periodic investor redemptions.
Disclosure: the author holds no position in the stocks mentioned.
Posted-In: Bill Ackman New York Post PhilidorBiotech News Hedge Funds General Best of Benzinga
View Comments and Join the Discussion!