Tesla Q3 Earnings Preview: Here's What Wall Street Pros Are Saying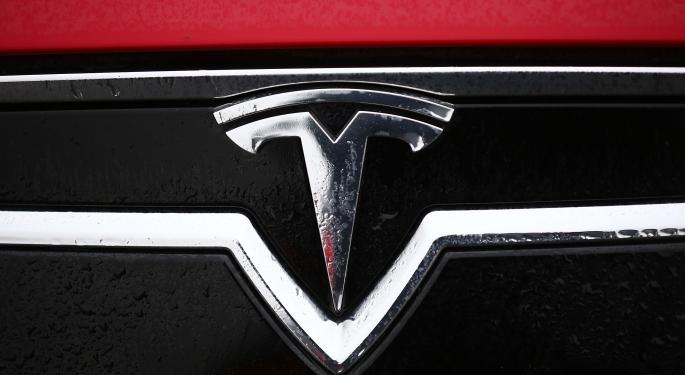 Shares of Tesla Motors Inc (NASDAQ: TSLA) are lower by nearly 20 percent over the past three months and down nearly 13 percent from a year ago.
The consensus estimate is calling for Tesla to report a loss of $0.53 per share on revenue of $1.214 billion.
Wall Street analysts were mostly mixed ahead of the print.
Estimize is expecting Tesla to report a loss of $0.50 per share on revenue of $1.231 billion. The Wall Street consensus estimate is calling for Tesla to report a loss of $0.53 per share on revenue of $1.214 billion.
Here is a roundup of what Wall Street analysts were saying ahead of the print.
Baird: Limited Visibility, Remain Sidelined
Ben Kallo of Baird commented in a note on October 27 that the production ramp of Tesla's Model X is "potentially taking longer than expected" which impacts his Model X delivery estimates.
Kallo has not seen any movement for some early Model X reservations holders as fine-tuning production could take one to two quarters. As such, the analyst suggested that Tesla will reach only the low end of its third guidance and will need to deliver around 17,000 vehicles in the fourth quarter, which implies a "steep production ramp" of the Model S.
Kallo is estimating Tesla will report a third-quarter non-GAAP revenue of $1.150 billion, non-GAAP net income of ($66.5 million), margins of 22.9 percent and non-GAAP earnings per share of ($0.52).
Related Link: This Tesla Analyst Is Waiting Until 2016 For Catalysts
Bottom line, Kallo needs to see a few thousand Model X vehicles produced before gaining comfort in the company's production ability. Additionally, the company won't benefit from catalysts (Tesla Energy, Gigafactory, introduction of the Model 3 prototype) that aren't expected to occur until the first quarter 2016.
Shares were Neutral rated with a $282 price target.
Pacific Crest: Demand Trends Are 'Mixed,' Q4 Bar 'Remains High'
Brad Erickson of Pacific Crest commented in a note on October 14 that his checks with Tesla's domestic sales centers indicate that Model X reservations have been "few and far" between since its launch.
Erickson said that increased Model S demand is "encouraging," but also "critical." The analyst noted that recent management commentary and his checks suggest that the Model S is getting multiple demand tailwinds right now from "those that were waiting to see the X launched and have since ordered an S, and those that have now canceled their X reservation and ordered an S."
Erickson said his checks also pointed to an unchanged lead time, which is "generally good" and implies higher production and deliveries in the fourth quarter. Looking forward to the fourth quarter, the analyst is expecting overall production to rise 40 percent quarter-over-quarter which implies a 22 percent quarter-over-quarter rise in Model S production and the company needs to deliver 2,500 Model X cars.
Finally, Erickson stated that Tesla will likely continue to be an innovator in the automotive space, however, expectations are "still high" even as sentiment has fallen after a "soft start" to the Model X launch. As such, the analyst said he could become more constructive in the early part of 2016 with solid execution, an improving gross margin story and Model 3 and Gigafactory as "potential major catalysts."
Bottom line, Tesla needs to get through the first few quarters of Model X ramping before its fundamentals can start to show enough improvement to justify a higher valuation.
Shares were Sector Weight rated with no assigned price target.
RBC: Separate The Car & Company From The Stock
Joseph Spak of RBC Capital Markets commented in a note on October 6 that while Tesla is an innovative company, its story is shifting "from one of opportunity to one of execution" and this comes with risk.
Spak said Tesla is disrupting the auto industry and is eyeing other segments (i.e., energy storage) which transforms its story from "one of technology/TAM/disruption to execution." As such, the company is "learning how to become a manufacturing company on the fly." The analyst did acknowledge that the company could achieve its targets, any failure in doing so could hold back the stock.
Spak added four main concerns he holds moving forward: 1) Tesla's value is dependent on a long-term horizon with "limited visibility" and a "high margin for error," 2) Tesla appears to have set "ambitious" targets, especially with its Model X, Gigafactory, and Model 3 launch, 3) it remains unclear how quickly the energy storage market will evolve, 4) it may take longer for the market to accept that Tesla will continue investing for growth and won't earn as much as they could.
Bottom line, Spak is positive on the long-term opportunity, but the stock appears to be "fairly balanced" over the mid-term.
Shares were Sector Perform rated with a $280 price target.
Posted-In: Baird Ben Kallo Brad EricksonAnalyst Color Previews Top Stories Analyst Ratings Trading Ideas Best of Benzinga
View Comments and Join the Discussion!