Dear Mr. Fantasy: FanDuel, DraftKings In Hot Water As NFL Season Kicks Off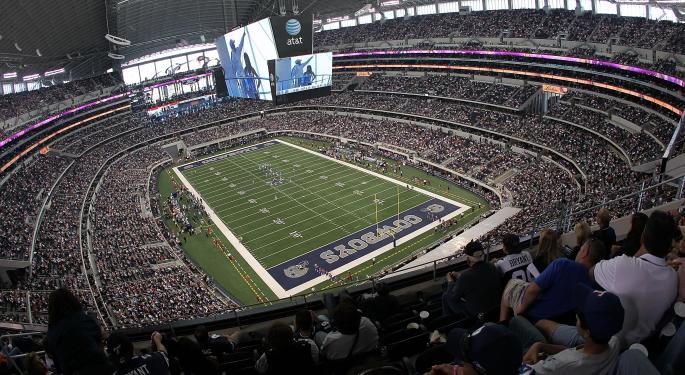 The scandal involving FanDuel and DraftKings employees with access to company data playing for money on rival sites has prompted a joint statement by the two companies.
For now, the companies are banning employees from playing on rival sites.
The scandal could soon lead to increased regulatory scrutiny of daily fantasy leagues.
On Monday, rival fantasy sports companies DraftKings and FanDuel released joint statements defending the integrity of their operations after news broke that a DraftKings employee inadvertently released data prior to the start of week three NFL games and subsequently won $350,000 playing on FanDuel that same week.
The revelation has led to widespread accusations that employees at the fantasy sites are acting in a way akin to insider trading, using valuable non-public data about how much money is being bet on certain players to place their own wagers on rival sites.
Related Link: NFL, CBS Cater To Viewers Who Are Cutting The Cord
Self-Policing
According to the statement, both DraftKings and FanDuel have policies in place to prevent employees from abusing their access.
"Both companies have strong policies in place to ensure that employees do not misuse any information at their disposal and strictly limit access to company data to only those employees who require it to do their jobs," the statement read. "Employees with access to this data are rigorously monitored by internal fraud control teams, and we have no evidence that anyone has misused it."
Potential Impact
At least temporarily, both FanDuel and DraftKings have banned their employees from playing for cash on rival sites, but it remains to be seen whether or not this scandal will significantly impact the companies' bottom lines.
According to Eilers Research, daily fantasy games will generate $2.6 billion in entry fees this year, a number which it projects is on pace to climb to $14.4 billion by 2020.
"I think it goes beyond bad press for not just those two companies, but the entire industry,"Chris Grove, editor of LegalSportsReport.com told Benzinga. "I believe this is the wake-up call that the industry needed to address long-standing questions of data security and game integrity."
Regulatory Fallout
Fantasy sports operators with cash prizes have been allowed to operate under federal law since they were exempt from a 2006 federal ban on online games such as poker, which is considered to be a game of chance rather than skill.
According to Darren Heitner, founder of Heitner Legal and Professor of Sports Law at the University of Florida, the scandal will likely draw the attention of lawmakers.
"I certainly believe you will have lawmakers looking at what types of regulations need to be placed on the industry. However, I do not believe that this is the precursor to making all forms of fantasy sports illegal," Heitner told Benzinga.
When the law exempting fantasy sports from the online poker ban was established back in 2006, daily fantasy leagues were not a major factor in the world of fantasy sports like they are today. Politicians could soon be taking a close look at the distinctions between daily and season-long fantasy sports.
Neither FanDuel nor DraftKings is public, but Yahoo! Inc. (NASDAQ: YHOO), which entered the daily fantasy sports world just this year, could potentially face any regulatory headwinds that could arise.
Disclosure: the author holds no position in the stocks mentioned.
Posted-In: Darren Heitner DraftKings FanduelAnalyst Color Politics Top Stories Exclusives General Best of Benzinga
View Comments and Join the Discussion!