4 Telecom Stocks Northland Analyst Believes Will Outperform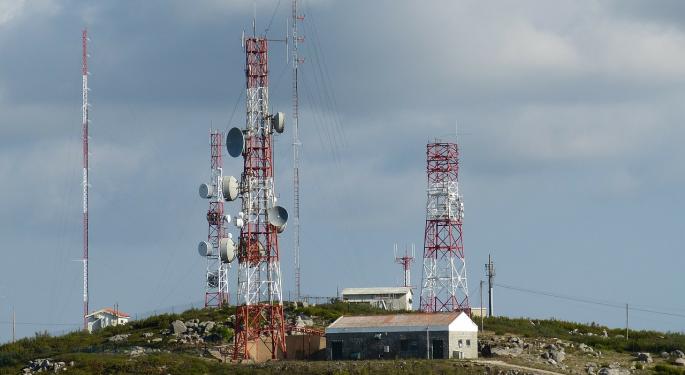 Tim Savageaux of Northland Capital Markets initiated coverage of four telecom stocks with Outperform ratings.
The four names include: ADTRAN, Inc. (NASDAQ: ADTN), Calix Inc (NYSE: CALX), Clearfield Inc (NASDAQ: CLFD) and Communications Systems, Inc. (NASDAQ: JCS).
All four names are well exposed to favorable industry trends and/or offer unique, in-demand services.
Tim Savageaux of Northland Capital Markets initiated coverage of four lesser-known telecom names.
ADTRAN: Exposure To Growth In Broadband
Savageaux initiated coverage of ADTRAN with an Outperform rating and $20 price target.
According to Savageaux, ADTRAN has significant exposure to growth in broadband access deployments among U.S. Tier 2/3 firms. The analyst added that capex trends at Tier 2 firms have "improved" in 2015 (following a few years of weakness) and are now set to "strengthen." In addition, the company's international opportunities are "significant" with exposure to Tier 1 carriers, specifically Deutsche Telekom.
The analyst also noted that ADTRAN's stock is trading "solidly" under 1x revenue at 0.7x and are at levels last seen in during the financial crisis and during the "telecom bubble implosion."
Bottom line, Savageaux suggested that the company has the potential to achieve "more substantial" earnings per share growth and could also be an acquisition target.
Related Link: Goldman Cuts Telecom Argentina To Sell
Calix: Technology And Market Leadership
Savageaux initiated coverage of Calix with an Outperform rating and $10 price target.
According to Savageaux, Calix is "well positioned" given its technology and market leadership in supplying fiber optic access network infrastructures to Tier 2/3 providers in the United States who are seeing higher capex trends.
Savageaux also noted that Calix has gained share at its largest customer, Centurylink Inc (NYSE: CTL) who is now a Tier 1 carrier. In addition, the company faces an opportunity to address AT&T Inc. (NYSE: T)'s 12.5 million home fiber access build.
Finally, the analyst argued that the company's $100 million in cash, no debt, "record high" gross margins over 51 percent last quarter, "modest" profitability and growth does not justify the company's valuation. Specifically, shares are trading at 0.7X revenue – a valuation that is "just too cheap."
Clearfield: Optimizing A 'Somewhat Overlooked' Part Of Carrier Access Networks
Savageaux initiated coverage of Clearfield with an Outperform rating and $17.50 price target.
According to Savageaux, Clearfield is focused on optimizing a "critical," though "somewhat overlooked," part of carrier access network – the management of fiber optic connectivity from the carrier point of presence through a variety of cabinets, enclosures, splits and termination devices to the customer premise.
The analyst noted that the company's focus is "not terribly sexy" from a technological perspective; it is, however, "important" to carriers in terms of timely and cost effective network deployment. The company stands out in this space as it has innovated via its modular "cassette"-based fiber optic connectivity systems and is squarely focused on the cost and process pain points of local carriers.
Bottom line, the company is a "leader" in connectivity infrastructure for FTTH networks and has generated an "impressive" track record of growth and profitability, which is expected to continue.
Communications Systems: Exposure To Tier 1 Carriers
Savageaux initiated coverage of Communications Systems with an Outperform rating and $12.50 price target.
According to Savageaux, all three of the company's subsidiaries are focused on different aspects of the communications market and are all "well established" suppliers with growth prospects.
The first subsidiary, Suttle, is a supplier to major carriers including AT&T (33 percent of total company-wide revenue) and should further benefit as carriers move to upgrade 12.5 million homes over the next four years. The segment's exposure to hybrid fiber/copper access will "continue to play a major role" over the coming years.
The second subsidiary, Transition Networks, focuses on providing infrastructure that converts legacy copper and/or circuit based carrier network edge to fiber optic and Ethernet capabilities. The company's "attractive" niche market has generated gross margins in the mid-40s and should run profitability at a greater scale.
Finally, JDL Technologies is a comm/IT systems integrator that has shown profitability over the past three years with gross margins in the low 20s. The company recently secreted am $83 million contract to provide WiFi connectivity at 337 schools.
Image Credit: Public Domain
View Comments and Join the Discussion!
Posted-In: Detsche Telekom JDL Technologies Northland Capital marketsAnalyst Color Initiation Top Stories Analyst Ratings Tech Best of Benzinga