Robert Sechan, Steven Tananbaum And Anthony Scaramucci On 'Post-Economic Traumatic Stress' – Or, The Decline Of Lehman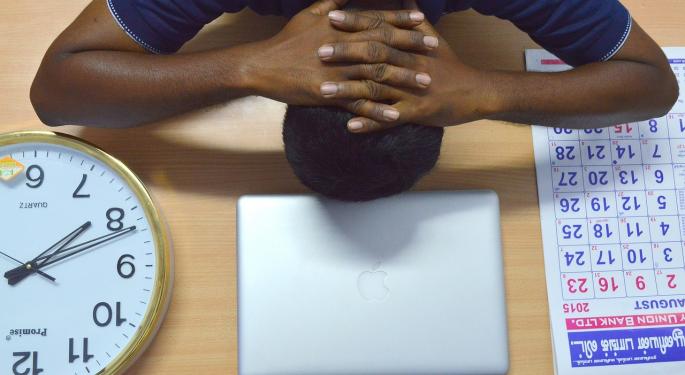 Benzinga got a sneak peek of this Sunday's Wall Street Week show.
This week's guests will be Mary Deatherage, managing director at Morgan Stanley Private Wealth Management; Robert Sechan, managing director at UBS; Steven Tananbaum, managing partner and CIO at GoldenTree Asset Management.
Host Anthony Scaramucci believes "post-economic traumatic stress" is upon the investment world; SEchan and Tananbaum supplement the discussion with their lessons learned from Lehman.
"Did Lehman's bankruptcy throw us into oblivion?" Skybridge Capital's Scaramucci asked.
Sechan responded, "Well, I do not. I think what happened was...Bear Stearns happened. It created a general market assumption that every bank out there was too big to fail. And then, when Lehman was let under, all hell broke loose."
Tananbaum added, "Remember, they were doing these bank equity raises, and I think there was one point in the summer of '08 where something like 50 out of 50 bank offerings for 2008 were under water – 100 percent.
"No one is going to do the next one."
He continued, "And so you have a little bit of that happening in the energy space now, where there is a lot of secondaries, and [they] are trading relatively poorly. But, I think there is a different systemic situation in energy than in financials. But, in financials, where you do have a systemic issue, and then you have that they are undercapitalized, and anyone who is putting additional capital has done poorly; that's a very tough cycle to break."
Related Link: Steven Tananbaum: At Current Prices, Traditional Media Stocks Offer 'Great Opportunities'
PETS? Post-Economic Traumatic Stress
Following up on Tananbaum statement, Sechan assured, "One other thing that is different – and I think you'll appreciate – is, the world savers right now are demanding a huge amount of safe assets."
Consequently, Scaramucci added, "I think the world is in post-economic traumatic stress." He claimed that the average investor cannot believe his/her portfolio's value fell by 1/3 in 2008. Now, "They have seen that one third – and probably plus – return to their portfolio, and they are still worried about it."
Check out the full interviews on the an all-new Wall Street Week, airing Sunday morning, 9 a.m. EST.
Disclosure: Javier Hasse holds no stakes in any of the securities mentioned above.
Image Credit: Public Domain
View Comments and Join the Discussion!
Posted-In: Anthony Scaramucci BEAR STEARNS GoldenTree Asset Management LehmanAnalyst Color Top Stories Markets Media Best of Benzinga