How Much Is Turner Worth To Time Warner?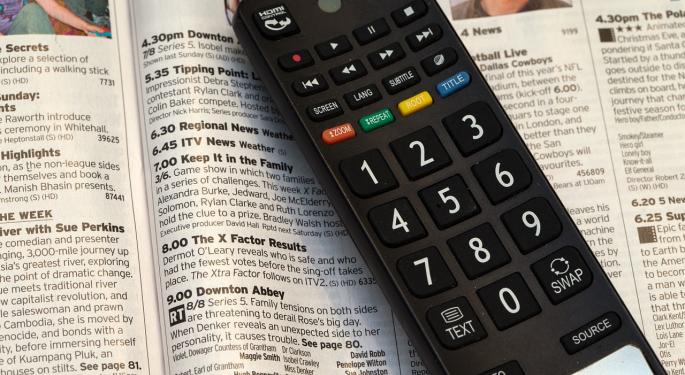 Shares of Time Warner Inc (NYSE: TWX) have declined more than 20 percent over the past eight weeks.
John Janedis of Jefferies reiterated a Buy rating with a price target lowered to $85.
Janedis sees Turner growing through 2018 and continue being the largest contributor towards Time Warner's EPS guidance growth.
Shares of Time Warner have dipped more than 20 percent over the past few weeks, in harmony with other media companies like Twenty-First Century Fox Inc (NASDAQ: FOXA) (NASDAQ: FOX) and Walt Disney Co (NYSE: DIS).
In a report published Thursday, Jefferies analyst John Janedis attributed the decline in Time Warner's stock to investor concern over the evolving pay-tv landscape and lowered guidance from both Fox and Disney last month.
The Situation
Janedis continued that the market "immediately seized" upon the potential risk for Time Warner's long-term guidance, calling for 20 percent-plus earnings per share growth in 2016 and compounded high-teens earnings per share growth through 2018.
Janedis further pointed out that Turner accounted for 37 percent of the company's total revenue and 57 percent of EBIT, making the segment the largest contributor towards the long-term earnings per share guidance. According to the analyst's calculations, Turner could experience an EBIT compounded annual growth rate of nine percent through 2018, largely driven by higher affiliate fees, even in a "muted" advertising growth environment.
Related Link: Barclays Hikes Charter, Time Warner Cable Targets
All Within Context
However, Janedis added that pay-TV subscribers' losses are "modestly worse" today than they were when Time Warner initially give its 2016 and 2018 guidance. As such, the analyst is factoring in subscriber losses of no more than 200 basis points per year and concluded that the risk to 2016 earnings is "minimal" ($0.03 to $0.05 per share, or less than 1 percent) even with a "relatively high" 85 percent decremental margin on lost affiliate fee revenue.
On the other hand, the analyst sees potential for "greater downside risk" over the three-year period. A 300 basis point hit to a three-year projected affiliate fee growth to 7.7 percent would result in a $0.40 per share hit, or 5.4 percent hit, to the projected 2018 earnings per share estimate of $7.07. Nevertheless, this represents a "worst case" scenario rather than a base case.
The Bottom Line
The analyst suggested that the potential risk to consensus earnings per share estimates is only "modest" for 2016 ($5.72) and less than 10 percent for 2018 ($7.76). As such, the perceived earnings risk may serve as an "overhang" on the stock, but the 22 percent sell-off since mid-July "factors in a lot of earnings risk."
Shares remain Buy rated with a price target lowered to $85 from a previous $94.
Image Credit: Public Domain
View Comments and Join the Discussion!
Posted-In: Cable Cutting Jefferies John Janedis media TurnerAnalyst Color Analyst Ratings Best of Benzinga