There's A 47% Chance Of A Recession, But It's Not Worrying These Analysts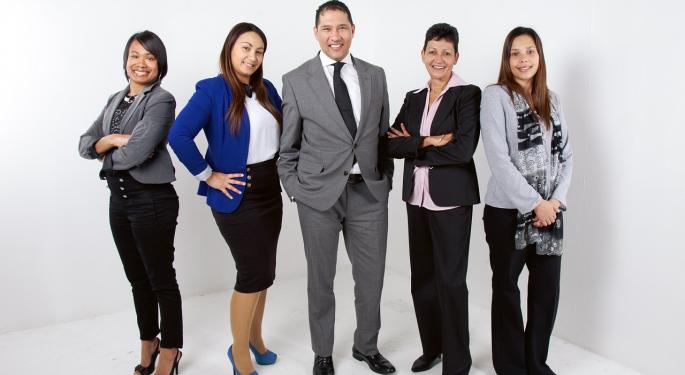 In a new report, Bank of America analyst Ethan Harris discussed the recent market action in response to China and looked at the probability that the S&P 500's decline is indicative of a recession on the horizon in the United States.
Despite a relatively high score on the firm's recession probability indicator, Harris urges traders not to panic about the possibility of a recession.
Rate Hike Coming
Despite the injection of fear into the markets during the past week, Harris does not believe that the FOMC will allow stock market turbulence to influence its decision to raise rates on September 17. The latest employment numbers indicate a very strong labor market, and the FOMC has been emphasizing a strong jobs market as the key to its eventual target of 2 percent inflation.
In addition, the U.S. GDP growth rate of 3.7 percent in Q2, as well as Bank of America's projected 2.8 percent Q3 GDP growth rate, indicates that the underlying U.S. economy is strong, regardless of the movement of the recent shakiness of the S&P 500.
Related Link: Forecast For Clear Skies: LEI Stills Shows Low Odds Of Recession
Not Completely Disconnected
Although there is no direct link between equity market movement and underlying economic strength, there are ways that the stock market indirectly influences the economy. However, Bank of America determined that only 2 cents out of every $1 of financial market wealth goes to new consumption.
"Using our model, we estimate that the S&P 500 would need to decline to an index level of 1600 (implying another 20 percent drop from today's level) and stay there to shave off a full one pp from household spending growth," Harris added.
Recession Watch
The firm's recession probability model is currently indicating a 47 percent chance of a U.S. recession sometime in the next 12 months. However, Harris cautioned that the indicator is prone to false signals. He included an old Paul Samuelson quote about using the stock market to predict recessions: "The stock market has called nine out of the last five recessions," Samuelson famously joked.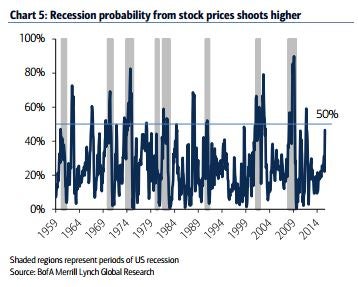 The Bank of America recession indicator peaked at around 59 percent back in 2011 without any subsequent recession.
Image Credit: Public Domain
Posted-In: Bank of America Ethan Harris FOMC GDPAnalyst Color Economics Analyst Ratings Best of Benzinga
View Comments and Join the Discussion!