High-Yields Are No Longer Overvalued, But There's A Catch
In a new report, Marty Fridson, CIO of wealth management firm Lehmann Livian Fridson Advisors LLC, discussed the recent sell-off in the high-yield market. According to Fridson, the period of extreme overvaluation has ended, but energy and metals/mining bonds have played a disproportionately large role.
Background
Fridson uses econometric modeling to make valuation determinations in the high-yield market. His firm has determined that 82 percent of the historical variance in the option-adjusted spread (OAS) of the Bank of America Merrill Lynch U.S. High Yield Index has been due to only five variables: credit availability, capacity utilization, industrial production, speculative-grade default rate and five-year Treasury yield.
Related Link: Foresight Energy Temporarily Idles Longwall Mining Operations At Deer Run Mine
The Numbers
Fridson determined the difference between the Fair Value spread and the actual OAS, and classified more than one standard deviation difference as "extreme."
On June 30, the difference between the Fair Value spread (630 bps) and the actual OAS (500 bps) was 130 bps, which met the qualifications of extreme. However, as of August 14, the actual OAS had widened to a point where the gap versus fair value was down to only 48 bps.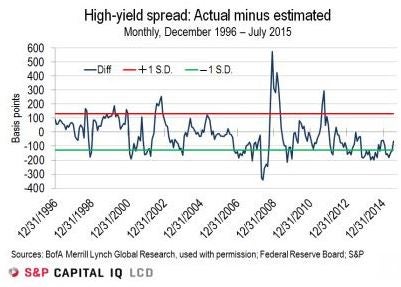 Major Players
Fridson notes that the Bank of America Merrill Lynch High Yield Index spread increased from 500 bps to 552 bps in the first two weeks of August. Half of that 52 bps gain, however, came from only two industries: energy and metals/mining.
After removing these two indices from the calculation, Fridson determined that the remainder of the high yield index widened by only 26 bps.
Why does this point matter? "At an OAS of 469, the 84 percent of the high yield universe not accounted for by Energy or Metals & Mining remains extremely overvalued at -131 bps versus fair value," Fridson argued.
While the overall valuation of the high-yield universe has become more attractive in recent weeks, investors should be aware that most of that movement has come from a small minority of the index.
Posted-In: Lehmann Livian Fridson AdvisorsAnalyst Color Long Ideas Bonds Commodities Markets Analyst Ratings Trading Ideas
View Comments and Join the Discussion!