How Wall Street Is Reacting To Urban Outfitters Earnings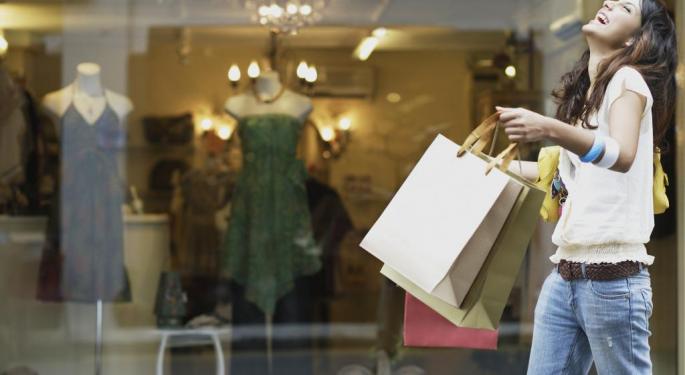 Shares of Urban Outfitters, Inc. (NASDAQ: URBN) jumped higher by more than 4 percent after the company reported its second-quarter results. However, shares were volatile during Tuesday's session and dipped into negative territory by early afternoon.
Here is a summary of what Wall Street's top analysts are saying after the print.
Credit Suisse: Working To 'Mitigate' Downside Risk
Christian Buss of Credit Suisse commented in a note that Urban Outfitters' second-quarter beat showed all three brands are seeing "steady" demand. Total comps were up 4.0 percent year-over-year which matched the analyst's expectations and proved to be "better than feared."
Buss said Urban Outfitters is planning to drive sales and reduce fashion associated risks by keeping a tighter control of its inventories. The analyst added that this may suggest gross margin improvements in the future even if demand weakens.
Buss also pointed out management's cautious commentary that sales trends in brick-and-mortar decelerated in the first two weeks of August. In fact, the analyst argued that since each brand caters to a slightly unique customer base, the company could see a sustained period of volatility earnings which limits multiple expansion.
Finally, Urban Outfitters has stopped quantifying its gross margin expectations for the full year which indicates "some caution is in order" with respect to the outlook, especially when adding in the upcoming highly promotional holiday season.
Shares remain Neutral rated with a price target raised to $40 from a previous $38.
BMO: Top Line Was 'Light'
John Morris of BMO Capital Markets commented in a note that Urban Outfitter's revenue of $867 million came in $14 million short of expectations, partly due to weakness at Anthropologie and currency headwinds. At the same time, the company's overall comps of 4.0 percent was short of the 4.4 percent expected.
Morris pointed out that several of his cautious warnings played out in the quarter, which include: 1) weakness at Anthropologie has spread across women's apparel and a turnaround is now "pushed back" as far as the fourth quarter, 2) excluding direct-to-consumer, store comps were below expectations at all divisions, 3) management is "backing away" from its commitment to drive a 25 to 50 basis point improvement in gross margin for the year.
With that said, the analyst suggested that his concerns puts into question consensus estimates for the back end of 2015.
Shares remain Market Perform rated with an unchanged $30 price target.
FBR: Decreased Visibility
Susan Anderson of FBR & Co. commented in a note that the company showed continued momentum and progress with its initiatives, but Anthropologie did not show a "significant inflection" in the quarter.
Anderson said while it is early in the third quarter, quarter-to-date comps across various segments appear to have decelerated from the second quarter's run rate. The analyst added that light trends seen so far (coupled with a lack of a significant pickup in the second quarter), gross margin visibility is now "reduced."
Anderson noted that while there is an opportunity for Anthropologie to show improvement in September, an "elevated" promotional environment may be required to drive traffic and sales. As such, the company is operating in a period of "uncertainty" which calls into question the entire 2015 outlook and a potentially lower gross margin and comp trajectory.
Bottom line, near-term issues at Anthropologie and potentially "muted" longer-term UO margins is only slightly offset by the company's growth initiatives through e-commerce, international expansion, Free People and e-commerce.
Shares remain Market Perform rated with a price target lowered to $32 from a previous $35.
Bank Of America: Anthropologie Isn't Getting Worse
Lorraine Hutchinson of Bank of America commented in a note that while Anthropologie continues to suffer from "fashion misses," the segment's second-quarter comp of 2.0 percent was in-line with what she was expecting.
Hutchinson said the Anthropologie brand remains in a "healthy" position to capitalize on early wins for Fall and operate at margin levels similar to the second quarter which were lower from its peak but still high versus its peers. In fact, as new dress styles and an updated assortment of accessories hit the sales floor, the segment is expected to begin turning around. Meanwhile, UO's turnaround and continued "strength" at Free People continue to be "bright spots."
Bottom line, the company's small store base, high e-commerce penetration and "unique" offering within the retail landscape will make it a "secular winner" in the difficult environment.
Shares remain Buy rated with an unchanged $45 price target.
Buckingham: Margin Outlook To Pressure Multiple
Kelly Halsor of The Buckingham Research Group commented in a note that while Urban Outfitter's earnings were better than feared, management "backed away" from its prior implied margin guidance for the remainder of the year while also cautioning on quarter-to-date comps.
Halsor continued that management's commentary puts into question its long-term margin opportunity, especially in the highly price sensitive mall environment. In addition, management is pulling back on store growth across all three of its concepts which further suggests the stock's premium multiple of 17x versus its peers at 15x "may no longer be justified."
However, Halsor pointed out that the company's "aggressive" share repurchases and its attractive free cash flow yield of 8 percent suggests the risk of major downside is "limited."
Shares remain Neutral rated with a price target lowered to $34 from a previous $37.
Posted-In: Anthropologie Bank of America BMO Capital Markets Christian Buss Credit SuisseAnalyst Color Price Target Analyst Ratings Best of Benzinga
View Comments and Join the Discussion!