Why Google's New Alphabet Structure Is A 'Concrete Example' Of Innovation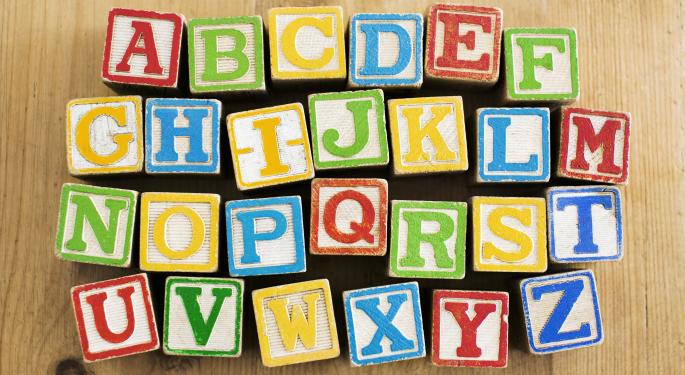 Google Inc (NASDAQ: GOOG) (NASDAQ: GOOGL) surprised just about everyone when the firm announced its plans to form a new company called Alphabet.
"I am really excited to be running Alphabet as CEO with help from my capable partner, Sergey, as President," Google CEO Larry Page wrote in the company's official blog. "What is Alphabet? Alphabet is mostly a collection of companies. The largest of which, of course, is Google. This newer Google is a bit slimmed down, with the companies that are pretty far afield of our main Internet products contained in Alphabet instead."
Global Equities Research analyst Trip Chowdhry was thoroughly impressed by the news.
"I think this is another concrete example of thinking completely innovatively at Google," Chowdhry told Benzinga. "I think this is very positive."
Chowdhry said that up until now investors could not properly dissect each entity within Google. This made it difficult to determine how the company performed beyond its core search product. By separating the entities under the Alphabet name, Chowdhry believes it will bring transparency to the whole conglomerate.
But Is It Really Necessary?
Sean Udall, CIO of Quantum Trading Strategies and author of The TechStrat Report, told Benzinga that he laughed (and is still laughing) when he heard Google's announcement.
"Google is such a great name," said Udall. "It's a global brand. By the way, Google is a verb. If you have a company and your name is already a verb, why would you want to mess with it?"
Udall speculated that Google might be doing this for the same reasons that other companies go through major transitions -- to kick-start a new level of publicity.
"Let's say you're still a very powerful company but you've slowed the growth down," he explained. "What might you do? What did Coke do? [It released] New Coke. What did Pepsi do? They bought Frito-Lay. Lots of big American global comps have rebranded themselves into something over time."
Udall reiterated his assessment that Google is the Berkshire Hathaway Inc. (NYSE: BRK.A) of Silicon Valley.
"I think they have a challenger coming up, but so far they have been the Berkshire Hathaway of Silicon Valley," he said. "I think what they're really trying to do is show that Google's more than just a search engine. I think they're trying to emphasize X lab and the venture capital [arm] of Google."
Udall also said that Google will use Alphabet to show that the firm is worth more than the "one-trick pony" of its search engine. He said he never believed that assumption anyway.
Will It Pay Off?
Udall praised Google for generating (by his estimates) anywhere from $40 billion to $80 billion in value just from strategic M&A deals. He thinks the company might be trying to show off its M&A chops by using the Alphabet name and structure.
"What if in five years we are saying that Google becoming Alphabet was the…like the fulcrum point at which it was no longer the good Google anymore?" Udall questioned. "The point is, is this completely unnecessary and weird? Is this a sign bad of things, not good things? I just don't think it's necessary."
Disclosure: At the time of this writing, Louis Bedigian had no position in the equities mentioned in this report.
Posted-In: AlphabetAnalyst Color Long Ideas Top Stories Analyst Ratings Movers Tech Trading Ideas Best of Benzinga
View Comments and Join the Discussion!