Bill Gross: Low Rates 'Not The Cure -- Part Of The Problem'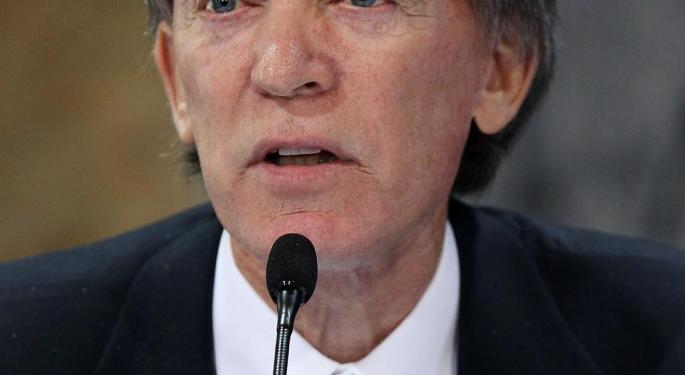 Janus Capital Group Inc (NYSE: JNS)'s Bill Gross just released his Investment Outlook for August, and this edition focused on the fallout from the historically-low interest rate environment that has been in place ever since the Financial Crisis. According to Gross, while low interest rates started out as a solution to the world's economic woes, they have since become part of the problem.
Historical Approach
The approach that most global central banks, including the U.S. Federal Reserve, has taken in the past to combat a slumping economy has been to lower yields, which serves to both stimulate asset prices and encourage investment spending in the real economy. However, Gross points out that, while this type of stimulus approach certainly results in higher P/E ratios and equity market prices, there has been little demonstrated "trickle-down" effect on real wages.
Economic Reality
In theory, allowing corporations to borrow at a nearly zero rate should encourage companies to spend on business improvements, such as equipment, technology and innovation. But in reality, Gross points out that corporate investment has been "anemic."
Related Link: Bill Gross On How To Play The Decline In The Chinese Stock Market
Many corporations have, in fact, taken advantage of the cheap credit, but instead of spending their borrowed money in the real economy, they've spent it on stock buybacks. So far in 2015, companies are on pace to spend $1.02 trillion on buybacks, 18 percent more than was ever spent in any year prior to the Financial Crisis.
Part Of The Problem
While the initial slashing of interest rates potentially saved the U.S. (and the world) from another Great Depression, Gross points out the consequences of maintaining such low rates for such a long time. Low rates pressure banks' interest margins, they produce artificial pricing in financial markets, and they unfairly penalize insurance companies and pension funds.
"Because BB, B, and in some cases CCC rated companies have been able to borrow at less than 5%, a host of zombie and future zombie corporations now roam the real economy," Gross wrote.
Gross believes that global central banks are "wising up" to the fact that the Taylor Rule and other conventional methods of determining monetary policy may no longer apply to the modern financial world. He welcomes the Fed's first interest rate hike, which he predicts will "likely" come in September.
Janus Outlook for August - Bill Gross
Posted-In: Bill GrossLong Ideas Top Stories Economics Federal Reserve Trading Ideas Best of Benzinga
View Comments and Join the Discussion!